News > Spokane
Suspect arrested after Wal-Mart semi leads authorities on chase across Spokane
Thu., Dec. 8, 2016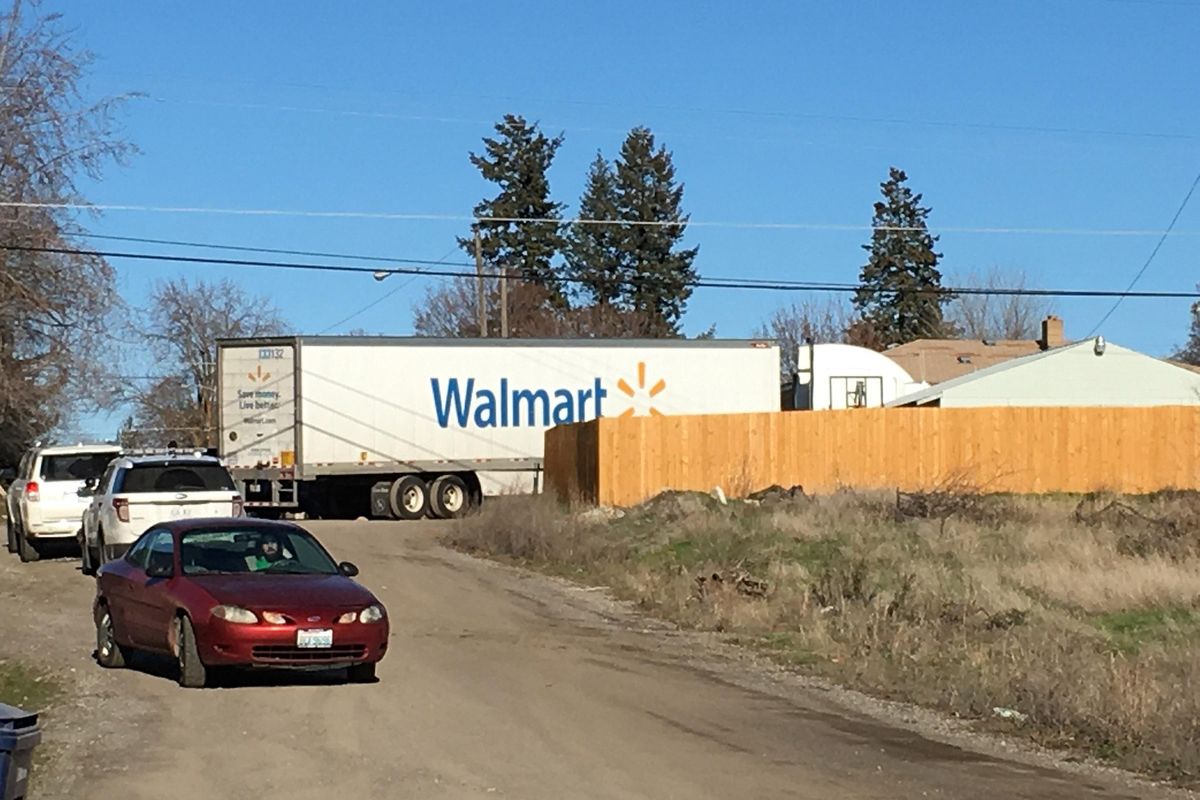 Someone driving a stolen semitruck with a Wal-Mart trailer led authorities on a chase throughout Spokane and an unincorporated part of the county Thursday morning, causing several schools to declare lockdowns. (Jesse Tinsley / The Spokesman-Review)
A man driving a stolen semi truck with a Wal-Mart trailer led law enforcement on a chase throughout Spokane before crashing into a family's garage and running away Thursday morning.
Two witnesses notified sheriff's deputies that a Wal-Mart trailer was pulled over in the 3100 block of North Coleman Road in Spokane Valley at about 11:30 a.m. and two men were unloading items into a white pickup, according to a Spokane County Sheriff's Office news release.
Sheriff's deputies tried to pull over the semitruck shortly after in the area of Argonne Road and Empire Avenue, but it continued westbound on Upriver Drive at speeds of 55 to 60 miles per hour into Spokane, prompting a massive police response. Multiple schools declared partial lockdowns due to safety concerns.
The chase continued as Spokane Police Officers deployed spike strips and began blocking intersections. The truck began swerving into oncoming lanes and reached speeds of approximately 70 miles per hour, the news release says.
Police and deputies swarmed the neighborhood near Gonzaga Prep and Rogers High School after the truck plowed into a detached garage at Helena Street and Dalton Avenue. Just before noon, a police dog found the driver hiding between a camping trailer and a garage door a block from the crash, near Hogan Street and Liberty Avenue.
The man was arrested and identified as Daren Suiter, 38, who has an extensive criminal history in the Spokane area.
Deputy Mark Gregory, a spokesman for the Spokane County Sheriff's Office, said the truck was stolen from a truck yard near East Broadway Avenue and Interstate 90 overnight, and the trailer was stolen from the Airway Heights Wal-Mart at about 5 a.m. It contained many pieces of merchandise, Gregory said.
Officials are continuing to search for the white pickup truck, Gregory said. Investigators from several agencies now are sharing information about the various crime scenes.
Mike and Nikole Behne have lived at the corner of Helena and Dalton with their two daughters for about a year. Before smashing their garage, the semitruck obliterated a section of a wooden fence that Mike Behne built around the property this summer, and sideswiped the couple's Toyota Camry in the driveway. Repairs could cost tens of thousands of dollars.
On top of that, Thursday marked the couple's wedding anniversary. Nikole Behne was picking out clothes for a date at a nearby sushi restaurant when she heard a loud noise.
"And then I smelled burning rubber and looked out the window, and there was a truck in my yard," she said. "We have two little girls that love to play in the yard, so luckily they weren't out here when this happened."
Suiter is being held in the Spokane County Jail. He faces charges of possessing a stolen vehicle, attempting to elude police and hit-and-run.
Staff writer Jonathan Glover contributed to this report.
Local journalism is essential.
Give directly to The Spokesman-Review's Northwest Passages community forums series -- which helps to offset the costs of several reporter and editor positions at the newspaper -- by using the easy options below. Gifts processed in this system are not tax deductible, but are predominately used to help meet the local financial requirements needed to receive national matching-grant funds.
Subscribe now to get breaking news alerts in your email inbox
Get breaking news delivered to your inbox as it happens.
---