Christmas Bureau gave books and toys for 2,260 children as the Spokane charity opens its doors to those in need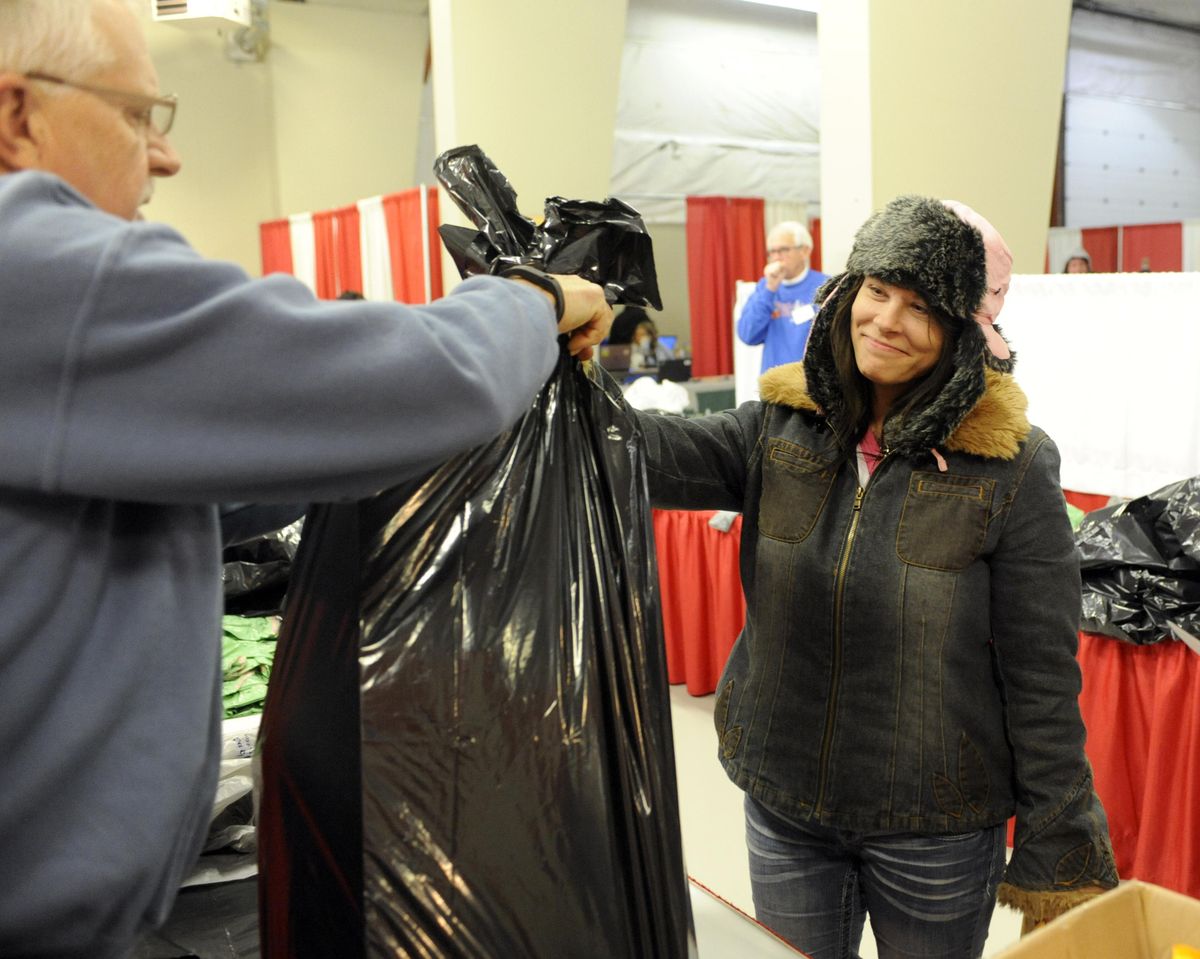 A mom loaded her three young children – and whatever else she could fit into her car – and embarked on a journey from Arizona to Washington to escape an abusive relationship.
As Korey struggles to start anew, she has been staying in a transitional shelter for domestic violence survivors for three months. She asked that her last name be withheld.
"I needed to get away," she said.
Korey was first in line on opening day Thursday at the Christmas Bureau, an annual event that offers assistance to area residents in need of a little help during the holidays.
"We're very blessed that this is here," she said. "At least now my kids can each have a gift."
The trip from Arizona took nine days. She was robbed, and at one point, her battery died. In need of a new one but lacking money, she and her children, boys ages 13, 7 and 2, slept in a gas station parking lot until they could get help.
She found herself homeless when she arrived in Washington and her planned living arrangements fell through. And then her sister died in October.
"Everything just fell apart," she said. "That's why I'm here. It was just one heartache after another."
Catholic Charities Spokane and Volunteers of America organize the Christmas Bureau, which began Thursday and runs through Dec. 17. At the bureau, thousands of recipients get grocery store gift certificates to pay for a holiday meal, new toys and books, and more.
For recipients like Korey, it also offers also a glimmer of cheer in the midst of difficult life circumstances.
"I was a little embarrassed," she said. "I'm a giving person. I look at it like this is for my children, not me, and I put my pride aside for my kids."
She said her experience has been humbling.
"Usually I'm a volunteer at these places, but now I'm on the other side," she said. "Hopefully next year I can be a volunteer and give back."
Korey, desperately wanting to provide for her children but fearing road conditions might worsen into the morning, arrived at the bureau at 2:30 a.m. after a two-hour journey from Stevens County, and waited until the doors opened hours later. She drove down with two friends from the shelter.
"My kids are number one," she said.
She walked around the bureau's toy room and selected an art easel and Batman pajamas for her 2-year-old.
"He loves to draw on everything," she said.
For her 7-year-old, she picked a piano keyboard.
"He's going to learn how to play the piano," she said.
Finally, although his only Christmas wish was for a place to live, she selected a virtual reality headset for her oldest child, but says he will probably be most excited about the novel she picked for him "because he loves reading."
Korey, who is moving her family into an apartment soon, wanted to share her story to give other domestic violence victims hope.
"I want to let people know there is light," she said. "It doesn't seem like it, but there is."
Donations
Michael Altringer gave $2,000.
The Mickelson Family, of Spokane, gave $1,000.
An anonymous donor gave $1,000, "In loving memory of Al and Lilian Rudolf."
The Sullivan Family, of Spokane, gave $500 "In memory of our brother, Daniel P. Sullivan, who enjoyed working with the Christmas Bureau."
An anonymous donor gave $500, writing, "Thank you for your dedicated work."
An anonymous donor gave $295, writing, "Thank you for organizing this every year."
Carl and Dennie Crowe, of Spokane, gave $250, writing, "Please accept our gift to the Christmas Fund to honor the lives of two very dear friends, Rick Shulman and Jon Kosty. They LOVED the Christmas season."
Mathew Alling gave $250 via PayPal, writing "In Memory of Milbert and Frances Joachim and George Alling, and honoring Edith Alling Lael. They all thought that no child should be without on Christmas. Shirley and I are so thankful to everyone helping make this possible. Blessings!"
An anonymous donor gave $250.
Dan and Nancy Kessler, of Colbert, gave $200.
Dawn, Megan and Jerry Goertz, of Medical Lake, gave $200, writing "As long-time donors to The Spokesman-Review Christmas Fund, we are blessed and fortunate to be able to once again contribute $200 towards this year's fund in memory of our parents Jim Soderman and Herb and Florence Goertz."
Charles Colbert, of Spokane, gave $200.
John and Sindra Barber, of Spokane, gave $200.
Donna Leaming, of Spokane, gave $150.
Harold Wilson, of Spokane, gave $100, writing, "Merry Christmas. Thanks for all you do!"
Lane Klees, of Spokane, also gave $100, writing, "May God bless you and your efforts."
The following made $100 donations: Dick and Marnie Wands, Stephen and Debra Piper, Norman and Sharon Genung, Leah Taylor, John Steiner, Michael and Josephine Dix, John and Dolores Skelton, Judith Flowers, Craig and Teresa Innes, an anonymous donor, and Miriam Finnegan, who wrote, "Thank you for all you do!"
Carol Phelps, of Spokane, gave $75.
An anonymous grandma, of Spokane, gave $50.
John and Sheila Jordan, of Spokane, gave $50, writing, "Thanks for doing good work."
Janet and Peter Grossman, of Spokane, gave $50.
Gerry Rose, of Spokane, gave $50, writing, "Please accept this in memory of my husband Arlen Rose, and thank you for always helping others."
Kate Quinn, of Spokane, gave $50, writing, "Please accept this contribution to the Christmas Fund along with my thanks to the many volunteers who make this project a success."
An anonymous donor gave $50.
Carol Johnson, of Spokane Valley, gave $25 In memory of Bill Kuch.
Rolf and Vivienne Walling, of Spokane, gave $20.
Tamara Evers gave $10, writing, "Thank you so ever much for being there for the children."
---