News > Features
Book review: 'Tom Clancy True Faith and Allegiance'
Sat., Dec. 10, 2016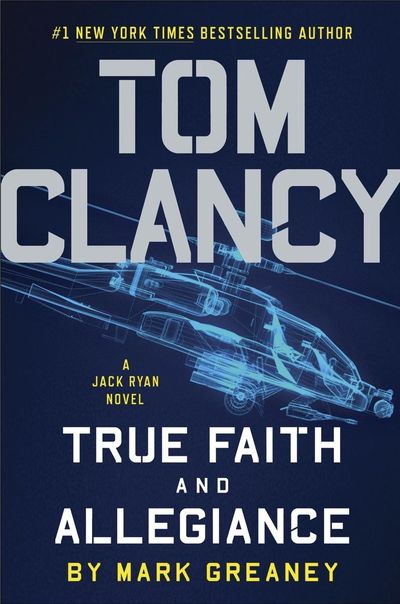 The latest novel featuring Jack Ryan, Tom Clancy's iconic hero and now president of the United States, delivers all the elements that fans expect from the franchise.
In Mark Greaney's "Tom Clancy True Faith and Allegiance," someone with inside knowledge and access to personal details of key military and government personnel has been selling that information to enemies of the United States.
In a crowded New Jersey restaurant, U.S. Navy Commander Scott Hagen is on leave with his family when a man shows up and tries to kill him. The gunman is a Russian whose brother was onboard a submarine that Hagen destroyed when he was serving on the USS James Greer. Meanwhile, in Tehran's airport, a Canadian businessman who has previously made a dozen visits is flagged as a CIA spy.
These are only two examples of a growing problem with a data breach of such extreme magnitude. How does this informant have such top-secret details? Is everyone who works for the government or military now a target?
While President Ryan contemplates what to do, his son Jack Ryan Jr. is undergoing training to join an elite special-ops group known as The Campus. The organization is recruiting a few others as well, and their expertise will be needed when a terrorist begins striking at individuals inside the United States. Has this enemy been given classified materials to strike at the heart of America? President Ryan will need to put his personal feelings aside to save the nation from a ruthless adversary.
Tom Clancy died in 2013. His novels were blockbusters that focused primarily on technology while the people involved were secondary. Action-thriller author Greaney, who has continued the series, handles the tech side with grace and has fleshed out the cast and given them depth.
Clancy fans should enjoy "True Faith and Allegiance."
Local journalism is essential.
Give directly to The Spokesman-Review's Northwest Passages community forums series -- which helps to offset the costs of several reporter and editor positions at the newspaper -- by using the easy options below. Gifts processed in this system are not tax deductible, but are predominately used to help meet the local financial requirements needed to receive national matching-grant funds.
Subscribe now to get breaking news alerts in your email inbox
Get breaking news delivered to your inbox as it happens.
---