Sports
Eastern Washington defense thrives under next-man-up philosophy
Sat., Dec. 10, 2016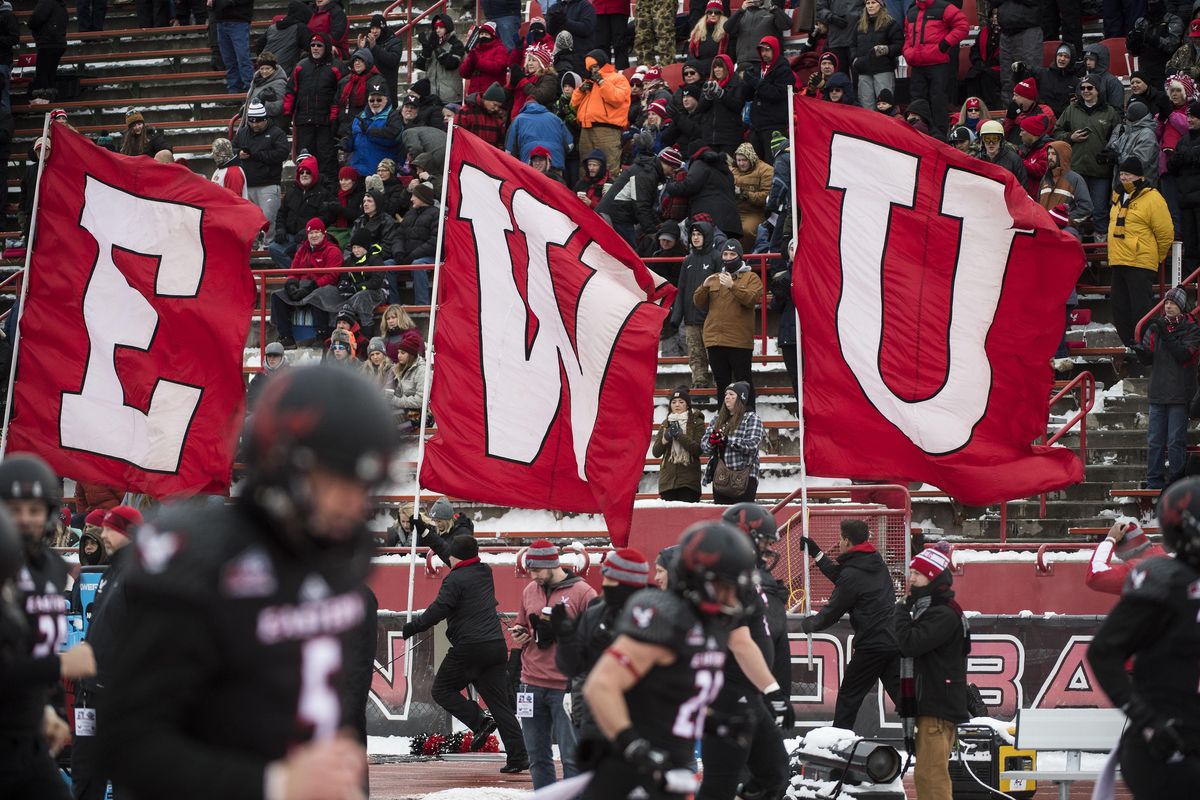 EWU flags parade around the field before the game with Richmond, Sat., Dec. 10, 2016, in Cheney, Wash. (Colin Mulvany / The Spokesman-Review)
Waiting to head into the operating room for surgery on a meniscus tear in his right knee on Nov. 22, J.J. Njoku was hungry.
Some of it was literal hunger. The senior roverback was instructed not to eat the night before his surgery and didn't enter surgery until about 4:30 p.m. for a 20-minute operation.
But most of it came from deciding to go through with the surgery itself. Being pressed with a decision to play through the pain or endure the minor surgery, Njoku didn't hesitate: Surgery was the best option.
"No one wants to sit out for injury, especially your senior year," Njoku said. "But I had to understand that it's only two weeks and I knew the guys were going to handle it.
"It was tough, but with how great my teammates were they got us the bye week."
Fixing his knee was the easy decision for Njoku, keeping in mind he could be 100 percent healthy for a potential playoff run. He trusted his backup, John Kreifels, to fill in for him, knowing he was on the other side of things when the preseason starter at roverback, Cole Karstetter, was ruled out for the season with a ruptured Achilles tendon against North Dakota State on Sept. 9.
Now the Eagles have two capable players with experience at that position. The Eagles' trust in one another is something the Eagles embrace, especially on the defensive side of the ball.
"You want to win a National Championship? It takes all 100 guys in that locker room," senior linebacker Miquiyah Zamora said. "I don't care if you are on the scout team or if you are a starter, it takes everybody."
Like Njoku, Zamora was pressed with the decision whether to sit out or play through pain. The senior linebacker suffered a second-degree tear in his hamstring against Portland State on Nov. 18, and considered wrapping up his knee and going back in.
Stepping back and assessing the situation, he decided to get his knee better – he ultimately did not play in EWU's second round game against UCA. He said he trusted the players behind him in the depth chart to make plays in his absence.
It's cliche, Zamora admits, but that next-man-up mentality is what he says makes the Eagles' defense special.
"We really live that. To the fullest," he said. "It don't matter who's going (to play), it's all right. Let's step up let's ride, let's go."
That has come in handy in the Eagles' first two playoff games.
Alek Kacmarcik moved over to middle linebacker and Ketner Kupp filled in at strongside linebacker to account for Zamora's absence last week against Central Arkansas.
And when Kacmarcik was injured against UCA, third-string middle linebacker Andrew Katzenberger stepped up. Kupp started in Kacmarcik's place at strongside on Saturday.
Eastern's defense has taken its lumps at times, but losing starters throughout the season has increased the Eagles' depth.
A season of injury woes culminated in a shut out performance against Richmond on Saturday – Eastern's first shutout since blanking Northern Colorado 16-0 in 2009. It was also the first time the Spiders had been shutout since 2010.
But the Eagles know they can't rest on their laurels moving forward. And they can't rely on their starters either, because after all, injuries happen.
"You call yourself a savage, especially on this defense, you live it," Zamora said. "You have to be ready. People get hurt all the time."
Local journalism is essential.
Give directly to The Spokesman-Review's Northwest Passages community forums series -- which helps to offset the costs of several reporter and editor positions at the newspaper -- by using the easy options below. Gifts processed in this system are not tax deductible, but are predominately used to help meet the local financial requirements needed to receive national matching-grant funds.
Subscribe to the sports newsletter
Get the day's top sports headlines and breaking news delivered to your inbox by subscribing here.
---