Sports
Eastern Washington shuts out Richmond to advance to FCS semifinals
Sat., Dec. 10, 2016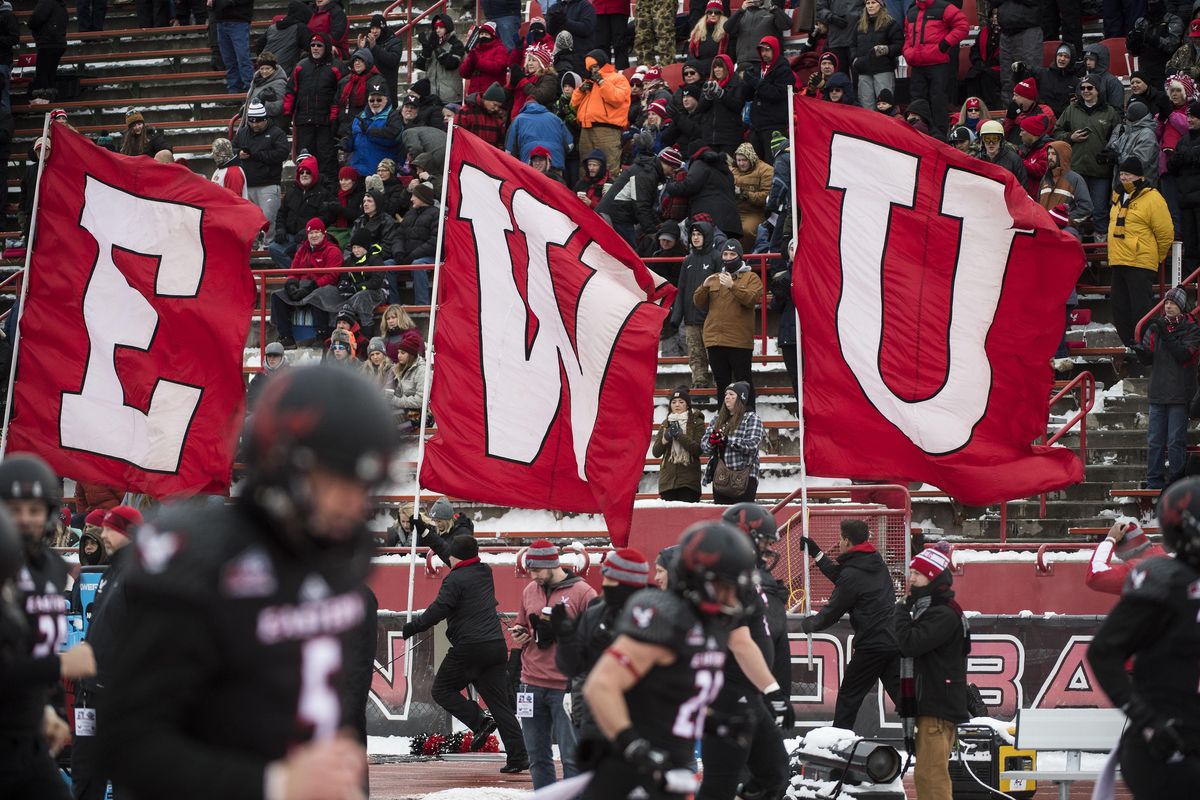 EWU flags parade around the field before the game with Richmond, Sat., Dec. 10, 2016, in Cheney, Wash. (Colin Mulvany / The Spokesman-Review)
Even in December, there's nothing like a team meeting to raise the intensity a few degrees.
And the right speaker.
On Friday that was Eastern Washington roverback J.J. Njoku, who challenged his defensive mates to raise the intensity for Saturday's FCS quarterfinal game against Richmond.
The message was received and processed, then transformed into a dominating 38-0 win over the Spiders that puts Eastern one game from a trip to the national title game.
"I have really high expectations for our defense," Njoku said. "I told them that we've played really well for certain quarter, and I challenged the guys that there's no reason we can't play well for four quarters."
"This is such a great feeling," said Njoku, a senior who may have earned another inspirational opportunity before next week's semifinal against Youngstown State.
Win that, and the Eagles (12-1) will get a chance to play for their second national title.
Eastern's road to the semis was strewn with wreckage left by the Eagle defense, which had six sacks, forced five turnovers and held the Spiders to 205 yards of offense and just 3.0 yards a play.
But the biggest prize was the goose egg, the shutout that had eluded Eastern since a 16-0 win over Northern Colorado in 2009.
"Wow, I didn't know that," nose tackle Jay-Tee Tiuli said as a teammate threw a handful of snow on his face after the game. "Over the last week, we've been trying to get that goose egg, and J.J. talked about that."
But talk only takes you so far. Coach Beau Baldwin credited defensive coordinator Jeff Schmedding with drawing up a game plan that kept Richmond quarterback Kevin Johnson penned in and unable to deliver the long ball that helped the Spiders win 10 games this year.
"I don't think I've been a part of a playoff shutout in my life," Baldwin said. "In college football these days that doesn't happen. They've earned that and I'm so happy for them," Baldwin said.
The Eagles gave up 90 yards to running back Deontez Thompson, but held all-American wide receiver Brian Brown to just four catches for 44 yards.
"I think they played all their cards right. They had a great game plan and they got the results they were looking for," Richmond coach Danny Rocco said.
Defense set the tone from the opening kickoff, forcing a punt on Richmond's first possession and getting the first turnover when safety Mitch Fettig stripped the ball from Thompson and Josh Lewis recovered.
"I just saw it sliding around, and it almost slid out of my hands too," Lewis said.
Eastern capitalized with an eight-play drive capped by Gage Gubrud's 7-yard pass to Nsimba Webster, but the touchdown was earned the hard way.
The Eagles had first-and-goal at the 2 following a pass interference penalty on Richmond, but a false start penalty, an incomplete pass to Kupp and a short gain on a sweep by Nic Sblendorio brought up third-and-7.
No problem. Gubrud bought some time and found Webster – who missed half the season with a shoulder injury –in the back of the end zone.
Despite the cold weather and his disdain for wearing gloves in the cold weather, Gubrud was 21-for-32 for 287 yards and three touchdowns.
"Offensively it was a day where it was tough, but we were executing and taking care of the football," Baldwin said. "We were grinding out drives when we needed to and hit plays when we needed to."
Eastern still led 7-0 midway through the second half when Gubrud pulled off the play of the game. On first-and-10 from his own 7, Gubrud was halfway in the grasp of a Richmond defender in the end zone, but wriggled free.
Stepping to his left, Gubrud let fly, and Kupp caught the ball in stride for a 68-yard gain. Four plays later, he hit Kupp for a 20-yard score.
"He's been doing that all year by extending plays," Baldwin said. When you can keep your eyes downfield in those situations all the way to the last second and hit the line of scrimmage still making throws, that's tough on a defense."
No such luck for Richmond's offense, which at that point had fewer yards in total offense (66) than Eastern had in penalties (70).
After an exchange of punts, Thompson was gang-tackled at the Richmond 38 and fumbled. The ball was recovered by D-lineman Jonah Jordan at the 23, and Gubrud capitalized with a 23-yard score to Shaq Hill.
Richmond's only legitimate scoring chance came late in the first half, but on second-and-10 at the EWU 17, Johnson couldn't handle a low snap and Ebukam pounced on the ball.
Eastern didn't let up in the third quarter, marching 75 yards and taking a 28-0 lead on Jabari Wilson's 20-yard run.
Local journalism is essential.
Give directly to The Spokesman-Review's Northwest Passages community forums series -- which helps to offset the costs of several reporter and editor positions at the newspaper -- by using the easy options below. Gifts processed in this system are not tax deductible, but are predominately used to help meet the local financial requirements needed to receive national matching-grant funds.
Subscribe to the sports newsletter
Get the day's top sports headlines and breaking news delivered to your inbox by subscribing here.
---