News > Spokane
Lingering storm to produce more snow through weekend
Sat., Dec. 10, 2016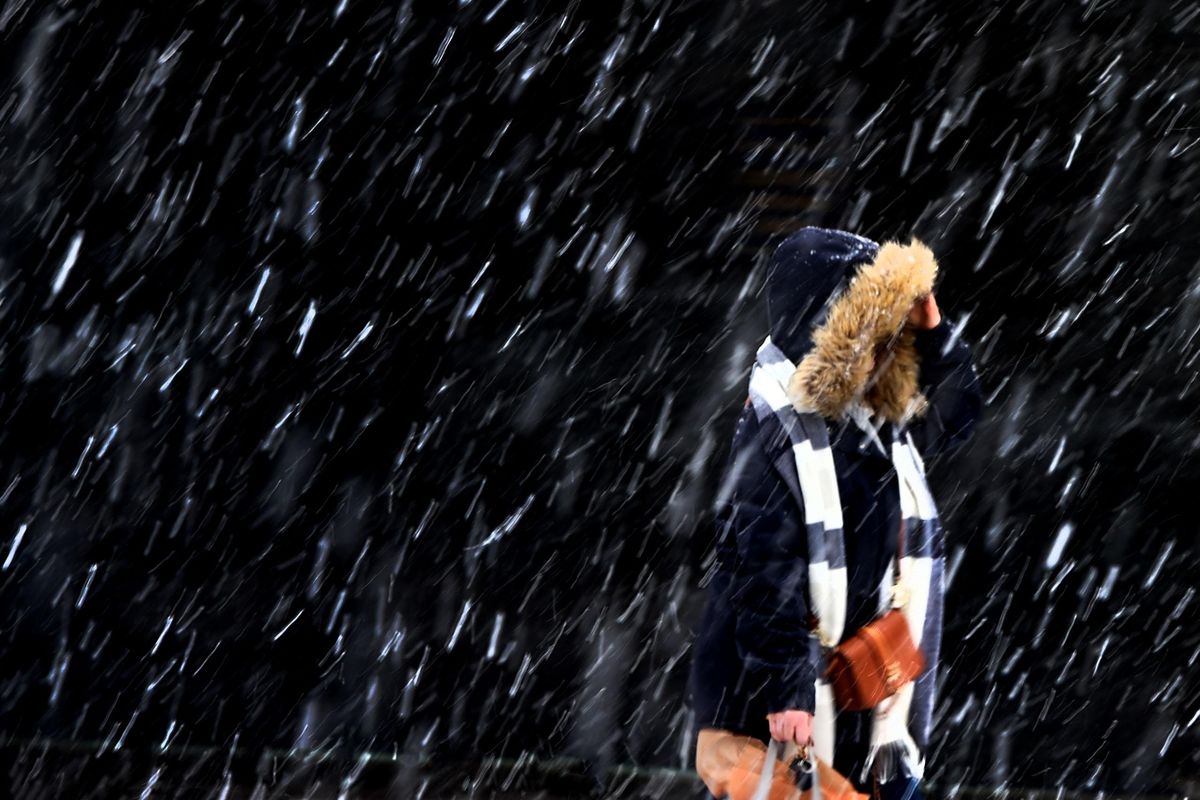 A pedestrian heads south on Post Street in a snowstorm on Friday, Dec. 9, 2016, in downtown Spokane, Wash. The weather forecast shows periods of snow falling through Monday. (Colin Mulvany / The Spokesman-Review)
The snow will keep falling through the weekend before giving way Monday to the next push of cold Arctic air.
Another 1 to 2 inches are possible Saturday night with light snow continuing off and on until Monday morning.
The total from Friday through the end of the weekend could be as much as 4 to 6 inches, forecasters said.
Coeur d'Alene and other locales in North Idaho could see an additional 3 to 6 inches by Monday morning.
Mountain areas are likely to see a foot of fresh powder or more, and valley locations next to the mountains may see upward of a foot of snow through the weekend in North Idaho.
The snow is coming from a double-barreled low pressure system off the Pacific coast.
The low is going to migrate east over the weekend and open the door for another shot of arctic air on Monday with winds out of the north to northeast.
Low temperatures could fall to around zero by Tuesday and Wednesday nights with highs during the day in the teens once the arctic blast arrives.
Until then, moderating temperatures are expected for the rest of the weekend with highs in the 30s and lows in the 20s.
Only about a half-inch of snow fell overnight at Spokane International Airport. The same winter storm affecting the Inland Northwest was causing travel problems across the region. Two flights to Portland from Spokane were canceled as a result.
In the Columbia Basin, areas of freezing drizzle were reported. The drizzle could result in icing conditions similar to freezing rain, forecasters said.
Traffic on Interstate 90 over Snoqualmie Pass was moving over snow and ice Friday. The pass was closed Friday for a short time.
Travel time was nearly double from normal between Ellensburg and North Bend.
Chains were being required on vehicles without four-wheel or all-wheel drives.
Lookout Pass to the east had icy patches and some slush Friday evening.
Local journalism is essential.
Give directly to The Spokesman-Review's Northwest Passages community forums series -- which helps to offset the costs of several reporter and editor positions at the newspaper -- by using the easy options below. Gifts processed in this system are not tax deductible, but are predominately used to help meet the local financial requirements needed to receive national matching-grant funds.
Subscribe now to get breaking news alerts in your email inbox
Get breaking news delivered to your inbox as it happens.
---