This column reflects the opinion of the writer. To learn about the differences between a news story and an opinion column, click here.
Opinion > Column
Huckleberries: Pro wrestler saves woman's Nativity scene
Sun., Dec. 11, 2016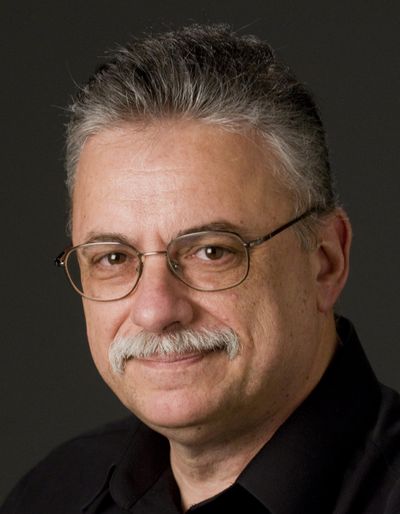 Pat Kuhns, of Coeur d'Alene, was on a mission last week when she hit thrift stores seeking an appropriate angel for her home manger scene. She wanted one like Michael or Gabriel, from the Bible. A dude. But the secondhand angels at the thrift shops depicted either beautiful women that would be at home on a "Charlie's Angels" set or baby cherubs. So Pat went to Plan B – superhero dolls she could dress as angels. But she was foiled again. Superheroes usually wear masks. The angels in Scripture don't (although their superhero powers would make Superman look like a wimp). Finally, Pat turned to the WWE (World Wrestling Entertainment). She found a WWE wrestler Chris Jericho doll that was spot on – beautiful, blond and smiling. (Editor's note: Most pro wrestling dolls have frowny faces.) As a bonus, Pat told Huckleberries, Jericho has a biblical name: Chris sounds like Christian. And Jericho was the Old Testament town that served as roadkill for the children of Israel. Next, Pat bought a female doll, stripped her down to her halo, and cross-dressed the Jericho doll. Then, she added two snowmen angels to complete her heavenly host. Huckleberries isn't sure how many angel snowmen have appeared to worshippers through the millennia. But Pat was happy – and that's all that matters.
Puzzling it through
The answer is: New York Times crossword puzzles. The question? What does creative director Jadd Davis of the Coeur d'Alene Summer Theatre do to keep sharp? Says Jadd on Facebook: "I usually need to cheat about once or twice per puzzle. But sometimes I nail one without cheating. And it's a very quiet victory. So I guess I'm collectively bragging for all the puzzles I've solved without help." (If you only cheat once or twice on a New York Times puzzle, you're good. Take a curtain call, Jadd.)
Huckleberries
Um, if you're going to walk into Nadine's Mexican Kitchen in Rathdrum with a baby, you should lose that not-so-clever T-shirt: "I'm with stupid." You might give the kid a complex. It happened during the lunch hour Wednesday. … Twenty minutes. That's the length of time that remains of a shoplifter's anonymity once his face (from surveillance video) appears on the Post Falls PD Facebook page. Do you suppose that 20-something in a blue beanie enjoyed whatever was in the pink box he stole from the Post Falls Wal-Mart before the long arm grabbed him? … Poll: 51.5 percent of my Huckleberries Online crowd still send out Christmas cards, which causes the 48.5 percent of us who don't to feel badly … Quotable Quote: "Damn it, Mariners. You're giving me hope again" – Jake Smulkowski, of Rathdrum, after recent offseason moves by the Seattle Mariners. (Don't laugh at Jake. Even the Chicago Cubs win a World Series title every 108 years or so) … Pecky Cox, town squire of Priest Lake via her As the Lake Churns blog, told Facebook Friends Thursday that they may have to wait until February for her Christmas card. Why? She's waiting for a good snow to take this year's Christmas photo.
Parting shot
Yes, Virginia, meteorologists have hecklers, too. A coupla them gave KXLY meterologist Kris Post guff on her Facebook wall after she and other local weather forecasters whiffed on their prediction of a ha-huge storm at dusk Thursday. "You call that a snowstorm, Kris?" trash-talked one Facebook Friend. OK, meteorologist trash talking is tame stuff. Huckleberries agrees with another of Kris' BFFs who said that he liked it when the "SNOW STORM" – his CAPs, not Huckleberries' – isn't as nasty as predicted. Bingo.
---
---
Subscribe and login to the Spokesman-Review to read and comment on this story