Sports
Bogdan Bliznyuk scores 34 to lead EWU to overtime win over Morehead State
Tue., Dec. 13, 2016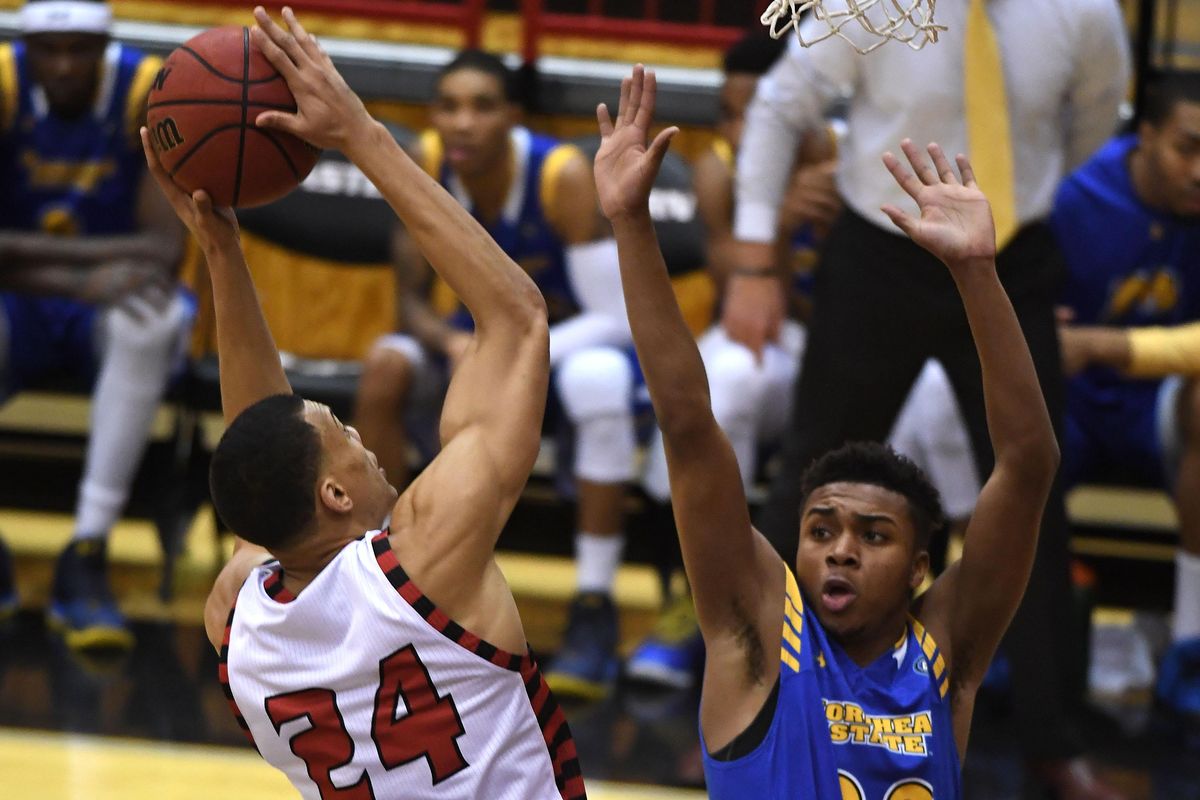 Eastern Washington forward Jacob Wiley (24) drives to the basket as during the first half of a NCAA men's college basketball game on Reese Court, Tuesday, Dec. 13, 2016, in Cheney, Wash. (Colin Mulvany / The Spokesman-Review)
To hear Bogdan Bliznyuk say it, he isn't carrying Eastern Washington's basketball hopes on his back.
"I wouldn't say it's like that – we have some great sets, some great players and some great shooters," Bliznyuk said.
Until they have an off night. Bliznyuk picked up the slack Tuesday, scoring a career-high 34 points to lead the Eagles to an 88-86 overtime win over visiting Morehead State.
Once again, Bliznyuk filled the boxes on the stat sheet: 13-for-19 from the field, five steals and five assists. In the process, Bliznyuk raised his season scoring average to 22.7.
Asked if he was playing the best basketball of his life, Bliznyuk agreed – to a point.
"Offensively, yes," he said.
That came in handy as Eastern improved to 8-2 after its final home game of 2016, a win that was earned the old-fashioned way. After blowing a 10-point lead with 6 ½ minutes left, the Eagles regrouped as they went into their fourth overtime game of the season.
"There was a sense in our huddle going into overtime that we were going to win – we win in overtime," coach Jim Hayford said. "But you have to go do it."
And they did it in unusual fashion: After missing all 12 of their 3-point shots in the second half, they won with defense.
After Bliznyuk hit a jumper to tie the game at 81, forward Jacob Wiley came alive with two free throws, a layup and two more foul shots to make it 88-83 with 12 seconds left.
"We put together a stop and two scores together, got the lead and never relented. I'm just really proud and happy for our guys," Hayford said.
Wiley had been quiet until the overtime, but finished with 12 points and 12 boards, along with three blocks.
"He's kind of been a more second half and overtime player all year. It's just him getting more and more comfortable," Hayford said.
Eastern trailed 11-8 in the early going, all of its points coming from Bliznyuk, but Cody Benzel and Felix Von Hofe opened things up with a pair of threes.
The lead stretched to 15 before Eastern turned the ball over three times and Morehead closed to 42-36.
By halftime, Eastern had 18 field goals – 10 of them from Bliznyuk.
Eastern's 47-38 halftime lead was down to four with 13 1/2 minutes left, but Bliznyuk hit two free throws and Sir Washington hit a layup and two foul shots to push it back up to 8.
Washington struck again with a three-point play to make it 73-63 before Morehead's late rally in regulation.
Morehead State (2-7) lost its sixth straight. The Eagles were playing their fifth straight game without coach Sean Woods, who was suspended after allegedly shoving or hitting two of his players, Malik Maitland and Soufiyane Diakita, during a game at Evansville.
Earlier on Tuesday, Woods was charged with misdemeanor batter in the incidents.
Eastern hits the road for three straight games, beginning Sunday at Northern Kentucky. The Eagles' next home game is Jan. 5 against Big Sky Conference rival Montana State.
Local journalism is essential.
Give directly to The Spokesman-Review's Northwest Passages community forums series -- which helps to offset the costs of several reporter and editor positions at the newspaper -- by using the easy options below. Gifts processed in this system are not tax deductible, but are predominately used to help meet the local financial requirements needed to receive national matching-grant funds.
Subscribe to the sports newsletter
Get the day's top sports headlines and breaking news delivered to your inbox by subscribing here.
---