Sports > Seattle Mariners
Grip on Sports: Today is one of the days your college football team gets better
Wed., Dec. 14, 2016 A GRIP ON SPORTS • Yesterday, we wrote about one of the December college football traditions: awards. Today we delve into another couple: transfers and recruiting. Read on.
••••••••••
• Today is a signing day for college football? What, says the sort of in-tune college football fan, before the bowl games? Isn't signing day is in February. Yes, it is. For high school students.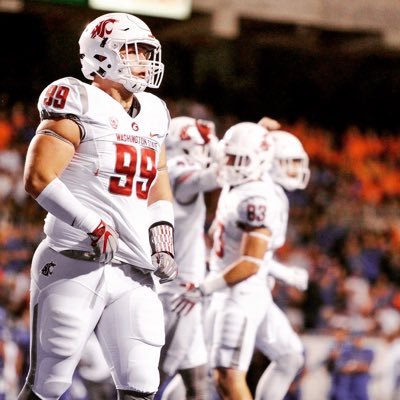 For junior college transfers, today is the beginning of their signing period.
There will be two or three players signed by your school. They will be more mature, more developed and have more expected of them next season than their high school counterparts who will get all the ink in February.
But is it fair?
In some ways, sure. Junior college transfers have spent the last year or two playing a more physical level of football. They have had two years to grow, both their muscles and their football acumen. But it's been in an environment that is nothing like Division I college football.
It just isn't. The great transfers, the ones who were physically ready for the top level but used their two years to shore up their academics, and those who blossomed athletically over the past 24 months, they can step in right away and help.
But a majority of junior college kids need a little time to acclimate. In most cases this is due to the demands on the football field. The game is faster, the players bigger, the game plans more intense. Such seemed to be the case with Washington State defensive lineman Garrett McBroom (pictured) this season. He looked good in camp, took a while to get up to speed when games started and, by the end of the season, was a contributor.
In other cases, though, adjusting to the academic rigors of a university can be daunting. Some JC players ready to shine on the football field find themselves slowed by an educational process unlike the one they just finished.
Still, most college football programs identify junior college players who can fill a need, say on the defensive line or at wide receiver. Maybe the players recruited out of high school a couple years ago didn't all pan out. Or maybe a player your school was counting on to step up decided to step out instead and head back home.
Whatever. Today can be a big day. Though the results may not really be felt until down the road.
• Speaking of players leaving a program, this is also the time of year they take to Twitter or Instagram or Facebook and let everyone know their plans. Hopefully, they already informed their current coaches before telling the world, but who knows.
This is the social media age. I discovered Arizona quarterback – I guess I should write "former Arizona quarterback" now – Anu Solomon was leaving Tucson yesterday via Twitter. And I'll probably find out where he ends up the same way.
What does that mean for the Wildcats? It takes more than 140 characters to discern that. It takes some expertise in reporting and writing to answer such questions about Solomon and, say, a running back leaving Oregon State.
Luckily, it's still available.
•••
WSU: The Cougars will be facing the Minnesota Golden Gophers in the Holiday Bowl. But which Gophers? There were a couple handfuls suspended yesterday and they may not play in a couple weeks. … Speaking of recruiting, we can pass along some news in that area courtesy of Stefanie Loh at the Times. … We mentioned Cody O'Connell yesterday and his All-Pac-12 snub. Now another offensive lineman who made just the second team won the conference's most prestigious line award, the Morris Trophy. Utah's Isaac Asiata earned the respect of the conference's defensive linemen, who vote on the award. … The Cougars defensive line was ranked in the Pac-12's top half. … Elsewhere in the conference in football, can the Huskies upset top-ranked Alabama in the Peach Bowl? USC's Clay Helton thinks so. … On the recruiting front, Arizona State picked up a brother's commitment and California is trying to get a local star to stay home. … Oregon is still trying to recruit a defensive coordinator. … In basketball, the Ducks received a big game from Chris Boucher and held off Montana, 81-67. … UCLA is showing it has some depth.
Gonzaga: There are quite a few people out there who believe the Zags have all the pieces to end in Glendale, Arizona for the Final Four. … Santa Clara picked up a win last night.
EWU: The basketball team hosted Moorhead State last night and won another overtime game. Yes, that makes something in the neighborhood of 134 wins this year in overtime. Wait, it's just four. Jim Allen has the story. Colin Mulvany also has a photo report. … Jim also has a look at the defensive line, which has been playing its best football of the season. … The FCS' final four are all heavyweights. Though the Eagles' opponent, Youngstown State, is dealing with some off-the-field issues.
Idaho: As the Vandals prepare for their bowl appearance, Josh Wright catches up with an offensive lineman who wishes his parents were here to see him play in Boise.
Preps: Another Tuesday of basketball to pass along, what with the GSL girls – and Josh Horton's story – and the boys as well as boys and girls roundups from around the area.
Chiefs: Spokane's most-recent road trip ended on a positive note – and a 2-1 record – as the Chiefs found a way to win in Kent vs. the Thunderbirds.
Seahawks: What do you think of Thursday night NFL games? Richard Sherman is not a fan. How do I know? He called them "poopfests" yesterday. … No, Pete Carroll isn't going to be the next Rams' coach. There is an interim coach in place for now. … There were the typical roster moves yesterday.
Mariners: Is another trade with Tampa Bay a possibility? Yes.
Sounders: Saturday the Sounders won the MLS Cup in Toronto. Tuesday, thousands of folks braved Seattle's cold weather to celebrate with a parade and rally. It was quite remarkable. And the players made it clear they want to do it again – and soon.
•••
• It wasn't that cold last night, was it? I mean, 2, 3 degrees, that's not all that cold, right? Heck, it's going to be a balmy 18 in Spokane today. Anybody want to gift a retired sports writer a trip to someplace warm, like Tahiti or Samoa? He would be eternally grateful. Until later …
Subscribe to the sports newsletter
Get the day's top sports headlines and breaking news delivered to your inbox by subscribing here.
You have been successfully subscribed!
There was a problem subscribing you to the newsletter. Double check your email and try again, or email
webteam@spokesman.com
---
Subscribe and login to the Spokesman-Review to read and comment on this story