Sports
EWU prepares for Penguins – and the big chill
Thu., Dec. 15, 2016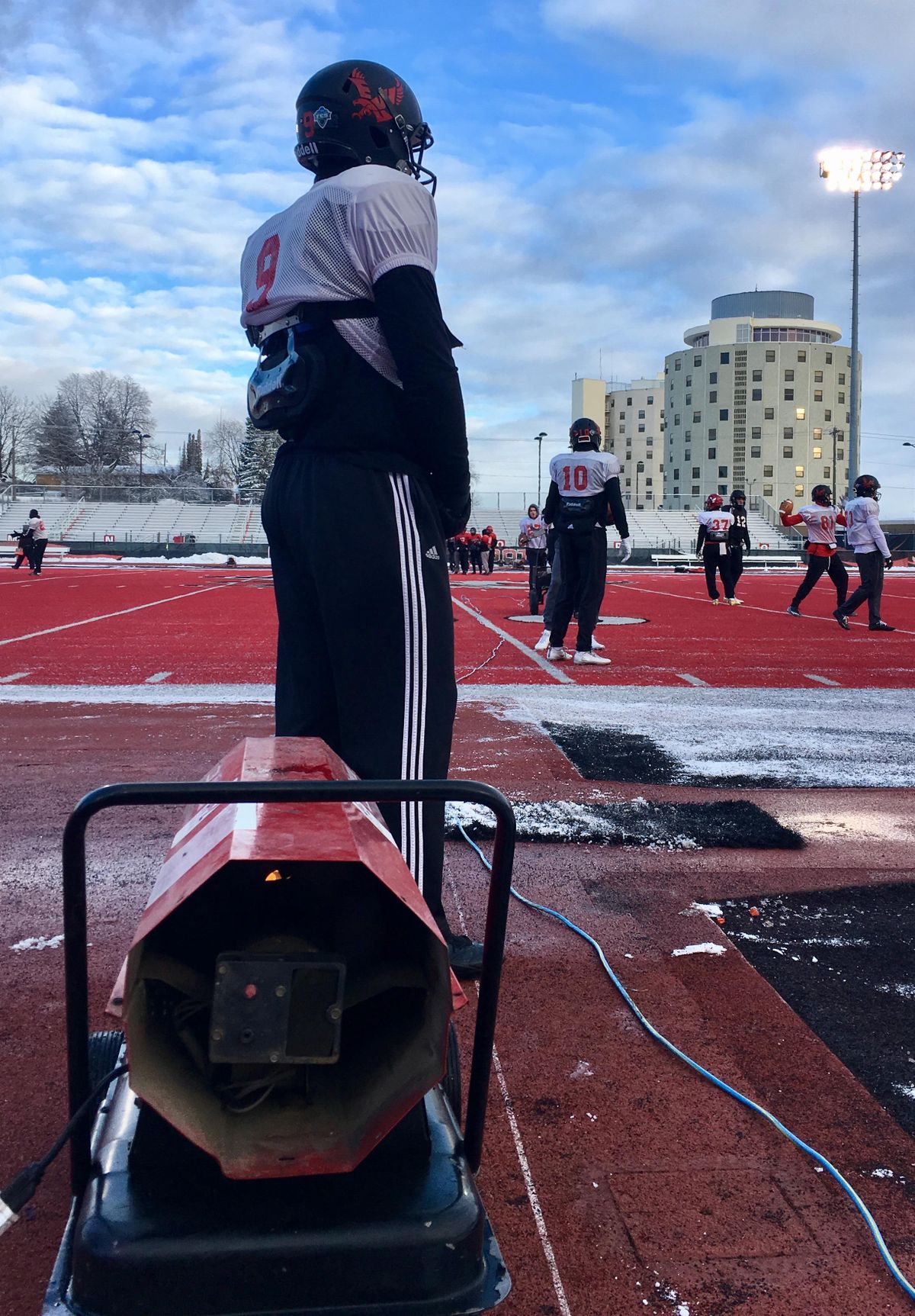 Heaters are on the sidelines for EWU practices, but few players take advantage of them. (Jim Allen / The Spokesman-Review)
Gage Gubrud doesn't care how cold it is – he won't wear a glove on his throwing hand.
Not even at 3 degrees. That's the forecast for Saturday afternoon when Gubrud and his Eastern Washington teammates take on Youngstown State in an FCS playoff game at Roos Field.
It's the biggest game of Gubrud's career, but what if that hot hand succumbs to frostbite?
"It shouldn't be too big of a deal," Gubrud said as the Eagles took the practice field on a relatively balmy 14-degree Tuesday afternoon. "I just have to make sure my hands are warm inside my hand-warmers, sit by the heaters and make sure I never get cold."
Asked about the impending deep freeze and how it will affect them, the Eagle players gave a collective shrug and went on about the business of preparing for YSU.
So did coach Beau Baldwin, whose cup of hot chocolate always seems to be half-full. On Tuesday, Baldwin compared the weather forecast to the 2013 second-round game against South Dakota State, when the mercury dipped to 12.
"But the wind was blowing, so it felt a lot colder," said Baldwin, noting that it should be calm on Saturday.
"It should be perfect football weather," Baldwin smiled.
Another plus is that with final exams completed, practice was be moved up two hours this week.
Meanwhile, Youngstown State is no stranger to cold-weather games. The Penguins outlasted Wofford in double overtime last weekend in 25-degree weather, and coach Bo Pelini was an assistant at Green Bay for three years.
Speaking of Eastern's passing game, Pelini said "You've got to go in with the notion that they're going to be able to execute their offense they way they're used to."
"Plan B, if it becomes more difficult (for EWU's offense), what is our answer going to be? I don' think you can simulate what you're going to see on Saturday, and at the end of the day, you have to prepare the right way."
YSU has the luxury of an indoor practice facility, but the Eagles don't. Whether that helps them acclimate better, time will tell.
On Tuesday, heaters were on the sidelines, but few Eagles needed them.
Said safety Zach Bruce, "When you're running back and forth and get your blood flowing, it's not too hard to stay warm."
That's the biggest piece of advice from Amir Owen, EWU's strength and conditioning coach; and Brian Norton the head trainer.
Owens wants to see some extra stretching – and Spandex for exposed areas. "Don't sit too long and keep the muscles warm to keep the muscles loose."
Norton isn't worried about weather-related injuries. "That's more psychological," said Norton, who added that the EWU grounds crew does a good job of tilling the ice from the Roos Field turf before practices and games to lessen the slickness.
Norton's biggest message is to players is to keep hydrated. "They have to remember to drink. Some players don't want to drink cold water, but we encourage it."
Local journalism is essential.
Give directly to The Spokesman-Review's Northwest Passages community forums series -- which helps to offset the costs of several reporter and editor positions at the newspaper -- by using the easy options below. Gifts processed in this system are not tax deductible, but are predominately used to help meet the local financial requirements needed to receive national matching-grant funds.
Subscribe to the sports newsletter
Get the day's top sports headlines and breaking news delivered to your inbox by subscribing here.
---