Sports > Seattle Mariners
Grip on Sports: More drama as Seahawks win West but lose their cool
Fri., Dec. 16, 2016 A GRIP ON SPORTS • We have a couple questions for you. Who was that lime green team playing at CenturyLink last night? Oh, there's Richard Sherman yelling at someone on the sidelines. It must be the Seahawks. That's answered. So let's go to the next one. Who will the Washington State Cougars be playing in the Holiday Bowl? That one is a bit tougher to solve. Read on.
••••••••••
• So Sherman didn't like it the Hawks were throwing the ball on the 1-yard line again? Seems like a mature way to handle that, yelling at the offensive coordinator. While the game is going on. In front of a national audience.
Builds team unity, doesn't it?
Don't just dismiss it with Richard being Richard, either. This outburst was a bit different. His last sidelines eruption had some method to its mad-bro madness. It brought the defense together, all united against Sherman.
Funny, the group chanted "Hawks fly together" at Sherman that time in the Atlanta game. Maybe Sherman wanted to illustrate an ornithological point Thursday night. Hawks are solitary beasts. They don't fly together. They hunt separately. And it sure seems as if Sherman is on his own island right about now.
Every football team has some underlining tension between the offense and the defense. One side is always playing better than the other. Keeping them all on the same page is crucial. It's one of the things Pete Carroll has been best at in his most recent NFL tenure, despite the Hawks' defense being on a different plane than its offensive counterparts.
But Seattle's defense is beat up, despite last night's near shutout. It needs help from the offense if it wants to win the ultimate prize. The offense, well it's been a poopfest at times this season.
If the two sides of the ball fracture, a Super Bowl won't be in the future, but some changes may be.
• Speaking of change, maybe Cougar fans better start reading up on Northern Illinois.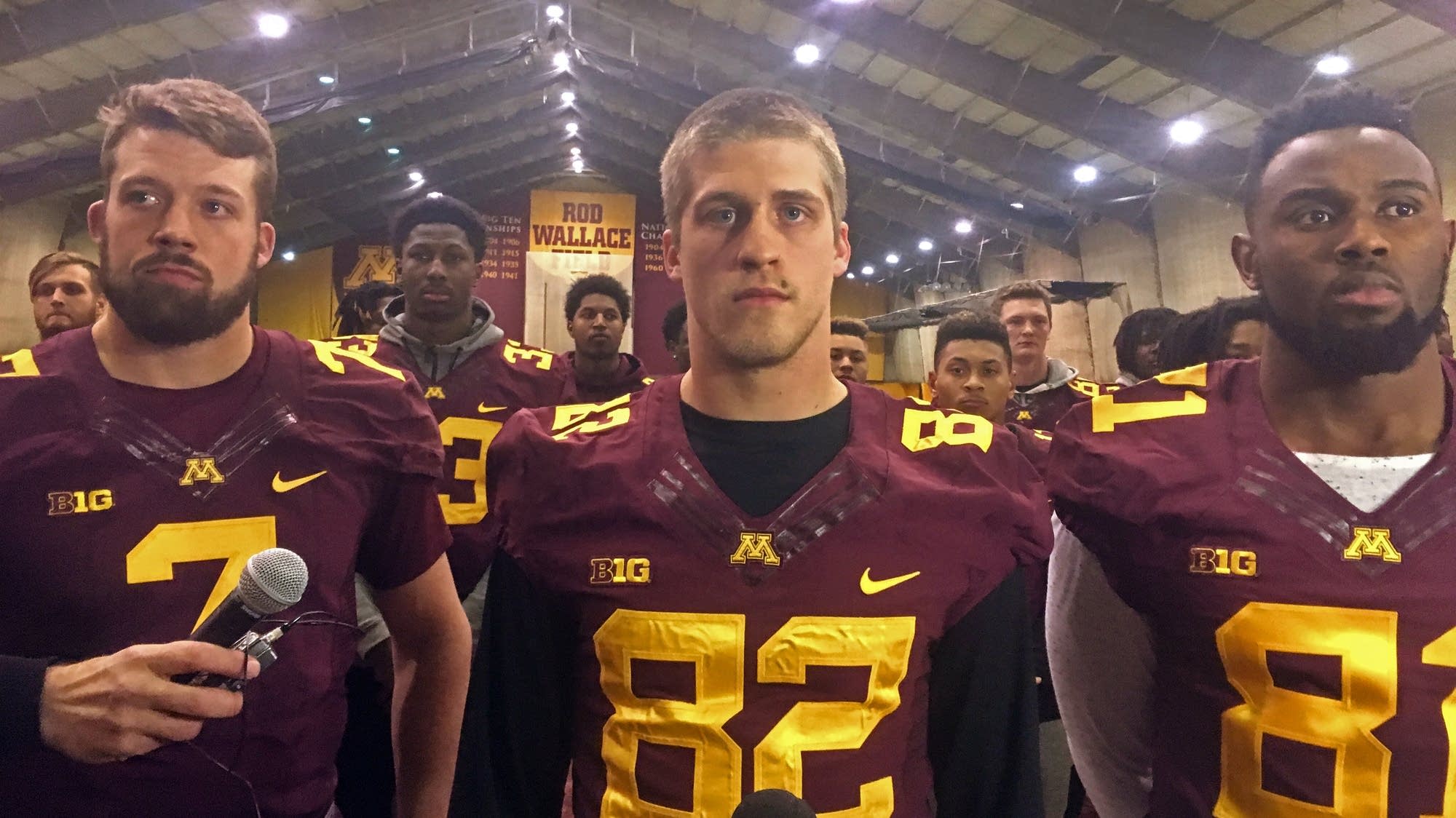 It doesn't look as if Minnesota's players are willing to play in the Holiday Bowl.
Is sort of ironic, isn't it, that in a season in which Washington State had some players suspended and used those suspension as a rallying point, the Cougars' postseason plans may be altered due to players' suspensions 1,400 miles away.
When the Student Council Board knocked a couple Cougars off the team, alums, families and even legislators came to the players' support. It led to a court hearing and reinstatements. And now an Appeals Court ruling means the whole process will be revamped.
Across the country, Minnesota suspended 10 players for an incident that did not lead to criminal charges. Now the rest of the team has come to their support, boycotting practice and stating yesterday they would not participate in the bowl game unless certain demands are met.
They didn't leave much in the way of wiggle room for the school's administrators, which, from the outside, makes it seem possible the Holiday Bowl may have to find a replacement.
Reportedly, 5-7 Northern Illinois, the Mid-American Conference also-ran that is eligible through the NCAA's APR waiver, would be, in football terms, the next man up.
The Huskies started the season 0-4, losing to non-conference games to Wyoming, South Florida and San Diego State. They did, however, win four of their final MAC five games.
They also scattered to the winds recently, as it looked as if their season was over.
Maybe it is. Maybe it isn't. But a decision will have to come soon, probably as soon as early next week.
Which makes it unlikely Minnesota will be the opponent. The problems in Minneapolis are so ingrained in the culture there, finding a solution by Monday seems problematic.
Stay tuned.
•••
WSU: Right now, Mike Leach doesn't care who Washington State is playing. He wants his Cougars to practice with more intensity. He said as much in this video from Jacob Thorpe and Jacob wrote as much in this story. … Jacob also has post-practice videos from assistant coaches Alex Grinch and Clay McGuire and quarterback Luke Falk. … Falk is also No. 1 on this list of crucial Pac-12 NFL decisions. … WSU's offensive line is the second best in the conference. … Around the conference in football, California is looking for a new defensive coordinator. … Oregon has its DC, so Colorado is also looking for a new one. … Former Idaho quarterback Jake Luton signed with Oregon State this week. … Washington is not only in the playoffs, the coaches are in the money. … A former USC quarterback has found a home. … UCLA is re-arranging the furniture at its home. … In basketball, Arizona's freshmen are learning under pressure. … Oregon is blocking out all distractions.
Gonzaga: If you watch GU games on TV, as I do, you might have noticed former Washington State coach Ken Bone sitting behind the coaching staff. Jim Meehan delves into why he's there and what he's up to. … Pacific picked up a home win last night.
Idaho: The Vandals are pretty darn happy to still be practicing. They will play Colorado State in the Famous Potato Bowl on Thursday. Josh Wright has this piece on UI's preparation for the Boise-based bowl game.
EWU: Yes, Youngstown State is making the trip from Ohio to Eastern Washington this week for an FCS semifinal game. Jim Allen looks back at the last time the Penguins made the same journey and what happed. (I was at that game as a fan with my youngest son. We rooted for Eastern and against Jim Tressel's sweater.) … Jim also has a story in which he plays weatherman and the news Cooper Kupp is the FCS' first four-time first-time All-American selection. He is also America's best wide receiver, college variety.
Preps: The big basketball game in the Greater Spokane League last happened up at Ferris, where the Saxons got past South Hill rival Lewis and Clark, 65-62 in overtime. Kevin Dudley has the game story and Colin Mulvany has a photo report. … We also can pass along a roundup of GSL girls games and an area roundup, which includes other local games as well as CCS' tournament win.
Seahawks: Besides Sherman's show, there was little of significance from Thursday's 24-3 win over the woeful Los Angeles Rams. Wait, the Hawks clinched the NFC West. And the defense was superb. And Michael Bennett got his neck wrenched and punter Jon Ryan had to visit the hospital after a late-game fake punt was successful and unsuccessful at the same time.
•••
• A quick note. We have to be out of here tomorrow by 7 a.m., so there won't be a column. Sorry. We will be back on Sunday morning. Until later …
Subscribe to the sports newsletter
Get the day's top sports headlines and breaking news delivered to your inbox by subscribing here.
You have been successfully subscribed!
There was a problem subscribing you to the newsletter. Double check your email and try again, or email
webteam@spokesman.com
---
Subscribe and login to the Spokesman-Review to read and comment on this story