Survival experts offer advice for EWU Eagles fans headed to Saturday's game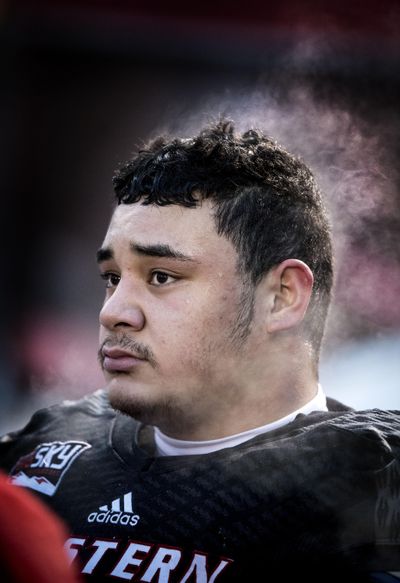 If there has ever been a time to test your loyalty to Eastern Washington football, it's Saturday.
EWU's semifinal against the Youngstown Penguins in Cheney is projected to break the school record as the coldest game the Eagles have ever played, at least according to kickoff temperatures. As of Friday evening, the temperature at the time of Saturday's kickoff at 3:30 p.m. is estimated to be about 4 degrees and is expected to drop to as low as zero degrees by the end of the game.
The current school record is 12 degrees, which was recorded in December 2013 when EWU toppled South Dakota State 41-17 in the second round of the FCS playoffs. A little over 6,000 brave souls attended that game in Cheney.
Saturday will also mark the coldest FCS playoff game for the Penguins. Their game in 28 degrees against Wofford on Dec. 10 of this year was the coldest Youngstown has endured.
The Eagles-Penguins matchup will be aired on ESPNU, but EWU is still expecting roughly 5,000 loyal fans to leave the comfort of their warm living rooms and embrace the frigid air at Roos Field.
Ticket sales and the number of bodies in the stands could fluctuate, though. What could have seemed like a possible weekend outing earlier this week might not be so appealing to some fans when they get that Jack-Frost-nipping-at-your-nose feeling Saturday morning. And it's safe to say some of those fans could choose to trade up their seat in the stands for a cozy seat on the couch.
"Everyone has to make their own choice," EWU athletic director Bill Chaves said.
Chaves said EWU has taken some steps to encourage fans to come cheer on the Eagles. EWU will provide free coffee and hot chocolate at the field and during specific hours at Reese Court, which will be used as a warming center.
The school's "safe haven" at the basketball arena will open two hours before the game starts and will reopen at halftime so fans can have a place to get out of the cold.
"The game is really what it's about," Chaves said. "I just want to make sure they (the fans) know in their head that if they come out, they have a place to warm up."
But free coffee and a warm building to escape the cold might not convince everyone to show up. If you're one of those fans who decide to cheer on EWU from home next to a heater where the players can't hear you, no one can blame you.
But for those who decide to suit up and take on the weather with the Eagles Saturday afternoon, some experts in Spokane have put together a few tips on how to stay as warm as possible.
Carol Christensen, the programs and outreach market coordinator at REI in Spokane, and two survival instructors for the U.S. Air Force Survival School at Fairchild Air Force Base, Tech. Sgt. Mark Dornford and Staff Sgt. Christopher Walsh, have some advice on how to dress for those extreme temperatures.
First rule: No cotton. Ever.
Well, at least this time of year.
"Cotton is an absolute no-no during wintertime," Christensen said.
That's because cotton is arguably the worst piece of fabric to keep in body heat. Cotton does an amazing job at holding on to moisture, and since our bodies are constantly sweating (yes, even when it's below zero degrees), it's important to wear fabrics that are going to pull the moisture away from the skin.
"When you sweat into that cotton fabric, it's going to hold on to that moisture," Christensen said. "The cotton is actually going to make you colder."
Christensen recommended synthetic fabrics, like spandex and polyester, and wool to make sure the skin stays dry and warm.
And the "no-cotton rule" applies to every piece of clothing, even socks.
"That's one of the things people tend to not follow the no-cotton rule very well," Christensen said. "Cotton socks are just terrible, terrible, terrible in the cold."
She suggested wearing wool socks instead and layering with a nylon or a warming insole rather than multiple socks. Layering with socks tends to leave less room in the shoe, which can constrict circulation and keep your feet from staying warm.
Walsh added another rule to layering: Live by the three W's.
Just in case you missed that day in survival school, that's wicking, warming and weather. Or as Walsh described it – the base layer, middle layer and outer layer.
The wicking layer, or the base of your clothing, is essentially the synthetic fabrics or wool layer to which Christensen was referring. That layer is going to keep the skin dry.
"It's a really thin layer … sometimes of wool or silk," Walsh said. "It pulls the moisture away from your skin and it pushes it out."
The warming layer goes right on top of that wicking layer and is designed to provide insulation. A good fleece coat or puffer jacket should do the trick.
"And sometimes that's all you need," Dornford said.
But other elements, such as rain and wind, could call for a weather layer that will go on the outside of your clothing. A windbreaker or a poncho can help fight off those outside elements, keep in heat and stop moisture from reaching the bottom two layers.
Walsh said the "three W's" will only be effective when applied to every part of the body, which includes the feet, hands, neck and especially the head. So leave the Eagles cap at home and find a beanie and a hooded jacket to sport instead.
Also: Stay hydrated.
Drinking fluids when it feels like negative-something outside can be hard to do, but Dornford said staying hydrated is probably the most important part of keeping in the body heat.
When it's cold, your body works harder to stay warm, which makes you sweat and gets you dehydrated quickly. So drink plenty of water.
And forget about the beer. Contrary to popular belief, alcohol doesn't actually make you warmer. It might make you forget that your face and hands are numb, but alcohol actually constricts the blood vessels in your limbs, which slows circulation and makes you colder.
Hot coffee might also sound appealing on a cold day, but it could have a countereffect to staying warm.
"You want to be careful about too much coffee and beer because it's a diuretic and it's going to make you cold easier," Dornford said.
Instead, drink some hot tea, soup or take advantage of that free hot chocolate at Roos Field.
---