Sports
Thorpe: Astounding legacy of Eagles seniors marred by blown semifinals leads
Sat., Dec. 17, 2016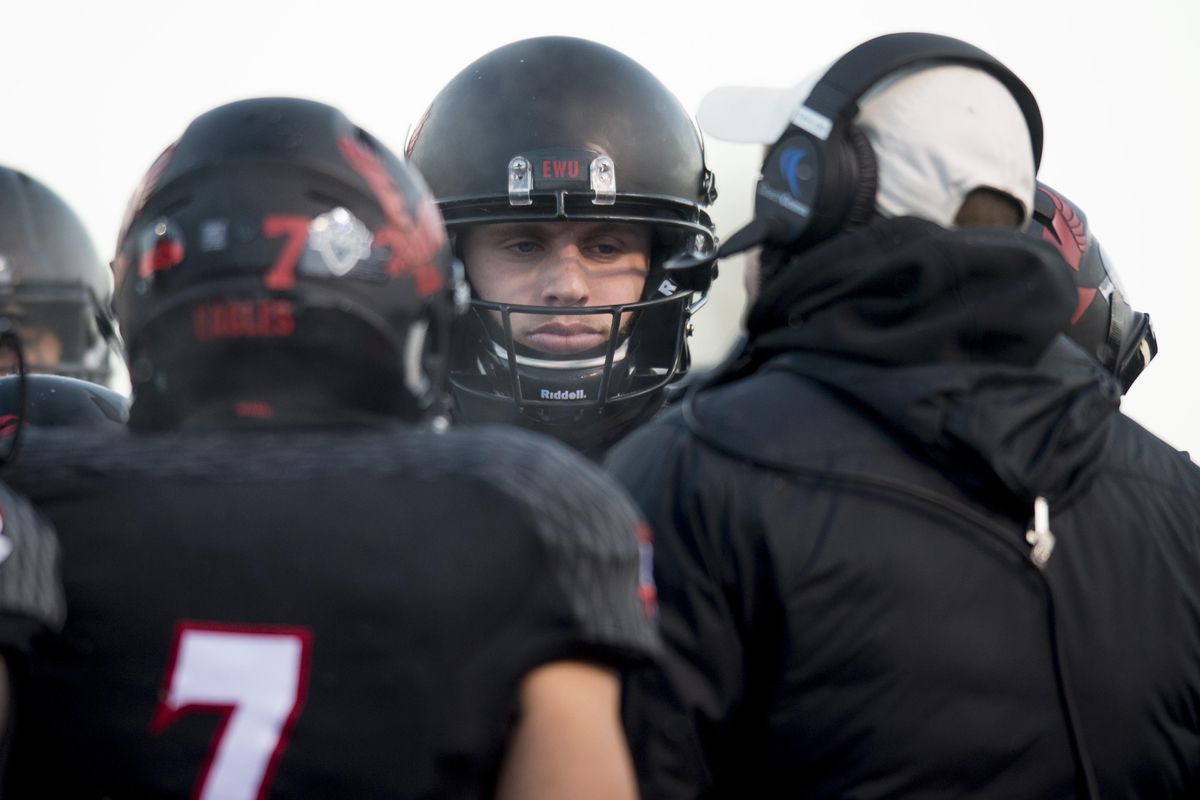 Eastern Washington Eagles wide receiver Cooper Kupp (10) listens to final pointers from head coach Beau Baldwin before the first half of a FCS football game against Youngstown State on Saturday, Dec 17, 2016, at Roos Field in Cheney, Wash. (Tyler Tjomsland / The Spokesman-Review)
Perhaps the only time college football coaches can understandably feel undercompensated anymore is when they are tasked with addressing a locker room full of heartbroken people whose lives are just beginning, though the looks on their faces imply the opposite.
Immediately following Eastern Washington's 40-38 loss to Youngstown State in the FCS playoff semifinals, coach Beau Baldwin told his players that one play would not define their season, that whether or not Hunter Wells' winning touchdown pass with 1 second left was complete or not could not change all they accomplished in 2016.
He spoke of the lasting legacy the senior class would leave, and said that the only reason to be sorry about the loss in Saturday's Battle of Beau vs. Bo was that it means the team will not have three more weeks together.
He is correct on those counts, of course. They all have much to be proud of.
But these Eagles have also earned the right to be graded on a different curve, and the 2016 senior class that is probably the best in school history missed its chance to graduate as the most accomplished.
These seniors gave the Eagles unparalleled sustained excellence, yet their careers are bookended by seasons that ended with blown leads in the semifinals. Eight of EWU's 12 seniors played in the 2013 semifinal loss to Towson that saw the Eagles give away a 10-point lead in the game's final five minutes.
There is no doubt that wide receiver Cooper Kupp will get his wish for his teammates to remember him as "a good teammate, a good man, a guy my teammates trusted, as someone who gave his all for his team."
Fans will remember him as the most prolific receiver in the history of college football, someone for whom double- and triple-coverage simply referred to the number of defensive backs who would be trailing behind as Kupp made another spectacular play look routine.
But although Kupp was excellent in the semifinal as a freshman (eight catches, 124 yards) and again as a senior (10, 180 and two scores), there is still an empty spot in the trophy case alongside the 2010 national championship even he couldn't fill.
Saturday's game was the chance to finally exorcise those Towson demons, to play for a championship before retiring with all those records, but YSU scored 20 fourth-quarter points to prove itself tougher than the home team that built a two-score lead on its explosive passing plays.
This was not the Eagles at their best. EWU's scores came conspicuously in the areas patrolled by YSU's missing all-conference safeties – failures of drug tests last week, reportedly – and the Penguins kept responding with lengthy scoring drives whenever the Eagles created some distance in the second half.
Though the Penguins were missing a 1,000-yard rusher because of a weapons charge, YSU still had two running backs run for more than 100 yards in the Roos Field snow.
None of this is to say that EWU's seniors fell short of the sort of play that carries teams to championship games and, eventually, wins them. All 12 of EWU's seniors have started multiple games – the class finishes with 317 combined starts – and it was the seniors who made the impact plays on Saturday.
Shaq Hill, who joined the team in 2012, redshirted in 2015 and has won a Big Sky title every year he took the field. His touchdown reception in the middle of the third quarter gave the Eagles a two-score lead after the Penguins opened the half with a field goal.
And he played a critical role in EWU's late go-ahead drive, rushing three times for 22 yards, including a touchdown to put the Eagles up 38-34 with 4:24 left in the game.
Kendrick Bourne scored an 83-yard touchdown to put EWU up a couple of scores with 12:35 in second quarter.
Samson Ebukam effectively ended YSU's first-half passing game with an impressive sack of Wells in the second quarter. Mique Zamora forced a fumble and finished with 17 tackles, a career high.
These were the types of plays that have carried the Eagles to 41 wins over the last four years, two outright conference titles and three FCS playoff berths.
But this group had a chance to be indisputably the best to come through Cheney. And with chances as freshmen and seniors to cement that legacy with national championships, they came up just short.
Local journalism is essential.
Give directly to The Spokesman-Review's Northwest Passages community forums series -- which helps to offset the costs of several reporter and editor positions at the newspaper -- by using the easy options below. Gifts processed in this system are not tax deductible, but are predominately used to help meet the local financial requirements needed to receive national matching-grant funds.
Subscribe to the sports newsletter
Get the day's top sports headlines and breaking news delivered to your inbox by subscribing here.
---