A&E > Entertainment
Depictions of race get real, complicated on 'Star,' 'This Is Us'
Sat., Dec. 17, 2016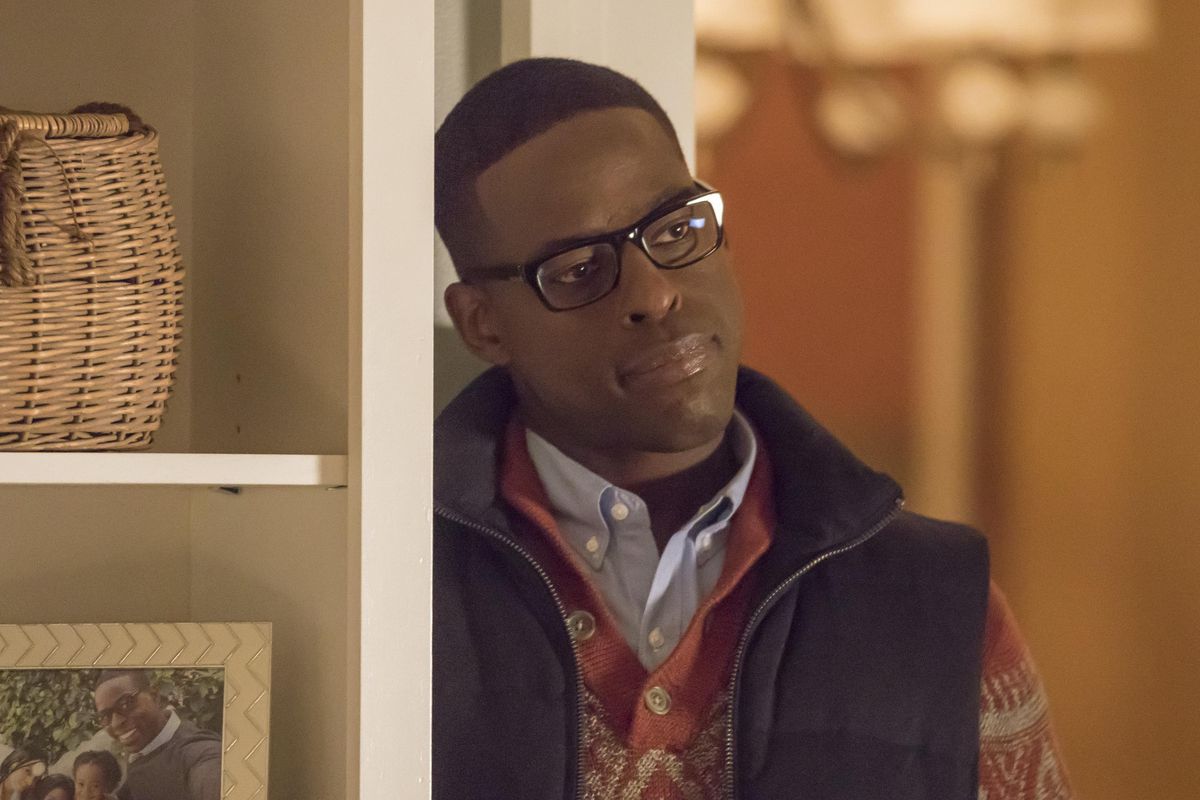 Sterling K. Brown as Randall in a scene from the NBC series, "This Is Us." (Ron Batzdorff / AP)
Since watching "Hairspray Live" last week, with its story of racial relations in 1962 Baltimore, I have been thinking a lot about race and television.
One of my main thoughts: New network series like NBC's "This Is Us" and Fox's "Star," which debuted Wednesday, show how much more complex depictions of racial identity have become since the '80s – when John Waters crafted the initial "Hairspray" film narrative.
These two shows arrive this season on a network landscape that already included such award-winning productions as ABC's "Black-ish" and "Scandal," as well as Fox's "Empire." If you include cable, you have to add FX's newcomer, "Atlanta," to the mix. The question is what, if anything, does this range of shows say culturally about American TV and its audiences when it comes to attitudes toward race?
In the 1980s, the template for depictions of race on TV was largely black and white, as it is in "Hairspray." But in "Star," the new musical drama from Lee Daniels, who co-created "Empire," black and white are only two points on a spectrum, and the skin colors in-between are only one of several elements that shape the identities that characters embrace.
Star Davis (Jude Demorest), an 18-year-old who grew up in foster homes dreaming of a show business career, is the first character viewers meet in the pilot. Her journey from abusive foster care homes to a musical career in Atlanta is the story line Daniels uses to get viewers invested in the drama.
Star is white, but her sister, Simone Davis (Brittany O'Grady), is biracial. She, too, has been living in foster care since their mother died – and waiting for Star to rescue her.
The third member of the singing group at the heart of this series is Alexandra "Alex" Crane (Ryan Destiny), a 20-year-old African-American woman who comes from a privileged background.
So, you have three different racial identities in this trio, and that matters, according to Daniels, who says he's consciously putting race on the table with "Star."
"I thought that it was important to address race relations in America," Daniels said in an interview on "The Real," a syndicated talk show. "We are truly, I believe, in a civil war. And I think that when we understand that we're all one, we will then understand America. And America is still to be understood by us."
Their first night on the road, Alex tips her head in the direction of Simone who is sitting nearby and says to Star, "Your sister's half black?"
"Yeah, her dad was black," Star says casually.
They quickly move onto another topic, but I couldn't help thinking back after that brief exchange to all the exhaustive discussions in the media following Obama's election as to whether it was correct to call him the nation's "first black president" when his mother was white.
If nothing else, Obama's personal history made us more nuanced in thinking and talking about race. It certainly helped us go beyond only looking at it through a black-white lens.
But identity in "Star" gets more complicated yet.
The three singers find themselves living and working in a beauty salon in Atlanta where Star befriends a woman named Cotton Brown, who works the desk. She is played by Amiyah Scott, a transgender actress and model herself who transitioned from male to female just as the character did.
Cotton, who is half Latina and half African-American, is the daughter of Carlotta Brown, who is played by Queen Latifah.
Carlotta's salon also includes a black stylist, who is addressed by one of the characters as Miss Bruce. The stylist is often at odds with Cotton and Star over identity issues.
As anyone who has seen "Empire" knows, Daniels makes smart television. But it is never pretentious. Even as the conversations deal with profound matters of identity, the words are plain-spoken and always real.
Reluctantly working as a shampoo technician, Star burns the hair of an older client.
"Carlotta, you got a white girl messing up my hair," the woman says sitting up, throwing off her plastic smock and storming out the door.
"Carlotta, I don't know why you let that little Caucasian work here," the stylist says. "She can't even work a shampoo bowl. Nasty attitude. Something always wrong with her."
"What did you just say, (expletive)?" Star demands. "Why is it you think you know anything about me? Where I was raised. Who raised me. Who was good to me, black or white. Cuz of what I look like? You're a racist, (expletive)."
Race is not nearly as front and center in the NBC series "This Is Us," a network drama good enough to be on cable. But it plays a prominent and powerful role in one of richest story lines involving a family of five originally from Pittsburgh.
Jack (Milo Ventimiglia) and Rebecca Pearson (Mandy Moore) are the parents of a family that includes biological twins and an adopted son who was dropped off at the hospital on the same day the twins were born.
The year is 1980, and Rebecca gives birth to triplets, but one of her sons dies in childbirth. Jack and Rebecca are white, the infant they adopt is black.
The first 10 episodes of the drama, which ended a half-season run last week, followed the family through several decades moving back and forth from childhood to adulthood for the Pearson children. (The series returns Jan. 10.)
Randall (Sterling K. Brown), the adopted child, is a highly successful business executive, who finds himself thrown into a whirlwind of identity issues when he discovers his biological father, William Hill (Ron Cephas Jones).
Race is sensitively explored in episodes involving a family trip to a public swimming pool when Randall is a child and another in which Randall's biological father comes to live with him and his family and is questioned by police while going for a walk in his grown son's upscale neighborhood.
"This Is Us" won me over on race with an episode that revisited the way kids at the white school Randall and his siblings attended called him Webster, a mocking reference to a 1980s ABC sitcom of that title featuring a young black boy (Emmanuel Lewis) who is taken in by a white couple after his parents are killed in a car accident.
Rebecca wants Randall's white brother to stick up for him at school. But as soon as the Webster taunts start to fly, his white brother abandons Randall to the pack.
It is no surprise that as an adult Randall has such conflicted feelings and that his identity issues are tied not only to race, but also social class and family. Finding his black father is earth-shaking for Randall at a time when he seems to have so much going for him as husband, father and business executive in his own right.
Network TV started offering more multifaceted explorations in the 1990s with series like NBC's "Homicide: Life on the Street," which was filmed in Baltimore. The character of Baltimore Police Det. Frank Pembleton, as played by Andre Braugher, was multifaceted and deep enough to be on premium cable today. But that was the rare exception on network TV of that era.
It remains to be seen how viewers will react to a white character in a leading role on "Star."
Daniels said on "The Real" that he gave a white character such a prominent role, because he felt "the nation needed to heal."
"I think that this white girl is so fabulous that black people will embrace her, and white people will embrace her," he said.
But blowback has already started with a post on "The Root" last week headlined: "Lee Daniels Needs to Stop It With This White-Girl Lead in 'Star' and His Magical Negro Speeches."
Try to talk about race on TV in new ways, and brace for the blowback. Daniels probably wouldn't be using civil war references if he didn't expect it.
Local journalism is essential.
Give directly to The Spokesman-Review's Northwest Passages community forums series -- which helps to offset the costs of several reporter and editor positions at the newspaper -- by using the easy options below. Gifts processed in this system are not tax deductible, but are predominately used to help meet the local financial requirements needed to receive national matching-grant funds.
Subscribe to the Spokane7 email newsletter
Get the day's top entertainment headlines delivered to your inbox every morning.
---