Sports
EWU-YSU notes: Last-second loss leaves Eagles in disbelief
Sat., Dec. 17, 2016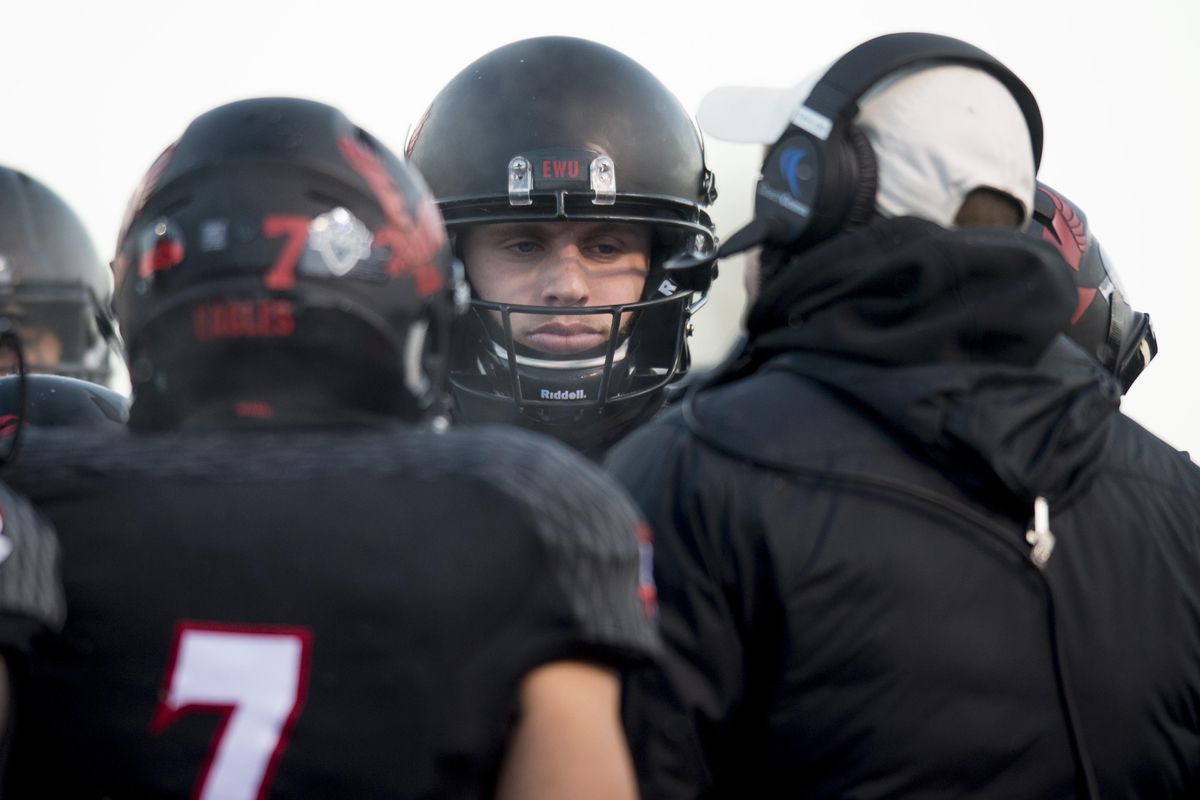 Eastern Washington Eagles wide receiver Cooper Kupp (10) listens to final pointers from head coach Beau Baldwin before the first half of a FCS football game against Youngstown State on Saturday, Dec 17, 2016, at Roos Field in Cheney, Wash. (Tyler Tjomsland / The Spokesman-Review)
Was it a catch, that impossible, last-second, game-winning grab by Youngstown State tight end Kevin Rader?
Eastern Washington safety Zach Bruce didn't think so. Coach Beau Baldwin couldn't tell.
Neither could the officials, who ordered a review that would decide whether Eastern would live to play again.
Trailing 38-34 with 6 seconds to play, the Penguins had the ball at the Eastern 6-yard-line. The play unfolded in surreal slow motion.
"We were lined up in man coverage, and the quarterback looked me off," Bruce said.
That was YSU's Hunter Wells, who dropped back and fired toward Rader at the back of the end zone. EWU linebacker Ketner Kupp was covering, but Rader reached around Kupp and pulled the ball toward himself while falling.
"I give the defensive guy (Kupp) all the credit," Rader said. "He walled me off. He played the ball perfectly. I just made a play on the ball."
Youngstown players rushed the field as the crowd screamed for a review – and got it.
Several agonizing moments later, referee Hank Johns uttered the dreaded words: "After further review, the call on the field stands: touchdown."
The crowd groaned. But for some players, agony gave way to admiration.
"It was an amazing play … an ESPN top-10 play," said Eastern receiver Kendrick Bourne. "That was just a blessing for them."
Gubrud breaks FCS record
A year ago, Eastern quarterback Gage Gubrud was a third-stringer. At the end of the season, he was the all-time single-season passing leader in FCS history.
Gubrud, a redshirt sophomore, threw for 353 yards Saturday night, vaulting himself from fifth to first place in the record book with 5,160 yards.
As the evening wore on he passed the likes of Steve McNair of Alcorn, Eastern's Vernon Adams Jr., Jimmy Garoppolo of Eastern Illinois and finally Taylor Heinecke of Old Dominion.
Gubrud also finished second in total offensive yards with 5,766 – just 33 behind McNair.
Eagles go deep against YSU secondary
Eastern's offense likes to take what the defense gives it, but the Eagles got an unexpected bonus when two starting safeties didn't make the trip for Youngstown State.
LeRoy Alexander and Jameel Smith, both all-Missouri Valley Conference selections, didn't make the trip – presumably because of positive drug tests two weeks ago.
Coincidentally or not, the Eagles went deep early and often against the Penguin backups, completing passes of 50, 27, 36, 83 and 32 yards. Two of those went for touchdowns.
The Penguins also were without junior wide receiver Darien Townsend and running back Martin Ruiz.
Their absence has not been explained by YSU team officials.
Smith and Alexander are the second- and third-leading tacklers on Youngstown State's defense, racking up 86 and 67 tackles this season, respectively.
Local journalism is essential.
Give directly to The Spokesman-Review's Northwest Passages community forums series -- which helps to offset the costs of several reporter and editor positions at the newspaper -- by using the easy options below. Gifts processed in this system are not tax deductible, but are predominately used to help meet the local financial requirements needed to receive national matching-grant funds.
Subscribe to the sports newsletter
Get the day's top sports headlines and breaking news delivered to your inbox by subscribing here.
---