Sports
Winter sports roundup: Austria's Janine Flock wins World Cup skeleton race
Sat., Dec. 17, 2016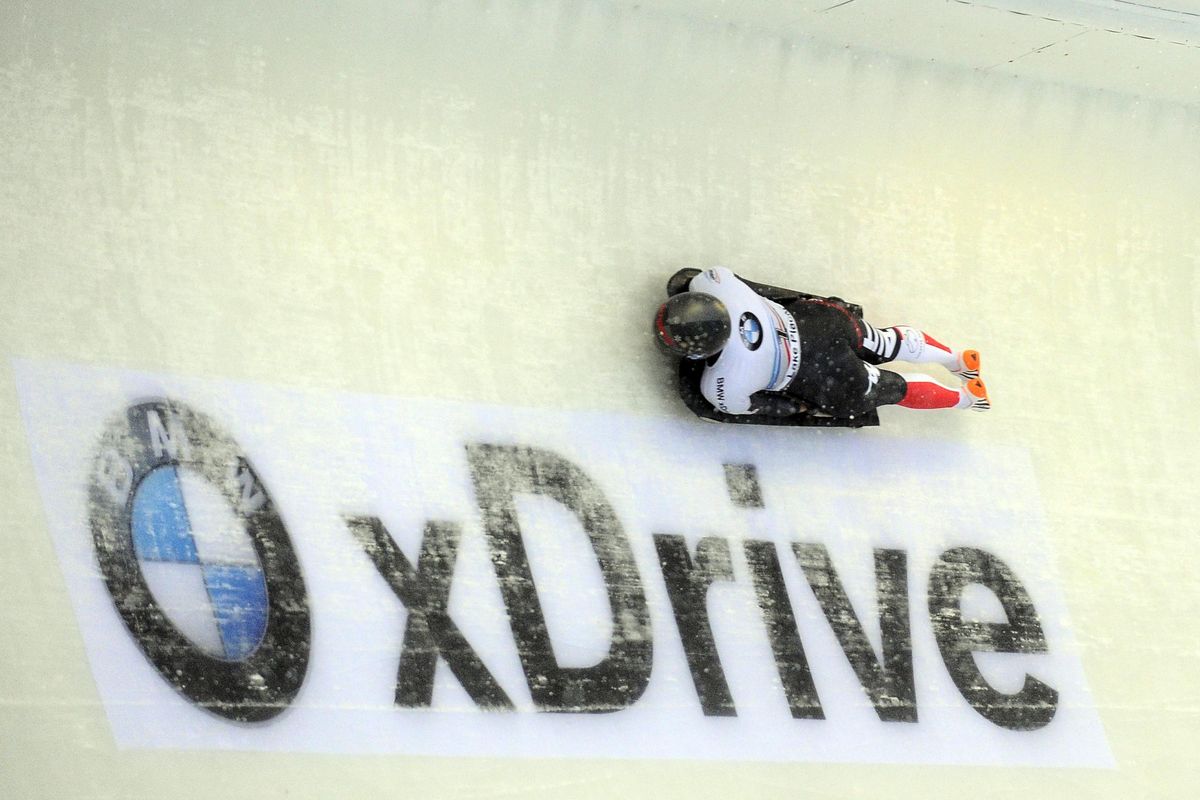 Janine Flock, of Austria, competes in the women's skeleton World Cup race on Saturday, Dec. 17, 2016, in Lake Placid, N.Y. (Hans Pennink / Associated Press)
LAKE PLACID, N.Y. – Janine Flock of Austria broke the track record on the way to winning a World Cup skeleton race Saturday at Mount Van Hoevenberg.
Flock finished in 1 minute, 49.77 seconds, dodging the snowflakes on a day where some sliders were slowed by accumulations on the track.
The previous track record was 55.04 seconds set in 2015 by Savannah Graybill of the U.S., and Flock lowered it with a time of 54.84 seconds in her first run.
Olympic champion Lizzy Yarnold of Britain was second in 1:50.58, and Canada's Mirela Rahneva took third in 1:50.92. Annie O'Shea was the top U.S. finisher, placing sixth in 1:51.20. She was the lone American in the top 10 on home ice; Kendall Wesenberg was 13th and Graybill took 15th.
France's Fourcade, Chevalier win biathlon World Cup pursuits
NOVE MESTO, Czech Republic – Martin Fourcade was too good yet again in winning a 12.5-kilometer pursuit at a biathlon World Cup on Saturday. Fellow French skier Anais Chevalier was the women's 10-kilometer pursuit champion.
Following his victory in Thursday's sprint, Fourcade had to overcome one penalty lap after missing one target at the second shooting range. After he shot clean at the final shooting range, he was cheered on by 30,000 fans all the way to the finish line.
"It's a good feeling today," Fourcade said. "There's too much talk about doping in biathlon and I'm happy to bring some joy to people."
Second in the sprint, Russia's Anton Shipulin came second again, 30.2 seconds behind.
Quentin Fillon Maillet of France finished third, 38.3 back.
Fourcade leads overall with 408 points after winning six of the seven individual races. Shipulin was second with 281.
Chevalier started the women's race four seconds behind Friday's sprint winner, Tatiana Akimova of Russia, and pulled away after the third shooting range for her maiden World Cup victory.
After missing one target, Chevalier edged Italy's Dorothea Wierer, who missed two, by 9.5 seconds. Akimova was third, 19.4 seconds back.
On Friday, the rising star of the French biathlon claimed her first World Cup podium with her second-place finish.
Laura Dahlmeier of Germany leads the overall standings with 356 points, followed by Kaisa Makarainen of Finland with 278. Mass start races are scheduled for Sunday.
Rydzek leads German top-4 sweep in Nordic combined World Cup
RAMSAU, Austria – Johannes Rydzek led a German sweep of the top four spots in a Nordic combined World Cup event on Saturday.
Rydzek overtook Fabian Riessle on the finish stretch and beat his teammate by 1.5 seconds as he finished in 22 minutes, 23.6 seconds.
It was Rydzek's third win of the season and ninth overall as the world champion extended his lead in the season standings.
Olympic champion Eric Frenzel trailed by 8.7 in third, and Vinzenz Geiger was 15.0 back in fourth.
Norway's Espen Andersen was the best non-German finisher in fifth.
Frenzel opened the 10-kilometer cross-country race after winning the jumping ahead of Mario Seidl of Austria. Seidl dropped to seventh after posting the 37th time in the cross-country portion. Another Nordic combined event is scheduled for Sunday.
Local journalism is essential.
Give directly to The Spokesman-Review's Northwest Passages community forums series -- which helps to offset the costs of several reporter and editor positions at the newspaper -- by using the easy options below. Gifts processed in this system are not tax deductible, but are predominately used to help meet the local financial requirements needed to receive national matching-grant funds.
Subscribe to the sports newsletter
Get the day's top sports headlines and breaking news delivered to your inbox by subscribing here.
---