News > Nation/World
Bitter cold front moves across Plains to Midwest, heads east
Sun., Dec. 18, 2016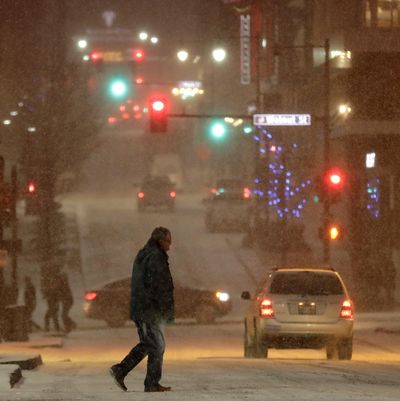 CHICAGO – Dangerous, record-low temperatures caused cancellations of some holiday festivities in the Plains and Midwest over the weekend before the cold front pushed into the Ohio Valley and the Eastern Seaboard on Sunday.
The National Weather Service forecast a warming trend to start early in the week in many spots as a quieter weather pattern was expected to develop.
On Sunday, temperatures plunged to minus 20 degrees and lower across much of the northern Plains with a fresh surge of bitter arctic air reaching into the Midwest.
A church in Lincoln, Nebraska, canceled its living Nativity scene. Patti Crittenden, Trinity United Methodist Church's director of youth ministries, told the Lincoln Journal Star, "In my opinion, this is too cold for anyone to be standing outside – bundled up or not."
In suburban Chicago, an arboretum canceled its holiday light show planned for Sunday night and a holiday gift market was canceled in the Chicago suburb of Naperville.
Travelers were stranded and delayed as a blizzard shut down Interstate 90 in parts of Montana on Sunday. Authorities urged people to stay home to avoid endangering themselves and possible rescuers.
Weather-related delays at Indianapolis International Airport caused about 100 passengers to spend the night in the terminal, but most travelers were on their way Sunday morning.
Chicago police said a commercial plane slid off a runway early Sunday at O'Hare International Airport. There were no injuries reported from the incident just after 1 a.m.
Bismarck, North Dakota, posted a new record low for the date of Dec. 17 with 31 degrees below zero on Saturday before midnight, said National Weather Service meteorologist Zachary Hargrove. Linton, North Dakota, was even colder at minus 33 degrees early Sunday.
In South Dakota, the city of Huron set a new low for Sunday's date of minus 31 degrees. Another record fell in Marshall, Minnesota, where it was 31 below zero. Spencer, Iowa's negative 27 degrees was also a record-breaker.
Colorado residents were digging out after up to 16 inches of snow fell across the state on Saturday, stranding motorists and leaving some areas of the state with subzero temperatures on Sunday. The National Weather Service said the thermometer dipped to 27 degrees below zero in Limon. Breckenridge reported the most snow, with 16 inches that gave skiers and snowboarders the heavy snow they have been hoping for all season.
Snow and freezing rain led to numerous highway accidents, some serious. Perhaps the biggest accident was in Baltimore, when a tanker carrying gasoline skidded off a highway and exploded, killing two people and causing a nearly 70-vehicle pileup on Interstate 95, authorities said. Hospital officials said nearly two dozen people were treated for injuries including broken bones and head trauma. A total of seven remained hospitalized Sunday with two in critical condition, two in serious condition and three in fair condition.
In southwestern Michigan, icy conditions appear to have played a role in a crash that killed a 73-year-old motorist. There were dozens of crashes in Indiana – two of them with fatalities – due to freezing rain and ice. The roads were so slick that authorities had to move motorists stranded on an overpass with a ladder.
In Ohio, a Columbus woman died Saturday when her car skidded off a slick road, authorities said.
In Virginia, a Fairfax County firetruck slid off an icy road while responding to a crash, but no one was injured.
In North Carolina, police and emergency workers reported more than 100 crashes in Raleigh and Charlotte as the drizzle combined with temperatures below freezing to create dangerous icy patches.
In Missouri, Jared Leighton, a meteorologist with the National Weather Service in Pleasant Hill, said Sunday the winter storm Saturday left 2 to 4 inches of snow in Missouri and was followed by sub-zero temperatures early Sunday.
Leighton said a "gentle warmup" is expected.
"It's still going to be rather cold, but when you start with minus 9 anything is going to feel warm," he said. "We'll struggle to get out of the single digits," he said Sunday. "We might get to 10 degrees today."
Local journalism is essential.
Give directly to The Spokesman-Review's Northwest Passages community forums series -- which helps to offset the costs of several reporter and editor positions at the newspaper -- by using the easy options below. Gifts processed in this system are not tax deductible, but are predominately used to help meet the local financial requirements needed to receive national matching-grant funds.
Subscribe now to get breaking news alerts in your email inbox
Get breaking news delivered to your inbox as it happens.
---