Blanchette: Number this Gonzaga win among the unusual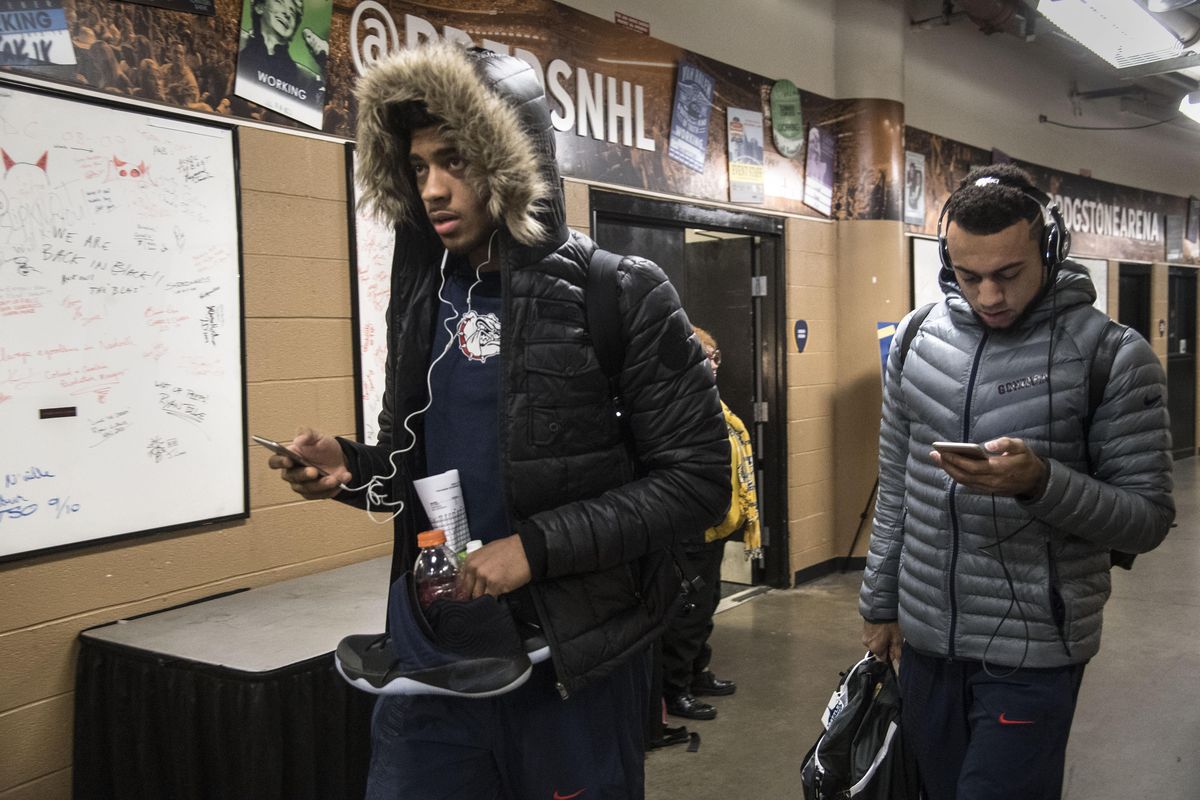 NASHVILLE, Tenn. – So the Gonzaga Bulldogs are 11-0 now, though if you aimed your binoculars on the "0" Sunday afternoon you could scout a regiment of sweat beads marshaling along the brow.
And the second "1" in the 11 is different, too.
It's the one that wasn't earned in the friendly confines of the Kennel or in some neutral metroplex arena in front of the mostly indifferent. It's the spoils of the road, so it will be entered in Gonzaga's season log in special ink and possibly with an asterisk – not to narrow its worth, but to summon the bizarre details for some future retelling.
The 30 fouls.
The rare Mark Few technical.
And massive Przemek Karnowski dismissing an opponent's pathetic – but rewarded – flop with a gesture that implied a trip to the weight room was in order.
Yes, especially that.
The escape from Bridgestone Arena here Sunday – 86-76 over Tennessee – will not be particularly notable when it comes time for the NCAA committee to parse the Zags' line in the bracket. The Volunteers are on their way to the Southeastern Conference's second division, and might be no better than the fifth-best team in Tennessee. Which does not mean that when pushed, they don't push back.
And seeing the players on Gonzaga's bench at the time – which included a good many regulars – surge to their feet when Josh Perkins nailed a tough fadeaway for what was in effect the deciding bucket was to know that this win tilted more toward the consequential than the perfunctory.
"It is meaningful," said guard Nigel Williams-Goss. "Obviously, we weren't perfect, but to come in here and beat a good team by double digits and pretty much control the entire game – that's good work. But there's room to grow."
That goes for the winning streak, too.
One more and it'll be the longest to start the season in school history, dating back to the program's very beginning in 1905. Sunday's win tied the 1944 Bulldogs – the wartime collection of Navy V-12 officer trainees that would finish 21-2.
And you think there are a lot of transfers on this Gonzaga team.
However long the season's hot start stretches into the middle or the end, though, matters little. It's always day-to-day, and surviving Sunday took imagination.
And some go-to players.
For after a torrid beginning for the Zags – the lead was 27-6 within eight minutes – the officiating firm of Karl Hess, Jamie Luckie and Brent Hampton seemed determine to bring the proceedings to a crawl. And both the volume of the whistles and their often ridiculous nature got under Gonzaga's skin.
This also allowed a crowd of 13,784 that arrived at Bridgestone at their convenience – hey, there was a Titans game on the tube – to gather hope and get hostile, and at least mimic Tennessee's Knoxville campus atmosphere.
By the time Luckie, one of college basketball's more combative zeebs, nailed Few ("Could be the worst T I have ever seen," tweeted ESPN analyst Seth Greenberg), a core melt was in progress.
It got as close as four, but no closer. Williams-Goss came up with a nervy drive for a three-point play after the last TV timeout – UT flopmeister Lew Evans not getting the call that time – and then Perkins unsheathed his digger as the clock ticked toward 2:00.
"They were pressuring us, so it was hard to get into actions," Perkins said. "I'd seen that shot – it was open a couple of times in the first half and I was just waiting for it to show itself again."
There were other important plays – rebounds by Killian Tillie and Silas Melson, defense by Karnowski. But mostly there was just hanging tough through all the fouls that sent Melson and Zach Collins to the bench and had four other Zags playing with four.
"We got through it," said Few. "Last year, Josh Perkins wouldn't have been able to play extended minutes with four fouls. Nigel did a nice job – he understands. And I was really proud of our two young bigs. They were frustrated with how the game was going – some calls – and down the stretch made several big plays."
Those are the plays that are escaping coach Rick Barnes' young Vols, who have agonizing near-misses against Oregon and North Carolina in their resume, too – close enough that with a basket or two "we could be the talk of college basketball," he noted.
Instead, he thinks Few's Zags should be.
"He's got as good of a team as he has ever had," Barnes insisted. "It could be the first time in a long time that you have a team that could be capable of being undefeated headed into postseason play."
Well, not that long. Kentucky did it just two years ago.
But you have to admit – that would be a really hot start.
---