News > Spokane
Kids in need enjoy Christmas cheer thanks to Kalispels, Salvation Army
Sun., Dec. 18, 2016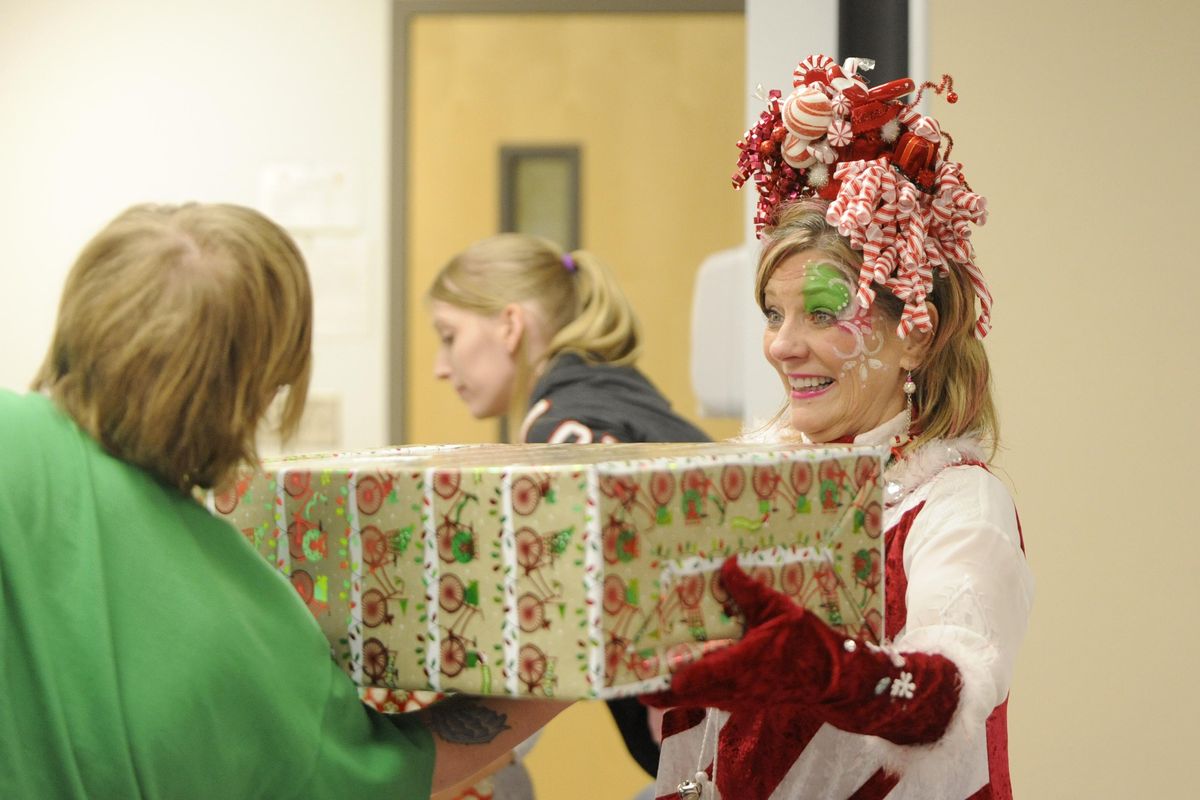 Janet Sprenger, who goes by the elf name "Peppermint," hands a gift to a young mother for her child during a party Sunday, Dec. 18, 2016, at the Salvation Army family services center. Three elves, who normally perform for and visit sick children for the Wishing Star Foundation, put on the party after the Kalispel Tribe of Indians bought an elf-party package at a Wishing Star fundraiser and donated it to the kids at the center. The tribe also provided a gift for each child. (Jesse Tinsley / The Spokesman-Review)
Morgan Theobald wants spy equipment for Christmas. In fact, when she grows up, she'd like to join the ranks of James Bond and Ethan Hunt in international espionage.
Why?
"Because I like spying," the 6-year-old said.
So naturally, when her parents told her and her four siblings they were getting presents from strangers on Sunday, they were all ecstatic. Morgan hoped for a pair of binoculars.
"They've been bugging us all weekend," said Dimitri Vozzy, the boyfriend of Morgan's mother, Kathryn Theobald.
Three weeks ago, Christmas gifts seemed wholly unlikely for the family of five. What little money they did have was going to hospital bills and motel rooms, not presents under the tree.
Until even those funds ran out. Facing homelessness, they decided to apply for emergency housing through the Salvation Army.
The day they were accepted was the day they were going to lose a roof over their head.
"Since then, it's been us trying to put everything back together," Kathryn Theobald said.
Their hard luck took a back seat Sunday, when the Theobalds and Vozzy joined dozens of other families also in emergency housing at the Salvation Army family services center for a Christmas party, with professional elves and gifts donated by the Kalispel Tribe of Indians.
The tribe purchased the elves-for-hire at the Wishing Star Foundation's Wishes and Wine event in November. Rather than use them for a workplace holiday party, as many people do, they decided to throw a celebration for children in need.
They also took a trip Thursday to Wal-Mart and spent about $50 on each gift.
"I used to work at the Salvation Army, and they're near and dear to my heart," said Leslie Rogers, of the Kalispel Tribal Economic Authority, which donates more than $1 million to causes in Pend Oreille and Spokane counties each year. "So we picked them."
The three professional elves – Sprinkles, Peppermint and Sparky – said spreading holiday cheer to children was a highlight of their work week, which included a meeting with the "boss," Santa Claus.
Never breaking character, Marva "Sparky" Ulleland, Janet "Peppermint" Sprenger and Gail "Sprinkles" Gering were dressed head to toe in Christmas bling, with multiple bells that jingled and jangled as they walked.
"Hey, Sparky, where'd you get your outfit?" said Sprenger, while setting up before the children arrived.
"At the boutique at the North Pole," Ulleland answered.
"We all get our outfits there," Gering chimed in.
As excited kids filled the room, it wasn't long before they were buzzing around, high on sugar from decorating – and eating – cookies. Some had stars and hearts painted on their faces, while others too young to join in slept soundly in their parents' arms.
"I think it's awesome," Kathryn Theobald said. "That they do something like this, it's just so amazing."
When it was finally time to open presents, the elves slowly read the name of each child. One by one, they came to grab their presents, some needing help from their parents to carry boxes bigger than they were.
Morgan, hopeful for her spy equipment, bounced up and down impatiently as children around her ripped apart packages and screamed with elation. She couldn't understand why her mother was making her wait for her siblings to have a gift before she started.
After a 6-year-old's version of eternity, the moment came at last. She tore at the paper feverishly, while her sister meticulously unwrapped her box, making sure not to rip one square inch of the paper.
"Rip it!" Morgan shouted.
Her gift open, she turned it around and stared in bewilderment.
"Candy Land?" she said. "I'm playing this when we get home!"
Local journalism is essential.
Give directly to The Spokesman-Review's Northwest Passages community forums series -- which helps to offset the costs of several reporter and editor positions at the newspaper -- by using the easy options below. Gifts processed in this system are not tax deductible, but are predominately used to help meet the local financial requirements needed to receive national matching-grant funds.
Subscribe now to get breaking news alerts in your email inbox
Get breaking news delivered to your inbox as it happens.
---