News > Spokane
The Dirt: Two renovations lined up for Spokane Valley Mall
Sun., Dec. 18, 2016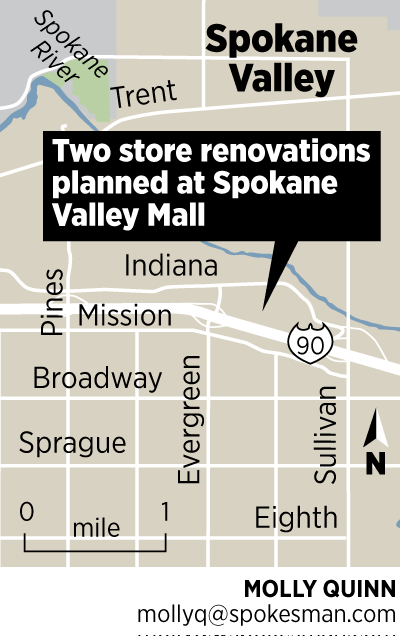 Two store renovations are lining up at Spokane Valley Mall, including expansion of space for Macy's.
City of Spokane Valley building records describe a Macy's renovation and a 5,762-square-foot expansion of the store's second floor. The project value is estimated at $625,000.
A $325,000 project will remodel the Bath & Body Works store and include doors, partitions and storage-room racking.
Kidds Dental to open new Valley office
A $2.1 million project is slated to build a Kidds Dental facility at 19309 E. Broadway Ave.
Plans call for a nearly 12,800-square-foot dental office. Jongeward Construction and Development is the general contractor.
Property owner Dr. Jared Evans has a Kidds Dental office in Liberty Lake.
Sports complex coming to Post Falls
The city of Post Falls and Copper Basin Construction have entered into an agreement that will allow for a future 25.5-acre, multiuse sports complex and an 8.3-acre neighborhood park.
The development cost is estimated at $1.6 million for the sports complex, which would be west of state Highway 41 and south of Prairie Avenue. Softball will be the main sport at the facility. The smaller neighborhood park is likely to cost about $500,000 to build, the city said.
Medical Lake schools buys warehouse
The Medical Lake School District has purchased a 7,000-square-foot warehouse and office building in Medical Lake for $299,000. The school district will be using it as a maintenance facility.
Ryan Towner and Dallas Lightner, both of Black Commercial, were the brokers.
Former Medical Lake grocery property sold
A former grocery store property in Medical Lake recently sold.
The site of Denny's Foods, 210 S. Broad St., was purchased by Stephanie Vogel. It includes a 9,100-square-foot building.
Jeff K. Johnson and Chris Bell, both of Black Commercial, assisted with the transaction.
Local journalism is essential.
Give directly to The Spokesman-Review's Northwest Passages community forums series -- which helps to offset the costs of several reporter and editor positions at the newspaper -- by using the easy options below. Gifts processed in this system are not tax deductible, but are predominately used to help meet the local financial requirements needed to receive national matching-grant funds.
Subscribe now to get breaking news alerts in your email inbox
Get breaking news delivered to your inbox as it happens.
---