Sports > Gonzaga basketball
Zags hold off Volunteers in Nashville, stay unbeaten
Sun., Dec. 18, 2016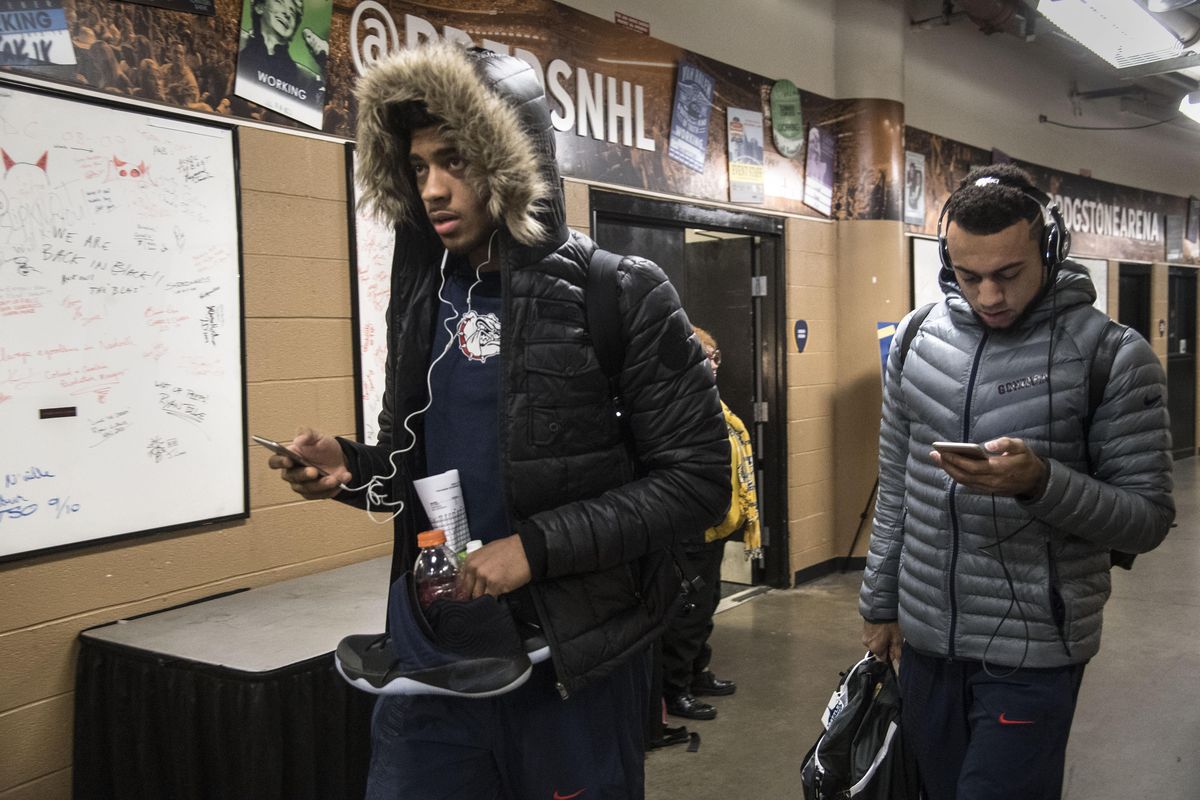 Gonzaga players Jeremy Jones, left, and Nigel Wiliams-Goss are bundled up from the cold as they enter Bridgetone Arena to face Tennessee Dec. 18, 2016, in Nashville, Tenn. (Dan Pelle / The Spokesman-Review)
NASHVILLE, Tenn. – It was the kind of game (read: tons of whistles) that called for a nice pair of ear plugs.
And Gonzaga's depth and balance.
The eighth-ranked Zags relied on both to turn back Tennessee's spirited second-half comeback in an 86-76 victory Sunday before 13,784 mostly orange-clad fans at Bridgestone Arena.
Six players in Gonzaga's eight-man rotation were in foul trouble. It wasn't a particularly physical game but officials called 30 fouls on GU and 26 on the Volunteers, though several came late when Tennessee was forced to foul.
The result was a flow-less contest with 66 combined free throws.
"We've been talking about the depth all year but I think this was a game it really showed," guard Josh Perkins said. "With so many fouls being called and guys being in foul trouble, the reserves had to show up and step up and they did."
So did Perkins and Nigel Williams-Goss, who produced 20 points, nine rebounds and six assists. Gonzaga (11-0) led by 21 in the first eight minutes, by 14 at halftime and by 16 with 10:25 remaining. The Vols (6-5) stormed back with several 3-pointers and repeated trips to the free-throw line.
The Zags' lead melted to four after Jordan Bowden's putback with 6:05 left. Zach Collins responded with a pair of free throws and Williams-Goss added a three-point play to extend GU's lead to nine.
Gonzaga's lead was down to four again after a Robert Hubbs III field goal. Perkins drove near the free-throw line and hit a pull-up jumper to start a deciding 6-0 run.
"I'd seen it earlier in the game that it was open but I was just waiting for the right time, right place to take it," Perkins said. "It was there."
Killian Tillie added a key offensive rebound and two free throws and Perkins hit two at the stripe to give GU an 81-71 cushion.
Perkins and Johnathan Williams didn't start the second half after picking up three fouls in the first 20 minutes. Silas Melson and Tillie got the nod and made the most of their time. Melson finished with nine points, six boards and four assists before fouling out. Tillie added five points and five rebounds.
Collins, who also fouled out, chipped in 10 points in 18 minutes.
"The sixth, seventh, eighth, ninth guy, they come in and do damage," starting center Przemek Karnowski said. "They're playing the same minutes as us, they're just coming off the bench."
The Zags were rolling early, scoring the first eight points and leading by double digits after Melson's tip-in with 15:20 left.
"I thought we absolutely played as poorly as we have all year," Vols coach Rick Barnes said. "We didn't give ourselves a chance there early."
GU had a size advantage inside but its transition game stung the Vols. Williams-Goss converted a fastbreak layup and Perkins drained a 3-pointer, both after UT misses.
Jordan Mathews guarded Hubbs and contained the high-scoring wing who likes to operate from 15 feet and in. Hubbs finished with 10 points on 4-of-10 shooting.
"He (Hubbs) just has a knack for hitting tough, contested 2s," Zags coach Mark Few said. "It wasn't just one guy but I thought Jordan was in the right spots and battled him pretty good."
Gonzaga's lead reached 27-6 but turnovers, several on traveling calls and several when the quick-handed Vols stripped post players, and fouls stalled GU's momentum.
The Zags finished with a season-high 20 turnovers – 14 by post players – and yielded 20 offensive rebounds, the third straight opponent to have at least 20. But they took care of the ball in the closing minutes and pulled away after the Vols made it interesting.
"Every time we came down we ran the play, we ran the play perfectly, we didn't panic and we took our time," Collins said. "We're getting really, really good at handling late-game situations.
"It's something we work on in practice. It's a good sign going forward."
Local journalism is essential.
Give directly to The Spokesman-Review's Northwest Passages community forums series -- which helps to offset the costs of several reporter and editor positions at the newspaper -- by using the easy options below. Gifts processed in this system are not tax deductible, but are predominately used to help meet the local financial requirements needed to receive national matching-grant funds.
Follow along with the Zags
Subscribe to our Gonzaga Basketball newsletter to stay up with the latest news.
---