Sports > Seattle Seahawks
Grip on Sports: Do college sporting events mean anything and other existential questions
Tue., Dec. 20, 2016 A GRIP ON SPORTS • A college football player announced a personal decision about 24 hours ago and it immediately made me think of the meaning of words. Words like meaningless and commitment, teammate and hypocrisy. Read on.
••••••••••
• Unless you've been living under a dam, you know who I mean. Stanford's Christian McCaffrey, quite possibly the best all-purpose running back college football has ever seen, took to social media yesterday and let the world know he wouldn't be playing with the Cardinal in the Sun Bowl.
He is going to begin getting ready for the NFL draft.
And the dam broke.
It's almost impossible to quantify the onrushing number of words I've read since then concerning McCaffrey's decision – and a previous similar one made by LSU running back Leonard Fournette. Pro and con. Positive and negative.
The arguments seem to pit, at their core, individual vs. group. What matters more? But there have been terms thrown around to make points, used in ways I just don't understand. So let's examine them.
• What makes a game "meaningless?" I honestly don't know. More than a handful of commentators I respect have decided McCaffrey shouldn't risk his NFL future playing in the Sun Bowl. It is, as one columnist wrote, "a meaningless bowl game."
Really? If that is your reasoning, then please explain to me what college football game means anything?
Should Deshaun Watson (pictured) risk his NFL future playing in Clemson's upcoming playoff game? How does that game have any more meaning? It's just part of a made-up series of games to decide a mythical national champion.
Even if one concedes playoff games are not meaningless, if the Sun Bowl is, then every other bowl game is as well. And about 95 percent of the regular season.
As soon as most teams lose one game (and, in most cases, before a game is even played) they are eliminated from national title consideration.
Stanford began the season thinking national championship. That hope ended for the Cardinal somewhere in September or October. Why not stop playing then?
Extending the logic used to defend McCaffrey's decision – based on a "meaningless" game – would mean someone like Gabe Marks probably should have shut it down after the Eastern loss and began prepping for the NFL draft.
OK, that's just stupid. He needed to build a resume, right? Just like McCaffrey did. That's why they both returned this year instead of exercising their option of entering the draft after last season. Or is it?
• For most college football players – almost all, actually – this is it. The 48 to 52 games they play in their college careers are the last they will ever play.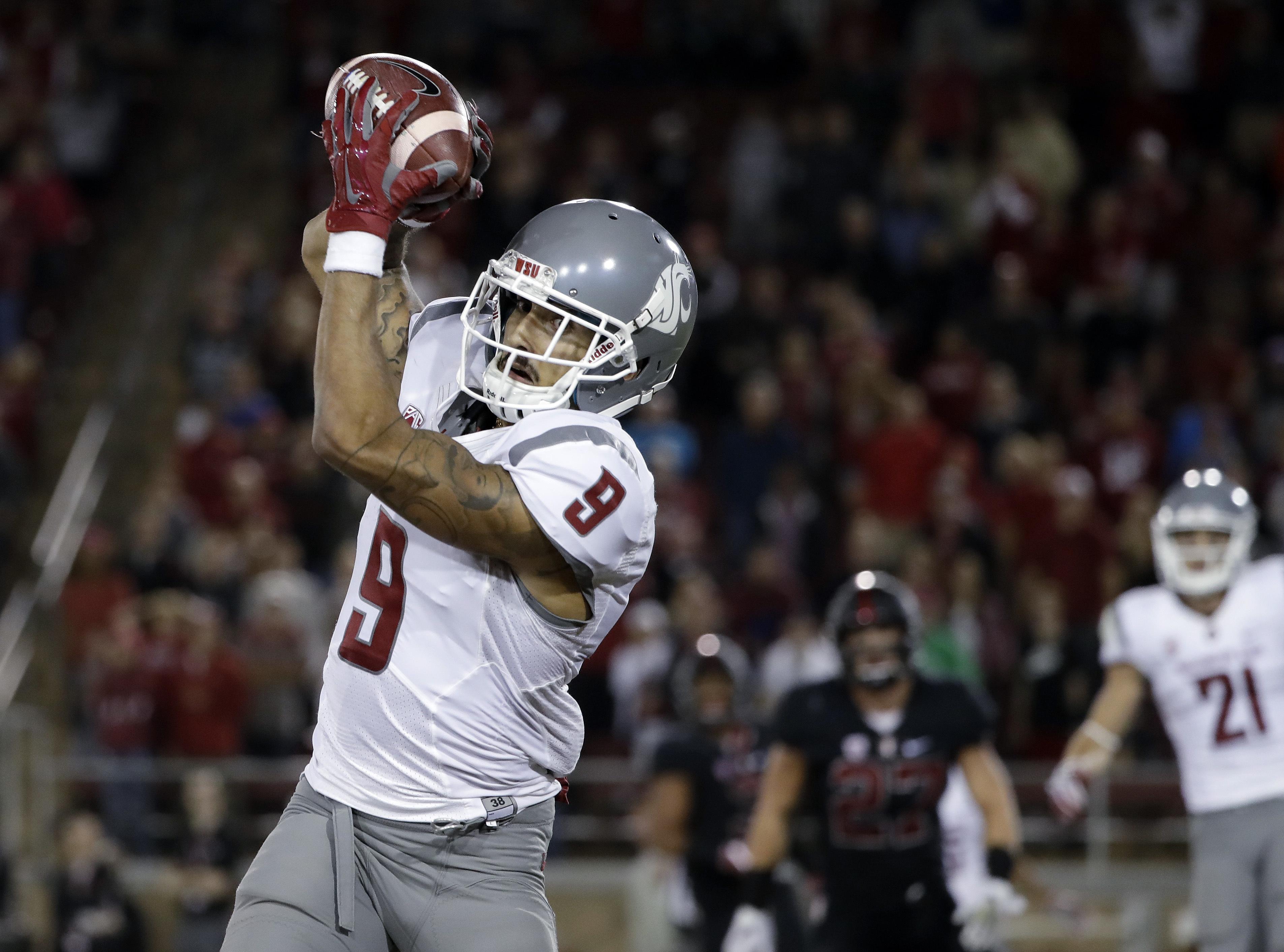 Most love the game deeply. It's too hard to play if you don't. They also love the elements the game brings, from the feeling of accomplishment to the bull sessions on and off the field and everything in-between.
All college sports, even the individual ones, are team sports. You don't just sacrifice all that time and sweat and, yes, sometimes blood, for yourself. You do it for yourself and for others.
You commit to them. They commit to you. You build trust. You earn respect. You become more than friends, you become teammates. That's why many players come back for another year, to reach goals with their teammates.
Marks wanted to win a title. The Cougars didn't. Yet he's still playing.
I've seen arguments made, citing one or two tweets, making the case others should not worry about the decision because McCaffrey's teammates are good with it.
Folks who feel that way should go into political polling. They are about as accurate.
If there is one thing I can guarantee it's this: There is no unanimity of feeling among McCaffrey's teammates concerning his decision. They may tell the public there is, but that's just living the code. Inside the Stanford locker room, though, there are some pissed off young men.
They may be willing to concede he's doing what's best for himself, sure, but they will think back to the time he, like any team leader, rallied them by appealing to their love of team.
It had to happen. And now, when the team is getting ready to play one more game, he's bailing. In a locker room filled with 100 or more pretty bright individuals, there is no way they all are in his camp.
• But we should all be OK with it because, as many have said or written over the past day or so, when college coaches leave teams in the lurch, no one is upset with them. It would be hypocrisy to not apply the same standard to players.
True. Which is why college coaches who bail before a season is over are two-faced and despicable. Felt that way before, feel that way now.
There is no way you can spend day after day preaching "we-over-me" or "us-against-the-world" and then bail for greener pastures without killing a bit of your soul.
But, we are constantly told, it's a business. Sure it is, but that doesn't make it right. And one person's hypocritical actions can't justify another's. That way is madness – or modern society.
Coaches are role models. It is part of the job description. So it is understandable when a lack of commitment to the end rubs off on players.
It is still wrong – for both. That's not the prevailing wisdom these days. Money trumps everything, even ethics. I get it.
I also get McCaffrey is risking millions by playing. But he's been risking that since he began playing. Each play could have been his last.
And every player who plays risks more than money. They risk their future. It's the worst aspect of the game. And most, knowing they are not NFL-bound, do it expecting nothing more than memories.
Memories of great plays, of great times, of great teammates. Of setting goals and reaching them. Of time spent in the locker room, in the training room, stretching, talking, laughing, arguing.
In a game as violent as football, every player risks that every day they step on the field. Why they do it is personal. Why they stop doing it is personal.
But both affect others. And our society, while celebrating team games, has gotten away from being other-centered. It is more about me than we. Our ethics depend on the situation. And money. Always money. Everything else is meaningless.
•••
WSU: Minnesota's football program has gone through some turmoil the past few years and Jacob Thorpe writes today about the man who has had to deal with most of it, head coach Tracy Claeys. … How did Cody O'Connell become so good? Stefanie Loh has this story in the Times. … Around the Pac-12 in football, WSU's receiving corps is third best in this rating. … Washington's Chris Petersen has turned the Huskies around quickly. … The Alamo Bowl is meaningful for the Colorado Buffaloes. … Oregon is filling out its staff while Oregon State will have to fill some openings. … A Utah player hopes to play in the bowl game. … In conference basketball, Arizona State and Arizona play important non-conference games tonight. … USC remained undefeated though the Trojans didn't play their best last night. … SMU kicked the crud out of Stanford last night in Dallas, winning 72-49. … Oregon has been receiving offensive contributions from some unexpected sources. … Finally, our friend Christian Caple examines the interesting relationship between Lorenzo Romar and his highest-paid – but least-experienced – assistant.
Gonzaga: The women hosted Northwestern last night and, though they trailed for much of the contest, rallied in the fourth quarter for a 67-56 victory. Jim Allen was there and has this game story. … The Zags moved up to seventh in the AP poll. Bud Withers wonders how long can they stay undefeated? … Loyola-Marymount upset Colorado State on the road.
EWU: The honors continue to roll in for the Eagle football players and Jim sums up the most recent ones with this story. … In Big Sky basketball action, Weber State's guards won the battle against Utah Valley the other night. … Southern Utah lost at Seattle University last night.
Idaho: The Vandals play their bowl game Thursday and Josh Wright has another feature, this one on the young group of linebackers who have been anchoring the defense.
Whitworth: The Pirates were 2-0 on their Southern California road trip, winning last night 78-69 at Chapman College.
Seahawks: The Hawks have pressing questions and few answers. … Luckily, the next opponent (and the last one) isn't playing well. … The Pro Bowl picks come out soon.
Sounders: One MLS Cup won. When's the next one?
•••
• Sorry about the soapbox. If you are fine with McCaffrey's decision, I get it. It's his to make. But just don't justify it with any other argument than he's looking out for himself beyond everything else. That's his choice. Until later …
Subscribe to the sports newsletter
Get the day's top sports headlines and breaking news delivered to your inbox by subscribing here.
You have been successfully subscribed!
There was a problem subscribing you to the newsletter. Double check your email and try again, or email
webteam@spokesman.com
---
Subscribe and login to the Spokesman-Review to read and comment on this story