Sports
Idaho coach Paul Petrino took to heart encouraging words in darker days
Wed., Dec. 21, 2016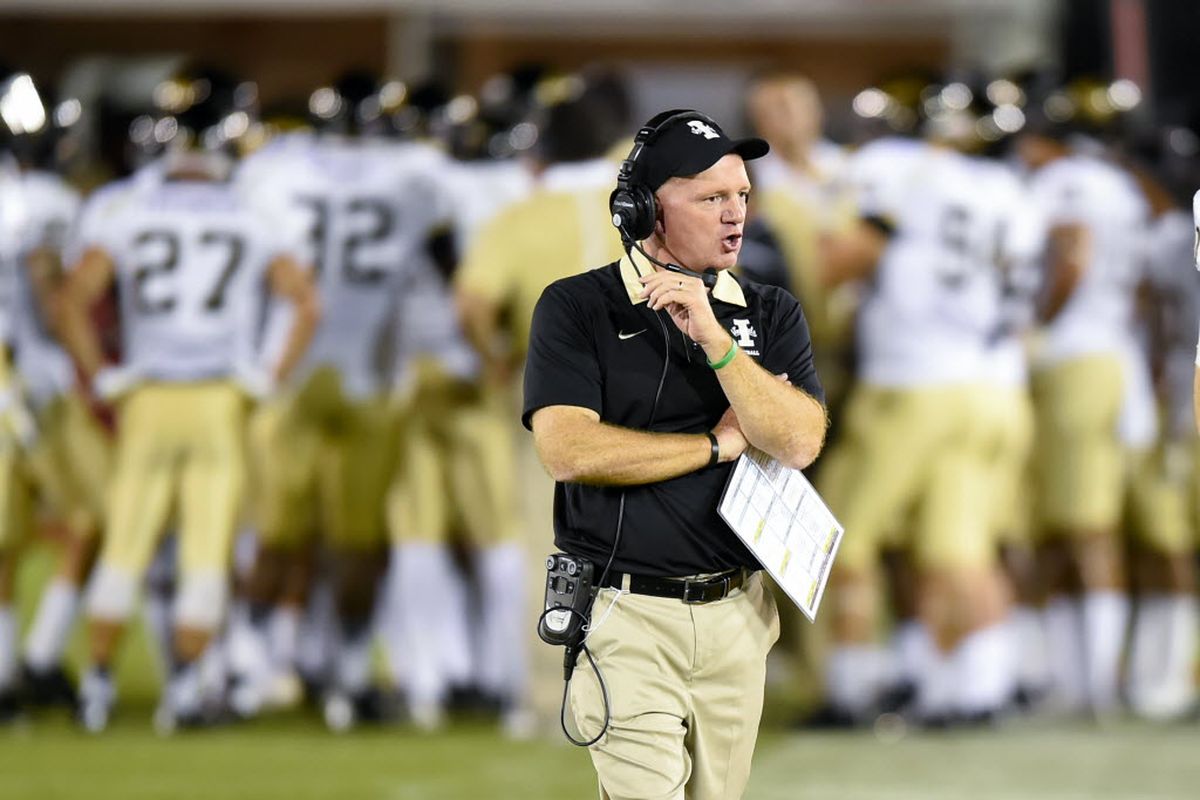 Idaho coach Paul Petrino yells to his players during the second half of an NCAA college football game against Southern California, Saturday, in Los Angeles. Southern California won 59-9. (AP Photo/Gus Ruelas)
BOISE – In his first two seasons as Idaho football coach, Paul Petrino tried not to let the losing get to him.
He had been a successful assistant in the SEC, Big Ten and ACC. He had grown accustomed to winning nine or 10 games every year against the best competition.
"It was just kind of that's what you did and it was easy," Petrino said.
Rebuilding the UI football program was nothing like that. It was an immense undertaking, a four-year overhaul that required a series of what Petrino calls private victories – stabilizing the team's academic situation, teaching players how to approach each day – before the wins on the field came.
On the eve of coaching the Vandals in the Famous Idaho Potato Bowl, where they'll face Colorado State at 4 p.m. at Boise State's Albertsons Stadium, Petrino reflected on one especially dark day during the long journey.
It was Nov. 1, 2014. Idaho had just lost for the 18th time in his first 20 games. After the 44-28 defeat to Arkansas State at the Kibbie Dome, Petrino was questioning the team's progress in UI's locker room when former Fresno State coach Pat Hill, who had been part of the TV broadcast crew, approached him.
Hill's message to Petrino was: "Just keep doing things the way you're doing and keep fighting and keep grinding."
"And I can't ever tell him what that meant to me," Petrino said, "because I always admired what an unbelievable, great coach he was and to hear him say that to me really meant a lot and helped me."
Hill happened to be at Idaho's prebowl press conference on Wednesday (he'll be the color commentator for ESPN Radio's call of the game), and Petrino was eager to share the story of his pick-me-up more than two years ago.
"I remember that day," Hill said with Petrino and four Idaho players at the podium.
"I remember that day, too," Petrino said. "I appreciate it."
"I'm really proud of what you guys have done," Hill said.
Hill isn't the only one who has taken notice of Idaho's turnaround. Petrino on Wednesday was named one of three finalists for the AFCA Comeback Coach of the Year after guiding the Vandals to an 8-4 record following a 6-29 stretch his first three years.
Idaho's reward for its best season since 1998 is a nationally televised game on ESPN against one of the Mountain West's best teams the last half of the season. Colorado State (7-5) obliterated conference champion San Diego State 63-31 in its final game of the regular season, just one of several late-season blowouts for the Rams.
On Oct. 15, CSU stood at 3-4 after a 28-23 loss to Boise State on the same blue turf it will play on today. But it had roared back from a 28-3 deficit in the fourth quarter after recovering two onside kicks, and since then it's been on a roll.
In the locker room the BSU game, Rams second-year coach Mike Bobo told his team that they weren't losing again.
"Obviously, we lost a game to Air Force," he said. "But I think from that moment on, we played with and prepared with the expectation that we were going to go out and expect to win every Saturday."
CSU has one of the nation's most efficient quarterbacks in Nick Stevens, a physical and productive running game and first-team Mountain West receiver Michael Gallup (70 catches for 1,164 yards and 11 touchdowns).
The Rams' well-rounded offense will be a big test for an Idaho defense that has been much better this year but gave up a handful of long plays the last few games of the regular season.
"… Overall, it's not as much what they're going to do, but what we're going to do to answer what they pull out," Vandals linebacker Tony Lashley said.
Like CSU, Idaho played its best late in the year. UI has won four straight and prevailed in six of its last seven games. It also won its only other bowl appearances, both in Boise (2009 and 1998 when it was the Humanitarian Bowl).
Another bowl victory would be a dream ending for 20 Idaho seniors who endured those bleak early years. One of the seniors, defensive tackle Tueni Lupeamanu, was asked if beating CSU would help show that the Vandals belong in the FBS rather than the FCS, where they will go in 2018.
"Even though I'm leaving this next year, after this game, I hope it does," he said. "I hope what we've done this year is enough for Idaho to stay Division I (FBS). I think we deserve it and have earned it for (ourselves), for our Vandal supporters who want to keep us up here in Division I."
Local journalism is essential.
Give directly to The Spokesman-Review's Northwest Passages community forums series -- which helps to offset the costs of several reporter and editor positions at the newspaper -- by using the easy options below. Gifts processed in this system are not tax deductible, but are predominately used to help meet the local financial requirements needed to receive national matching-grant funds.
Subscribe to the sports newsletter
Get the day's top sports headlines and breaking news delivered to your inbox by subscribing here.
---