Sports
Idaho's Deon Watson leaves Albertsons Stadium victorious again
Thu., Dec. 22, 2016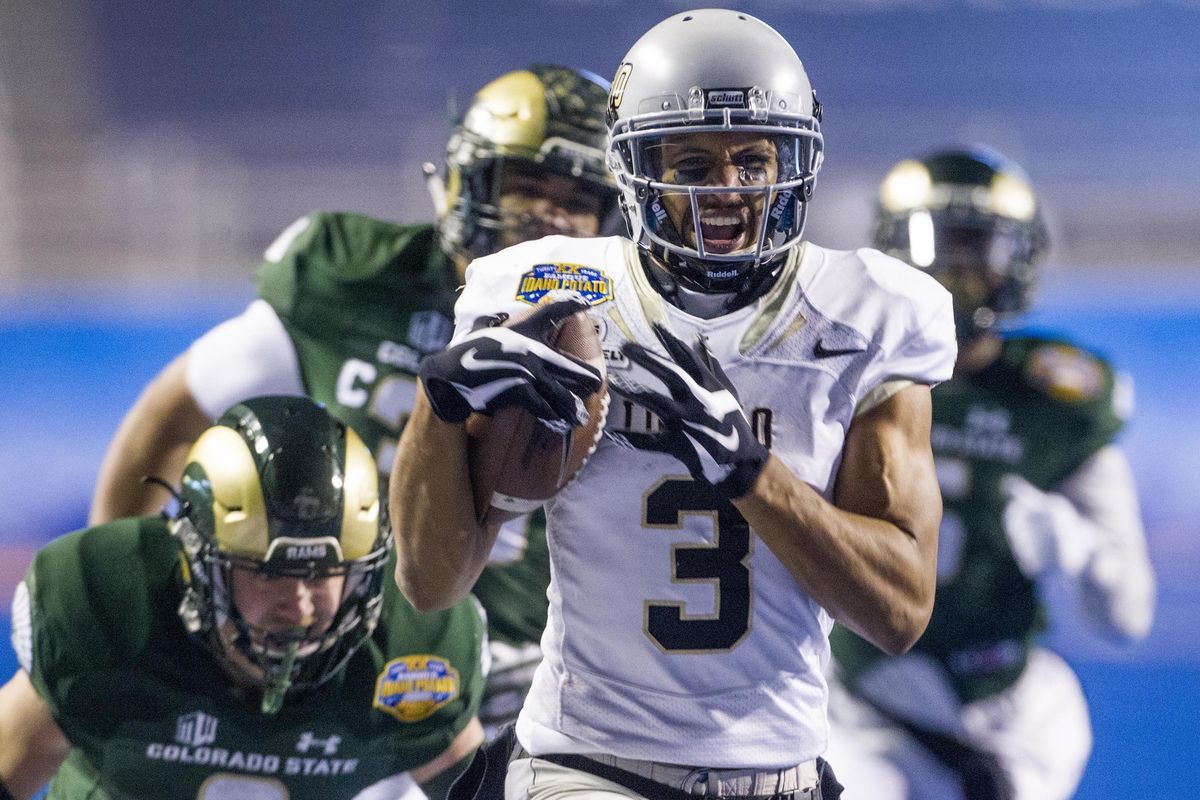 Idaho tight end Deon Watson (3) scores on a long reception while chased by Colorado State defensive back Jake Schlager (8) during the third quarter of the Famous Idaho Potato Bowl NCAA college football game Thursday Dec. 22, 2016, in Boise, Idaho. (Darin Oswald / Idaho Statesman via AP)
BOISE – Deon Watson loves visiting the Treasure Valley.
In particular, Watson enjoys playing at Boise State's Albertsons Stadium.
The senior wide receiver from Coeur d'Alene caught a 74-yard touchdown pass as he helped the Idaho football team handle Colorado State 61-50 in a wild Famous Idaho Potato Bowl Thursday.
It was the third victory Watson has been part of at BSU's stadium.
The last time Watson played in Boise was his senior year at Coeur d'Alene when the Vikings captured a second straight State 5A championship by throttling Eagle 49-28.
The year before, CdA defeated Capital of Boise in the state semifinals at BSU.
"Actually, I was talking to my teammates about that before we came down," Watson said of his success playing in Boise. "The (Kibbie) Dome and this place are special to me. I'm not a big fan of the Blue (turf) but I am a big fan of playing on it."
Idaho coach Paul Petrino sensed during the week that Watson would have a big game. And he proved his coach right, finishing with five catches for 140 yards to lead all Idaho receivers.
"I said it to my wife two days ago, from when we got in town you could just see how he was practicing," Petrino said. "His notch turned up and he was ready to go and ready to get after it down here. I really felt like he was going to have a great game. He's another guy when he's on he's playing well. Especially against a team that wants to come up and play a bunch of press man (like CSU). That's the best thing he can see. He got after them pretty good."
Idaho used an 18-play drive to score and take a 20-7 lead into halftime. Watson had three catches during the possession including a key 9-yard reception on fourth-and-6 at CSU's 33-yard line to keep the series alive.
There's a reason that Watson developed into one of quarterback Matt Linehan's favorite targets.
"He's definitely a trustworthy guy out there, a sure-handed guy who is going to make a play for you," Linehan said. "He's come a long way in the last couple years and developed into a real good pass catcher. He's become a more and more reliable option, especially in the red zone. He's a guy who can go make plays. He's a guy who can turn on the jets as you saw today – even though I'm sure I'm faster than him."
Linehan jokingly challenged Watson to a race during the postgame press conference. Watson smiled and shook his head.
"He's turned into a playmaker for this offense and his outcome today was pretty special to see," Linehan added.
Watson appreciated the confidence his coach showed leading up to the game.
"He kind of gave me that look and that's all it took," Watson said. "Whenever he has confidence in me I feel confident in myself. He was confident throughout the whole week and he kept encouraging me."
Watson's parents, Deon Watson Sr. and Anna Hegbloom were among family and friends at the game. And he knew his late Grandpa Hegbloom was with him in spirit.
"My senior year I went out with a win here and my grandpa was able to see that, so it was pretty special to me," Watson said.
Watson hopes he's not done playing football. He plans to do his best to play in the NFL.
"That's what I want to do," he said.
Local journalism is essential.
Give directly to The Spokesman-Review's Northwest Passages community forums series -- which helps to offset the costs of several reporter and editor positions at the newspaper -- by using the easy options below. Gifts processed in this system are not tax deductible, but are predominately used to help meet the local financial requirements needed to receive national matching-grant funds.
Subscribe to the sports newsletter
Get the day's top sports headlines and breaking news delivered to your inbox by subscribing here.
---