Sports
Potato Bowl notes: Matt Linehan leads on field then makes waves during postgame
Thu., Dec. 22, 2016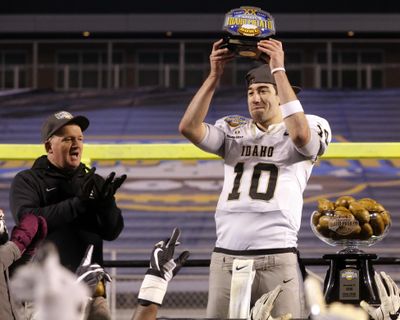 BOISE – First, Matt Linehan sizzled on the field. Then he made waves in a postgame radio interview.
After leading Idaho to a 61-50 win in the Famous Idaho Potato Bowl, the junior quarterback told ESPN Radio that Idaho belonged in the FBS.
"We know we can compete," he said. "We belong here. No matter what anyone thinks, even our tone-deaf president."
Idaho president Chuck Staben made the final decision, for which he's been criticized by Idaho boosters, to move the Vandals to the FCS and Big Sky Conference in 2018.
Asked about his comments, Linehan apologized.
"Emotions run high at the end of a game like that," he said. "It was an emotional game for all of us. We worked so hard to get to the point where we are. I'd like first and foremost to apologize to president Staben about that."
Linehan was named the MVP of the game after passing for 381 yards and four touchdowns. He also ran for a score.
Cold, colder and icy
Albertsons Stadium's blue turf wasn't quite an ice skating rink, but you would have had a tough time convincing the players from both sides.
From seemingly the first play and throughout, Idaho and Colorado State players were slipping all over the turf.
The Vandals believed they were prepared for the icy conditions. Although the thermometer said 18 by game's end, with wind chill it felt like 9 degrees.
Idaho kicker/punter Austin Rehkow had difficulties with the turf during pregame warmups and slipped on at least one of his point-after attempts.
A few players were injured but it wasn't clear if any of the injuries were necessarily because of the field conditions.
CSU players said the conditions caused them to be tentative at first.
"I didn't think we handled the elements very well," CSU coach Mike Bobo said. "The field was not in great shape. I thought it was in our heads a little bit. One of the things we do is we don't make excuses."
Idaho's players believed they had prepared for the conditions.
"As a wide receiver, it's crucial to have your footing and everything," Idaho's Deon Watson said. "We practiced outside all week. We ran routes in the snow. It almost became like second nature to us when we were out there. Coach (Petrino) did a good job of preparing us for that. He said it was going to be a cold game, your footing might not be there. We worked on it all week. I think you can really tell the difference between the teams when it came to that."
UI defense on point
Forget the final score. The Vandals' defense played better than allowing 50 points would show.
By the time the game had been decided, Idaho led 48-14.
What Idaho's defense did the first 2 1/2 quarters was nothing short of spectacular.
"I thought early on our guys up front, with Tueni (Lupeamanu), Aikeem (Coleman), Kaden Elliss, Tony Lashley (and) Ed Hall, I thought those guys did a great job early on of controlling their front," Petrino said. "Our defense came out and played really well. It kind of shows you how we win."
Local journalism is essential.
Give directly to The Spokesman-Review's Northwest Passages community forums series -- which helps to offset the costs of several reporter and editor positions at the newspaper -- by using the easy options below. Gifts processed in this system are not tax deductible, but are predominately used to help meet the local financial requirements needed to receive national matching-grant funds.
Subscribe to the sports newsletter
Get the day's top sports headlines and breaking news delivered to your inbox by subscribing here.
---