Sports
Arizona's David Johnson embraces attention in breakout season
Fri., Dec. 23, 2016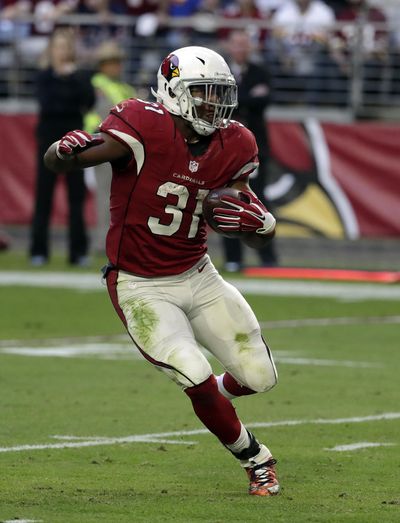 TEMPE, Ariz. – Off the field, David Johnson is a quiet, friendly guy who smiles a lot.
He said opposing players have sometimes mistaken his smile as evidence he's soft.
Nobody is making that mistake anymore.
On the field, Johnson is emerging – in just his second NFL season – as one of the most effective dual-threat running backs in NFL history.
He is the only player to top 100 yards from scrimmage in each of the first 14 games of a season. He also needs to catch 200 yards worth of passes to be the third player to top 1,000 yards rushing and 1,000 yards receiving in the same season.
Johnson has 30 touchdowns in his 30 games as a pro. He might be a serious MVP contender but for Arizona's 5-8-1 record
Larry Fitzgerald talks to Johnson about how to deal with success. For example, he said he told him to make sure he's fully dressed and looks sharp when he talks to the media after games. It sets a good example for fans and CEOs looking for a sponsor.
But Johnson doesn't need much help.
"He's a very smart young man," Fitzgerald said. "He's a very down to earth, humble, hard-working person. He doesn't need a lot of advice. He's like a Christmas toy that comes under the tree that doesn't need any assembly. He's out-of-the-box ready."
Quarterback Carson Palmer knows all about handling fame at an early age.
"Dealing with it in Los Angeles as a college kid, I was baptized quick," Palmer said. "Dave, coming from a small school and not playing a ton his first year, and then all of a sudden this year happens, (but) I don't see Dave having an issue."
Johnson already has made a big off-the-field impression with his article on bullying published in The Player's Tribune.
Last week, he published another Player's Tribune piece, this one on how he idolized Emmitt Smith, whom he had never met.
Smith responded in a YouTube video, thanking Johnson for picking him as a role model.
"It was definitely heartwarming and definitely, definitely I felt your spirit," Smith said in the video.
The response, "meant a lot," Johnson said. "He's my childhood idol, a guy who I looked up to, the reason I played football and wanted to play running back."
Although he was only a third-round pick out of Northern Iowa, he arrived in the NFL certain he could make it as a pro.
"He's always been very mature, and I don't think he ever lacked confidence," coach Bruce Arians said. "It was opportunity, and every opportunity he got, he relished it and made it fantastic. The first three times he touched it, or whatever it was, touchdowns. Every chance he gets, he's ready for it."
Johnson expected success, just not this soon. He is only a couple of years removed from those tough off-field jobs he had at Northern Iowa, including removing asbestos from buildings – decked out in a protective suit and mask – after his freshman year.
"I was just envisioning making it to the NFL, being on a team," he said, "(not) making it to the Pro Bowl, having the success, having some of those records that I broke."
At 6-foot-2, 225 pounds, Johnson is a matchup nightmare for opposing teams.
In last Sunday's 48-41 loss to New Orleans, he lined up as a wideout several times and found himself double-teamed. That's the kind of respect he has earned as a receiver.
His final two games this season come on the road against two of the best defenses in the league – Seattle on Saturday and at Los Angeles next week.
The 200 yards receiving he needs "is a tall order," Johnson acknowledged.
"But I'm never going to give up on that," he said. "… It's a huge testament to my ability to not just run the ball, but also catch out of the backfield."
Fitzgerald thinks he can do it.
"Anytime he touches the football he can break a tackle and go to the house," the 13-year NFL veteran said. "I don't think that's out of the realm of imagination at all for him."
Johnson said making his first Pro Bowl this year means a lot to him, but he might not be there.
He and his wife's first baby is due at about the same time. Team president Michael Bidwill has offered his plane to bring him to or from the Orlando, Florida, game in a hurry.
But the baby comes first. That's the kind of guy David Johnson is.
Local journalism is essential.
Give directly to The Spokesman-Review's Northwest Passages community forums series -- which helps to offset the costs of several reporter and editor positions at the newspaper -- by using the easy options below. Gifts processed in this system are not tax deductible, but are predominately used to help meet the local financial requirements needed to receive national matching-grant funds.
Subscribe to the sports newsletter
Get the day's top sports headlines and breaking news delivered to your inbox by subscribing here.
---
Subscribe and log in to the Spokesman-Review to read and comment on this story