Cougars and Gophers tour USS America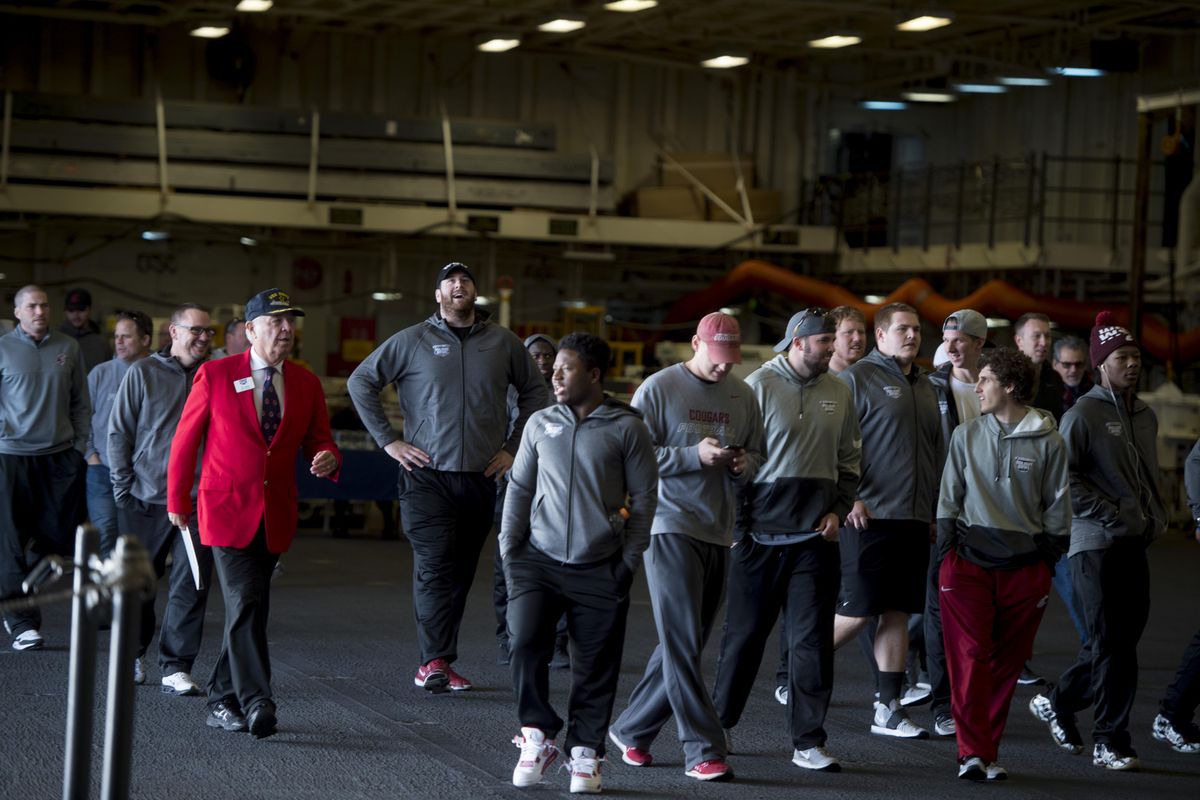 SAN DIEGO – The setting recalled the 1970 Academy Award winning film "Patton," although the man in front of the massive American flag backdrop was a football coach, not a general, and his audience was composed not of infantrymen but football players and sailors.
Washington State coach Mike Leach and Minnesota coach Tracy Claeys each addressed the teams assembled aboard the USS America (LHA-6), before the players and coaches broke into groups to tour the aircraft carrier, which is currently based at Naval Base San Diego.
The 844-foot America displaces 45,000 tons of water and was commissioned in 2014 at a cost of $10.1 billion. The ship is active, and spent nearly 150 days away from port over the last year.
The ship is mainly used as a troop transport, and can carry nearly 1,800 marines as well as its full crew.
The players got to walk around the deck, see the ship's mess and quarters and talk with the crew. Leach presented a WSU jersey to honorary captain Brianna Waldroup, a WSU fan from South Bend, Indiana.
"It's pretty amazing, seeing these ships and how they float," said running back Gerard Wicks, whose father Gerard Wicks Sr. served in the navy. "It's cool to see how they wake up every day and do the same thing and fight for our country. It's wonderful to see how they live their lives. I'm very grateful for what everybody in this ship does fighting for our lives."
The military is the largest economic driver in San Diego, where WSU and Minnesota will play in the Holiday Bowl on Dec. 27. A 2013 study showed that 22 percent of all jobs in San Diego are defense-related, with the majority of those being created by the navy.
For Eduardo Middleton, who grew up in nearby Oceanside, it was easy to see the military's presence in the area. Middleton's father was in the navy before the family moved to Oceanside.
"The navy is big out here. A lot of the businesses and stuff benefit from it being here. It's definitely a big presence," Middleton said. "I've never gotten to see something like this – it's pretty cool – but a lot of my friends' families were marines."
---