News > Spokane
On the field and off, Cooper Kupp brought out the best at EWU
Sat., Dec. 24, 2016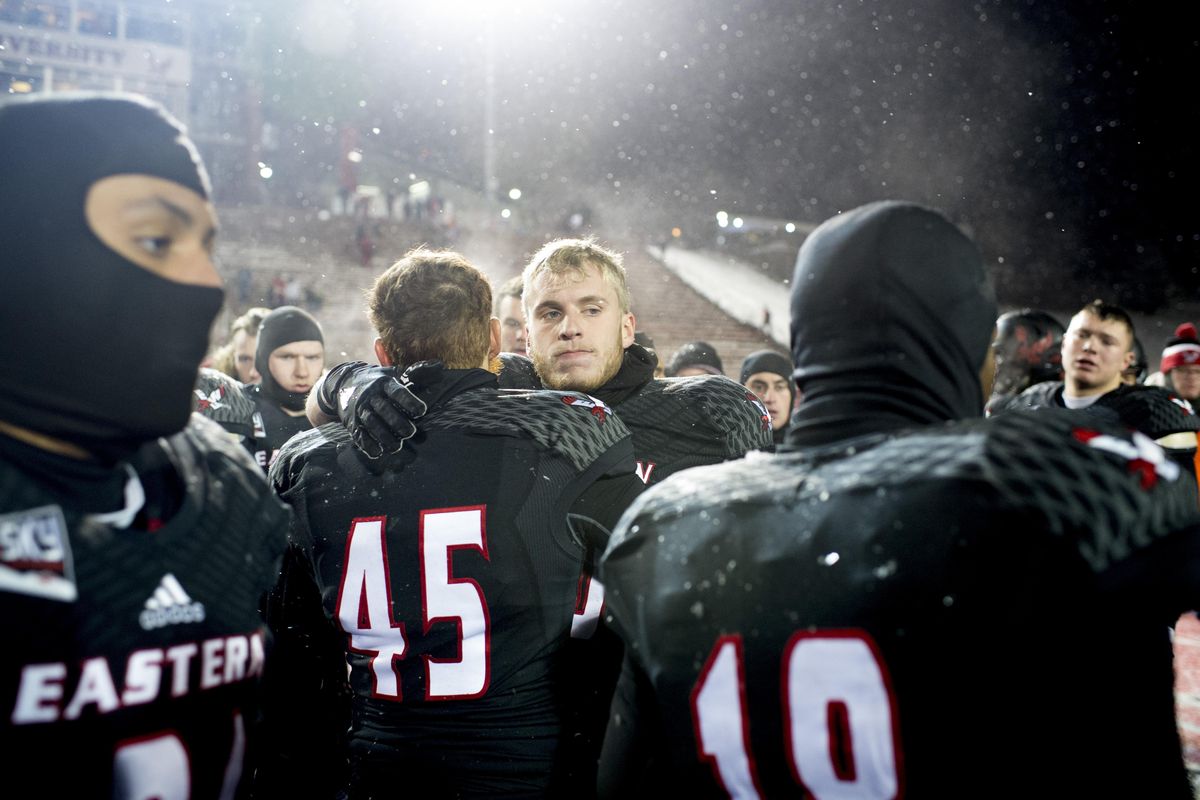 Eastern Washington Eagles wide receiver Cooper Kupp (10) embraces teammates after falling to Youngstown State during the second half of an FCS football game on Saturday, Dec 17, 2016, at Roos Field in Cheney, Wash. Youngstown State won the game 40-38. (Tyler Tjomsland / The Spokesman-Review)
Moments after a crushing last-second defeat that ended his storied Eastern Washington University football career, Cooper Kupp kept his poise and perspective.
As victorious Youngstown State players whooped and hollered at the end of last week's semifinal match, on EWU's home turf, Kupp gathered his teammates – "my brothers" – in prayer at midfield.
Dozens of players gathered, black uniforms matching their mood.
Somehow, Kupp lifted them up. The scoreboard lost its finality to become just another signpost on the journey of life.
Then he walked off the red field for the last time as a player, wife Anna at his side. He waved to the cheering fans and disappeared into the sanctuary of the locker room. A few minutes later, Kupp emerged and walked down the hall for one last encounter with the media.
The next moment was reminiscent of Mean Joe Greene and the boy in the Coke commercial.
From out of nowhere, a small boy emerged and approached the All-American wide receiver.
"You did good," the boy said.
Who could disagree? From the moment he arrived in Cheney four years ago, Kupp has been making a difference at EWU.
The numbers are astounding: 428 catches and 73 touchdowns in a four-year career. Kupp also has 6,464 receiving yards, the most in college football history. Along the way, he's helped the Eagles win three Big Sky Conference titles in four years and go deep into the Football Championship Subdivision playoffs.
But those numbers always seemed secondary for Kupp. "School and football are great, but it's the relationships that have made it special for us," he said.
Hard work pays off
As a wide receiver and a young man, Kupp has lived by one credo: There are no easy routes in football or in life.
For Kupp, life is faith, family, friends and football – in that order – overlaid by a work ethic instilled by his family in Yakima.
In 2012 the Eagles had a surplus of good wide receivers, so Kupp was redshirted and couldn't play a down. But you wouldn't know it from his work ethic.
"Every week, on the field, in the weight room, the film room, he approached that redshirt year as if he was going to play," coach Beau Baldwin said.
Affirmation came quickly. In the opening game of the 2013 season, Kupp caught two touchdown passes in an upset win at Oregon State. At year's end he won the Jerry Rice Award as the top freshman football player in his division.
The message was delivered: Hard work pays off.
"It's just great to see him work – it's brushed off on all of us," said receiver Kendrick Bourne.
Tight end Zach Wimberly, a senior and co-captain, marveled at how Kupp will "wake up at 3 a.m. and start watching film – that's how he's wired and who he is as a person.
"It's the constant hours that he's put in, even when almost no one is looking," Wimberly said.
Fewer people are cheering Kupp's grade-point average, but there it is: 3.62, earned the hard way, with a major in finance and a minor in business administration.
Football and friendship
Football also gave Kupp a chance to make a spiritual difference.
Every fall at the house of a friend, he and Anna held a barbecue for freshman football players. It's nourishment for the soul more than the body.
It's also a message that college is more than parties. "The empty side of life," Kupp calls it.
As his fame expanded, so did Kupp's opportunities. A year ago, already married and close to his degree, he contemplated going pro.
He and Anna stood to make millions, but chose to defer those dreams to stay at Eastern another year.
That decision, following a disappointing 6-5 season, galvanized his teammates. By all accounts, winter workouts were more intense, meetings more focused.
The payoff for the Eagles was a 12-2 season, one of the best in school history.
"Cooper deciding to stay, that type of example is a big reason why we're here," Baldwin said last week.
Another reason was Kupp's work ethic in the face of two shoulder injuries. He played hurt almost the entire season, but you wouldn't know it.
"He brings so much positive energy, even when he's hurting like he is now," senior quarterback Jordan West said last week. "No matter what, he's going to control it and be the leader we need."
Local journalism is essential.
Give directly to The Spokesman-Review's Northwest Passages community forums series -- which helps to offset the costs of several reporter and editor positions at the newspaper -- by using the easy options below. Gifts processed in this system are not tax deductible, but are predominately used to help meet the local financial requirements needed to receive national matching-grant funds.
Subscribe now to get breaking news alerts in your email inbox
Get breaking news delivered to your inbox as it happens.
---