Sports > Seattle Seahawks
Seahawks fall to Cardinals on last-second field goal
Sat., Dec. 24, 2016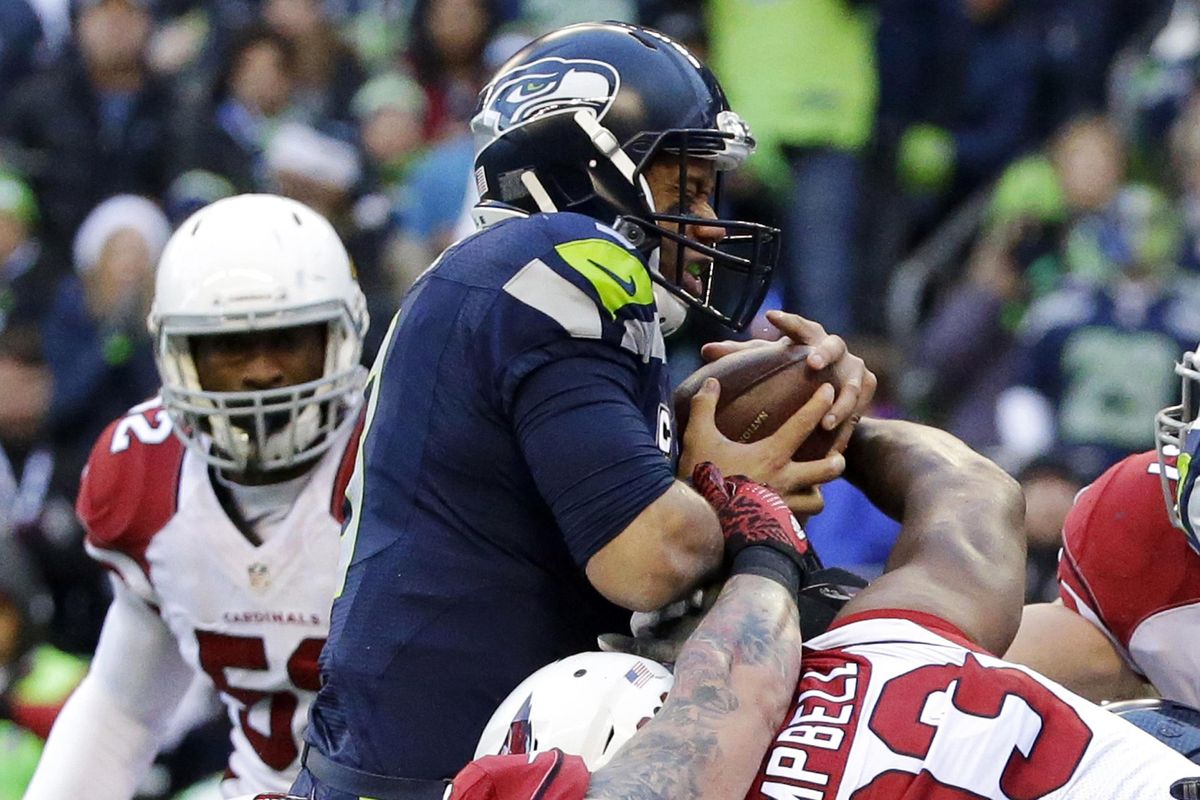 Seahawks quarterback Russell Wilson is held back by Arizona Cardinals defensive end Calais Campbell (93) in a goal line situation on Saturday, Dec. 24, 2016, in Seattle. (Ted S. Warren / Associated Press)
SEATTLE – Doug Baldwin has a demand that is both potentially cathartic – and potentially frightening.
"We just have to look in the mirror," the Seahawks' leading receiver said after his career day Saturday, "and recognize who we are."
Careful. They may not like what they see.
What they are right now are a talented, accomplished division champion – but one that often either can't block anybody, can't stop anybody when it matters most or can't get out of their own way.
Yes, this Christmas Eve lump of coal, a 34-31 loss on the final play to previously fallen Arizona Cardinals, was truly a full-team Seattle squandering.
"Disappointing," coach Pete Carroll said after the latest inexplicable face plant by a team that's played in two of the last three Super Bowls.
"This wasn't good football. … We didn't play well from the start."
How galling was this? The Seahawks wasted an improbable, 13-point rally to tie inside the final 3 minutes – and wasted their prime chance to secure the second seed in the NFC playoffs and the first-round bye that comes with it.
"We like toughness," quarterback Russell Wilson said after season highs of 29 completions, 45 throws, 350 yards and four touchdowns.
"But we don't like to make it tough, obviously."
But they just did exactly that for their postseason path.
The NFC West-champion Seahawks looked more ready for the offseason than the postseason for much of Christmas Eve at CenturyLink Field – where the home fans booed then left early like there was a holiday coming up, not the playoffs.
"It was actually disheartening," right tackle Garry Gilliam said of the home fans' early exodus. "We were down – we just had 18 (points) and they had just scored – and the fans were walking out. I was like, 'Whoa! Where are you guys going? We're not down that much.' "
The Seahawks (9-5-1) may have squandered a first-round bye with a home loss to Arizona (6-8-1) for the second consecutive season. Atlanta won and is currently the No. 2 seed in the NFC. Seattle plays at San Francisco while the Falcons (10-5) host the 6-8 New Orleans Saints in their regular-season finales on New Year's Day.
The division winners that aren't a one or two seed must play on the first playoff weekend Jan. 7 or 8, against each of the wild-card teams.
Now, to get that No. 2 seed and bye, the Seahawks need a win next week at San Francisco (2-13), which for the first time in eons Saturday at Los Angeles, plus losses by Atlanta next weekend and Detroit either at Dallas or home versus Green Bay in the NFC North title game.
"We have a lot of work to do this season," Carroll said. "We have a lot of stuff coming. We have to stay together and be there to get right.
"We need to find that."
Just as Tyler Lockett was emerging again after 2 1/2 months recovering from a sprained knee, the zooming wide receiver and Pro Bowl kick returner from 2015 appeared to break his lower right leg while holding onto the ball for a touchdown that got reversed upon video replay. Carroll said Lockett is having surgery and is out for the season.
Suddenly brittle Thomas Rawls left after a first-half shoulder injury. That left previously mothballed rookie Alex Collins as the lead runner.
Kam Chancellor injured his foot, though he returned after halftime. Fellow safety Earl Thomas was already out for the year with his broken tibia.
Thomas' fill-in, Steven Terrell, got fooled by the eyes of veteran Cardinals quarterback Carson Palmer, something Thomas would not have done. Palmer looked Terrell away from the middle of the field to the left, then threw back right as J.J. Nelson beat cornerback Jeremy Lane on a post route for an 80-yard touchdown and Arizona's 14-0 lead during the Seahawks' putrid first half.
Wilson got sacked six times, and was hit on 14 more drop backs. The offensive line that re-inserted Gilliam at right tackle after he'd been inactive for two games this month got ransacked.
The Seahawks had a field goal blocked and a punt partially blocked, when Arizona was rushing just one man.
Then, when Wilson's touchdown pass to Paul Richardson improbably tied the game at 31 with 1:00 – capping a 10-point comeback in the final 4 minutes – rookie Nolan Frese sent back a high snap on the try for point after touchdown. Steven Hauschka sent the kick, and Seattle's chance to win, wide.
"I have to be better," Hauschka said in the silent locker room, when The News Tribune asked if the high snap disrupted his kicking rhythm.
Two more questions. The same answer from Hauschka: "I have to be better."
With the potential of overtime for the second time in three months between these teams resting on Seattle's defense, the Seahawks allowed Arizona to march. Two big catches, by David Johnson on Chancellor for 29 yards then by Larry Fitzgerald over the middle on third down against a soft zone coverage, put Arizona's Chandler Catanzaro in position for his 43-yard field goal as time expired.
"That's not the way we wanted to finish the game. We have to do better," middle linebacker Bobby Wagner said, after he set the franchise record for tackles in a season.
"We have to make sure this doesn't happen again."
With Lockett out, Baldwin went wild. He had career highs of 13 catches on a whopping 19 targets by Wilson, for 171 yards. He reached 1,000 yards receiving for the second consecutive season.
"Wins and losses are all that matter," Baldwin said, solemnly.
Baldwin sprinted as quickly as he has all season, over the final 30 of a 42-yard catch and run. That touchdown and Reece's catch on the two-point conversion play got Seattle within 21-18.
"Doug Baldwin was lights out," Wilson said.
More than 8 minutes still remained.
But Seattle's defense, which had entered the game two points behind New England for leading the league in fewest points allowed, gave up 10 quick ones to Arizona.
The offense?
The Seahawks had a fumble when their new fullback, Marcel Reece, didn't know Wilson was handing the ball to him on third and 23.
They had 10 plays inside the Arizona 10-yard line without scoring a touchdown.
"We have to execute better," Wilson said of an issue these Seahawks are not accustomed to confronting in late December.
But then, Seattle did. Richardson's clutch catch and stretch to the Arizona 5 extended a late drive with the Seahawks down 31-25. On the next play, Wilson rolled right, looked left – and saw Richardson all alone in the back of the end zone. His catch with 1 minute left tied the game, pending Hauschka's point-after kick.
CenturyLink Field was off the hook, as if every one of the 69,050 that left early had swallowed way too much egg nog.
Then Frese sent back yet another snap errant in a season full of them. Hauschka missed his fifth PAT this season to keep the game tied.
And the defense that prides itself on winning games – that has had one of its members, Richard Sherman, yell at the offense – didn't hold up its end.
Yet, as Michael Bennett, Wagner and others said afterward, it's all still out there for these uneven Seahawks.
It's just that it's now going to be harder to possibly get there.
"I'm not discouraged. Never discouraged," Wagner said, shaking his head at his locker. "Ever.
"Because of the guys in this room, I'm never discouraged. We were down by – I don't know how many points we were down by – and we came back.
"I'm never discouraged."
Local journalism is essential.
Give directly to The Spokesman-Review's Northwest Passages community forums series -- which helps to offset the costs of several reporter and editor positions at the newspaper -- by using the easy options below. Gifts processed in this system are not tax deductible, but are predominately used to help meet the local financial requirements needed to receive national matching-grant funds.
Subscribe to the sports newsletter
Get the day's top sports headlines and breaking news delivered to your inbox by subscribing here.
---