Sports
Alabama's Rashaan Evans hopes to shine on big stage again vs. Huskies
Sun., Dec. 25, 2016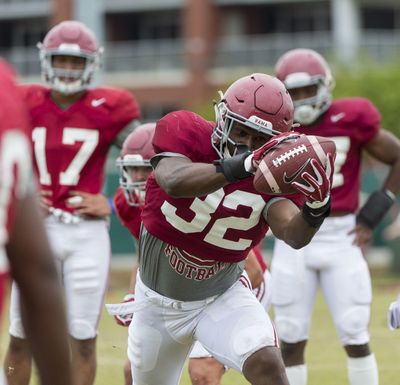 TUSCALOOSA, Ala. – Rashaan Evans has had some of his biggest moments in Alabama's most important games. Now, he has a chance to create some more.
The junior is likely to make his first career start against Washington in the Peach Bowl semifinal game on Dec. 31. Evans was the backup to middle linebacker Shaun Dion Hamilton, who's out for the rest of the season with a knee injury sustained in the Southeastern Conference championship game.
Evans, one of the top-ranked Tide's most heralded recruits three years ago, quickly allowed a touchdown pass after relieving Hamilton against Florida but also made a pivotal goal line stop in the third quarter that coach Nick Saban called "the turning point in the game."
He had his best performance last season with two sacks in the national championship game against Clemson.
"I'm embracing this moment a lot," Evans said. "Whenever I get out on the field anytime – regardless if it's the championship game or not, man – I try to do my best. Just with this game upcoming, I'm going to try to do the same thing I've been doing."
Evans moved to inside linebacker this fall after two seasons on the outside. The 6-foot-3, 230-pounder is a prime example of the luxury of Alabama's string of top-rated recruiting classes.
One guy goes down, a five-star prospect replaces him. It happened with All-American Minkah Fitzpatrick moving over from cornerback earlier this season to replace injured safety Eddie Jackson.
Now, it's Evans' turn. He has played in 39 games over the past three seasons without a start, recording 2.5 sacks and 35 tackles so far this year.
"He's embracing it well, getting in extra film (work), working hard," said fellow inside linebacker Reuben Foster, the Butkus Award winner. "The toughness is already there. I ought to know, I play with him. It's comfortable, I like it. It's bad news for Shaun Hamilton but he got the rest of his college career to get back out there."
Both Evans and Foster were highly rated recruits from Auburn High School, who left for Tuscaloosa instead of staying at their hometown school.
Evans was rated a top 20 recruit out of high school but has had to wait his turn in a loaded linebacker corps led by Foster, Hamilton, Tim Williams and Ryan Anderson.
Even Foster, now a unanimous All-American, only started nine games his first three seasons. Evans admits it's been difficult waiting his turn.
"As a player, you just really have to think of the bigger picture," he said. "This whole thing is a lot bigger than just you and any other player that feels the same way I do. So that's kind of the mentality that I have to have. Once I had that, as you can see, your chances will come, you've just got to wait your turn."
Evans' role had already changed. He has 10 more tackles than his first two seasons combined.
Saban has said the coaches viewed Evans as akin to a starter all season, and that he was the first guy off the bench if anything happened to either Foster or Hamilton.
Evans said a big part of his improvement has been getting more comfortable with playing his position in the game, not just practice.
"It's a different level," he said. "You can know your plays and be able to be good in practice and stuff like that, but once you step out there on the field in the game, it's a whole different story. You have to be able to retain information that you have and be able to do it and be confident with it.
"That's the thing I've been working on."
Local journalism is essential.
Give directly to The Spokesman-Review's Northwest Passages community forums series -- which helps to offset the costs of several reporter and editor positions at the newspaper -- by using the easy options below. Gifts processed in this system are not tax deductible, but are predominately used to help meet the local financial requirements needed to receive national matching-grant funds.
Subscribe to the sports newsletter
Get the day's top sports headlines and breaking news delivered to your inbox by subscribing here.
---