Sports
Celtics recover after late Knicks rally, win 119-114
Sun., Dec. 25, 2016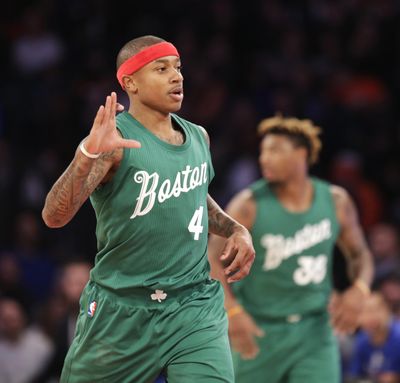 NEW YORK– When the Knicks tried to make a Christmas comeback, the Celtics' response was strong and Smart.
Isaiah Thomas scored 27 points, Marcus Smart made a tiebreaking 3-pointer with 47 seconds left after Boston blew a late lead, and the Celtics beat New York 119-114 on Sunday.
The Knicks wiped out a late nine-point deficit with an out-of-nowhere 11-2 run in a little more than a minute, but Smart answered with his shot and Avery Bradley and Al Horford made big defensive plays afterward.
"We did a good job of just being calm and gutting out the win," Thomas said.
Jae Crowder and Kelly Olynyk each had 16 points for the Celtics, who won for the fifth time in six games.
Carmelo Anthony scored 29 points and Derrick Rose had 25 for the Knicks, who fell to 22-29 in their NBA-record 51 Christmas appearances.
"You don't want to lose at all but to lose today, it was a tough loss," Anthony said.
Crowder made three straight 3-pointers in the second quarter as Boston took a 56-48 halftime advantage.
Local journalism is essential.
Give directly to The Spokesman-Review's Northwest Passages community forums series -- which helps to offset the costs of several reporter and editor positions at the newspaper -- by using the easy options below. Gifts processed in this system are not tax deductible, but are predominately used to help meet the local financial requirements needed to receive national matching-grant funds.
Subscribe to the sports newsletter
Get the day's top sports headlines and breaking news delivered to your inbox by subscribing here.
---