News > Spokane
Christmas past in Spokane centered on happiness and hope
Sun., Dec. 25, 2016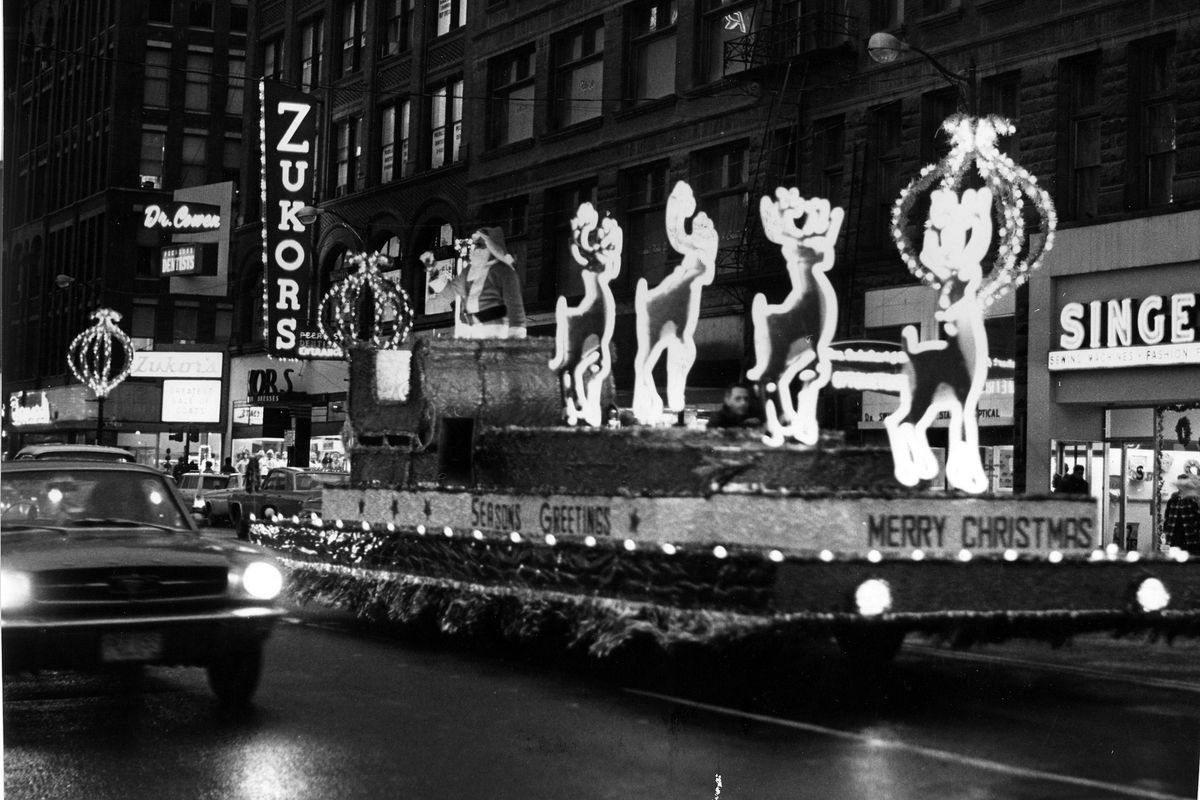 A Christmas float travels through downtown Spokane on Dec. 2, 1968. (PHOTO ARCHIVE / SR)
By the time December of 1951 arrived, the Women's Democratic Club of Spokane had seen enough.
Clearly, society had lost its way and we were morally adrift. The resolute club ladies had no choice. They had to speak out.
Their target? The commercialization of Christmas.
"We as a nation decry the materialism of the communists and yet by the manner of our observance of Christmas, the day that more than any other sets Christian nations apart from communism, we lay ourselves wide open to their ridicule and charges of pretense," May Ripley was quoted as saying in the Spokane Daily Chronicle.
The club went on to call for a ban on promoting Christmas before Thanksgiving.
That, it was assumed, would show those Reds where to stick their ridicule.
Christmas here was different decades ago, because Spokane was different then. America was different. In both good ways and bad.
And yet …
In December of 1956, a few days before Christmas, members of Spokane's Retail Trade Bureau heard a report on the city's downtown yuletide trimmings. The electrified display was a tradition and point of pride.
An account published in the Chronicle ended this way: "Thieves have stolen an estimated 2700 bulbs from the 100 trees. Windstorms have caused breakage of about 300 bulbs."
So, OK. There always have been names on Santa's naughty list. And windstorms.
But once upon a time, let's say the middle of the last century, Christmas in Spokane was arguably at its best.
It was the heyday of the downtown department stores here in the hub of the Inland Empire. Wide-eyed families of farmers, lumbermen and miners braved icy roads to come to our resilient railroad town by the river to soak up holiday atmosphere and, along with thousands of bundled up locals, see if they could hear heaven and nature sing.
For children, it was all part of the intoxicating anticipation leading up to what humorist Jean Shepherd ("A Christmas Story") called the apex of the kid year.
Not all families are alike, then or now. Here or elsewhere. But a case could be made that reasonably well-off children today are more likely to get some approximation of whatever they want, whenever they want it, than were kids born not long after World War II. (To say nothing of the hardscrabble children of the Depression.)
Now nobody is saying Christmas is no longer special. Of course, it is.
Still, those who have observed multiple generations embrace the holiday in evolving ways can tell you. The volume of presents is not what gives Christmas its magic.
If you listen to those who today have white hair, Christmas in Spokane was like no other time of year – without it becoming a marketing siege.
People still felt excited, maybe even harried. But the holiday, at least in Spokane, had not turned into a widespread test of consumer endurance.
Tangled up in memories of sledding on hilly city streets and other wintertime frolics, seniors' recollections paint a picture of an unplugged holiday fueled by family, friends and hour after hour spent outdoors.
Weather records show Spokane did not have a white Christmas every year. In distant memories though, it's always deep and crisp and even.
Today's creeping tendency to view the day as more of a cultural occasion than an essentially religious one had not really gained much traction back then. So even if Charlie Brown had wondered at the time ("Peanuts" was launched in the fall of 1950), he probably would not have needed to ask what Christmas is all about. Those who got dressed up and filled Spokane churches on Dec. 25 knew.
Millwrights, housewives and bank tellers had real trees in their small living rooms. Outdoor residential lighting was modest by modern standards, at least at those homes shown in photos belonging to the collection at the Northwest Museum of Arts and Culture.
If you had a reservation, you could enjoy a Christmas dinner at a downtown hotel. But for the most part, Spokane was closed, of course.
Maybe the best part about Christmas in Spokane 60 or 70 years ago was the shared sense of happiness and hope, say some who remember the era.
At its best, this can be a friendly, supportive city. Nothing brings that out like this recharging holiday.
So maybe what some recall so warmly is a sense of being in a good place, surrounded by good people. And maybe pulling back the wrapping paper from a box containing an electric train.
Nostalgia can grind away the rough edges of our memories. It can dim our recollection of sadness and disappointment.
But evidence suggests the good old days weren't just a fantasy trapped in a snow globe. It was a time when Spokane was populated with hardworking people who knew how to celebrate Christmas and did so in their hearts.
Perhaps we can think of that lingering joy as their legacy, their gift to us. In a sense, they taught modern Spokane how to cherish the finest in all of us. At least on this gentle day.
Now it's our turn to pass that on.
Local journalism is essential.
Give directly to The Spokesman-Review's Northwest Passages community forums series -- which helps to offset the costs of several reporter and editor positions at the newspaper -- by using the easy options below. Gifts processed in this system are not tax deductible, but are predominately used to help meet the local financial requirements needed to receive national matching-grant funds.
Subscribe now to get breaking news alerts in your email inbox
Get breaking news delivered to your inbox as it happens.
---