News > Features
The sweetest of Christmas traditions: A family comes together each year to celebrate their past and each other
Sun., Dec. 25, 2016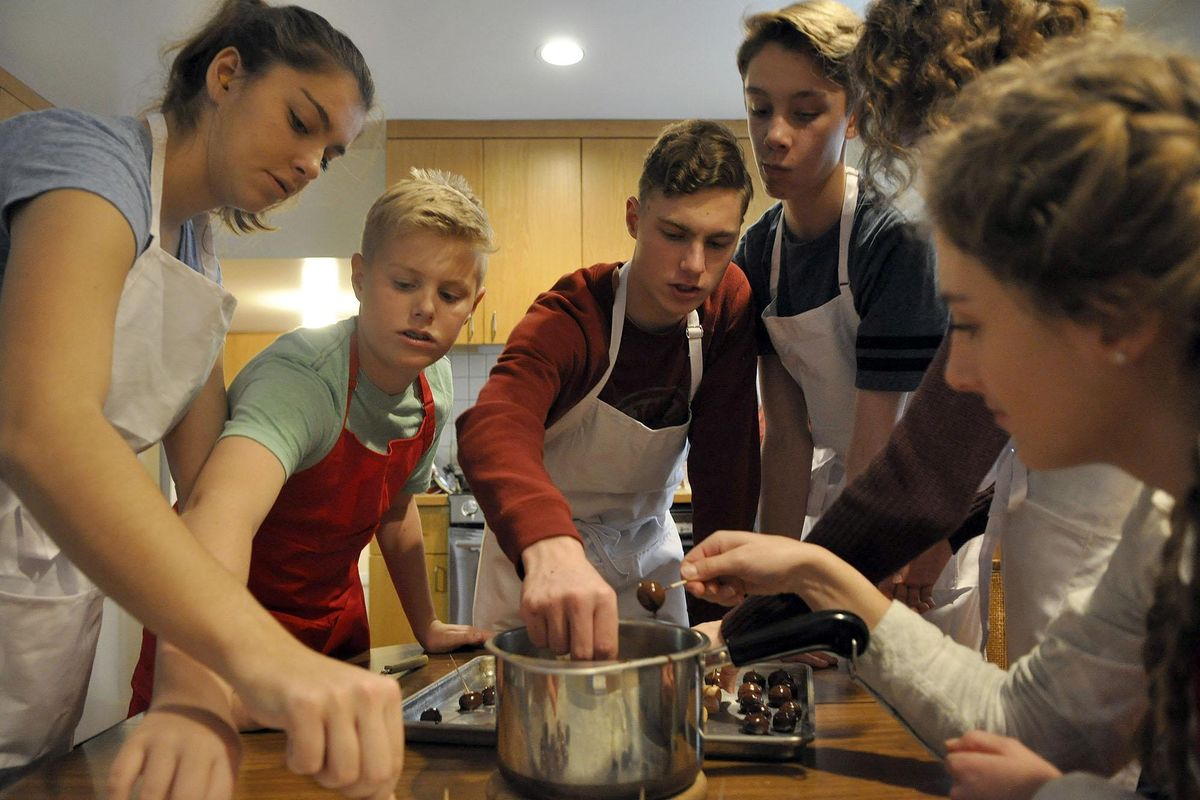 All six of Howard Mahan's grandchildren gather in his kitchen to dip chocolates. They are: Elizabeth Mahan, Brian Mahan, Matthew Kohls, Sam Mahan, Sarah Mahan and Katherine Mahan. (Adriana Janovich / The Spokesman-Review)
The kitchen table is nearly not big enough.
The grandkids, they just keep growing up. The oldest one, she's off at college across the state, considering a major in behavioral neuroscience.
Of course, she'll be home for Christmas. They'll all be home for Christmas.
They come home to make Christmas candy – their grandfather's Christmas candy – using recipes that were passed down in his family for generations.
Howard Mahan, the family patriarch, reins over Candy-Making Day, a tradition that's rooted in his mother's recipes, the same ones he followed with her when he was a boy and later with his own children when they were little. Now, they are parents and professionals. And Papa, as his grandchildren call him, he's getting older, too. He's 85.
The grandchildren don't think about that.
"When I get older I will," said 16-year-old Matthew Kohls, a sophomore at Lewis and Clark High School. Now, "I look forward to just getting together with the family and making chocolates. It's fun."
For as long as any of the grandchildren can remember, three generations of the Mahan clan gather in Papa's South Hill kitchen on a Saturday or Sunday during December to make – and enjoy – sweet treats together.
"OK, you guys, choose your color of apron," he said, signaling the start of this year's mass production.
Mahan is the keeper of the secret family recipe for fondant-filled chocolates and king of Candy-Making Day. Production centers around him and his beloved chocolates and a Limoges china platter that, like the candy recipes, once belonged to his mother. The dish, large enough to hold a turkey, is trimmed in pink and gold. It's more than 100 years old and "very special to our family," Howard Mahan said.
"He brought it with him when we got married," said his wife Karen Mahan, 76. "This is the only thing he came with, this plate. It was his mom's. This was her china."
Ella Sommerfeld Mahan was born in 1888 in Wisconsin and raised in Saskatchewan. She moved to the Inland Northwest in the early 1920s with her husband and two children. Two more arrived once they got here. Howard Mahan is the youngest.
He was born in Spokane in 1931 and grew up in Opportunity in Spokane Valley. His grandfather ran the Sommerfeld Feed at East Sprague Avenue and North Pines Road.
He remembers making candy at Christmastime with his mother – marshmallows, caramels, those sacred fondant-filled chocolates.
"I had to be married into the family to find out the recipe," said Diane Mahan, 44, who's married to Reed Mahan, 47, Howard Mahan's son, the youngest of his two children. They dated for seven years and will have been married for 20 in April.
"I got the recipe five years ago," she said. "I was allowed to know what the recipe was after we got married, but I didn't actually have it."
The reason for guarding the recipe is simple, Howard Mahan said. "Because it's a family secret that has gone through several generations."
While he won't share the recipe – there's whipping cream in there, sugar, too – he will share the trick to it. "You have to cook it slowly."
He doesn't mind sharing the special ingredient in the chocolate coating. "Now, this is going to gross you out," he said, showing off a blue-and-white box of household Parowax. A pot of the stuff was melting on the stove.
"Can I pour this in?" granddaughter Sarah Mahan asked.
"No," Papa answered. "I want to do that."
Uses listed on the front of the box: canning, candle making and reducing friction on snow skis, water skis and surf boards. There's no mention of chocolate.
But, the box notes the product "conforms to F.D.A. regulations."
Food-grade paraffin can be used as a coating for hard cheeses, additive to gum and sealant for canning. In candy-making, it helps chocolate achieve a sheen.
It's what Howard Mahan's mother used, so he uses it, too. He tests the done-ness of the candy the same way she did, too – not with a candy thermometer but by dropping a teaspoonful into cold water.
"It's not ready," he said.
When it is, Howard Mahan pours it onto his mother's antique platter and uses the large dish to cool and work the fondant, stirring the creamy mixture until it thickens and is ready to roll into balls. His mother did the same.
Fondant is finicky. If the mixture crystallizes, "I will swear," Howard Mahan said. "And then I will add more cream, a drop at a time. And if that doesn't resurrect it, I will put it back on the stove."
But this batch, "It's going to be good, I think."
Once the balls set – there's another tray chilling in the garage – the grandkids – there are six of them – go to work with Christmas carols playing in the background.
"When we were younger, we were only allowed to dip the chocolates," said 16-year-old Sarah Mahan, a junior at Ferris High School. "You have to get it perfect. You have to have the right texture and the right consistency."
As they grew, they were allowed to do other tasks, just not jobs that included actual cooking.
"We would run around while he would make all the candy, and then he would yell at us to come out and roll out the caramel. He always has us roll out the caramel," Sarah Mahan said.
Now, that they're older, though, they get to stir the pot – or, at least, watch it. There's no stirring the caramel or fondant while it's cooking. That's one of the Candy-Making King's rules.
But it's apparently not a family-wide rule. Howard Mahan's late sister, Helen, stirred the pot. Her son, who lives in Coeur d'Alene, made a batch of about 1,000 candies the previous weekend with his family. He's sworn to keeping the family recipes a secret, but he stirs the pot just like his mother. "And apparently that's a big deal," Diane Mahan whispered.
Growing up, her dad made sugar cookies. But, she said, "I never had this kind of family tradition until I came here. When I started dating Reed, I thought he lived in Beaver Cleaver Land because it was just too magical."
The Mahan clan is tight-knit. They see each other as often as three times a week. That's how often Howard and Karen Mahan watch their grand-dog Lexi. The 4-year-old Havenese serves an important role on Candy-Making Day.
"She sweeps the floor," Howard Mahan said.
"Sometimes," Diane Mahan said, "it gets a little crazy,"
It's a controlled chaos in the kitchen on Candy-Making Day, with six sets of arms reaching for toothpicks, pricking balls of fondant, sinking them into paraffin and chocolate, and placing them on a baking sheet. But there aren't too many cooks.
"I definitely look forward to it. It's a good family tradition. It's what I was looking forward to most when I was coming back to town," said 18-year-old Elizabeth Mahan, a freshman at Western Washington University and 2016 graduate of Ferris High School.
Her favorite: the chocolates.
Her sister's, too – "either that or the caramels," said Sarah Mahan, adding that eating them is "the best part" – at least it was when she was younger. "I think the best part now is just spending time with everyone."
For their brother, Sam Mahan, 13, a seventh-grader at Chase Middle School, "eating the candy" is still the best part. His favorite: also, the chocolates.
The tradition, he said, means "a lot because we do it every year. We've been doing it since we were kids."
Matthew Kohls and younger brother, Brian, 11, a fifth-grader at Hutton Elementary School, didn't work the entire time. (Nobody did, except maybe Papa). The boys spent part of Candy Day watching the Seahawks lose to the Packers with their dad.
Papa noticed.
"You haven't done anything," he told Matthew.
"I have eaten one doughnut," Matthew said.
Indeed, Papa bought doughnuts to motivate his candy-makers.
"I like to make the caramels because they are my favorite," said 16-year-old Katherine Kohls, 16, sophomore at Lewis and Clark High School.
"My dentist-daughter (Katherine's mom) doesn't recommend these but they are sooo good," Papa said.
When she was growing up, Susan Kohls, 49, the dentist, said candy-making was spread over several days. These days, "The kids are so busy, we pick one day to do it."
As they get older and more go off to college, she said, "It will get harder."
And it's a fact that no one – no matter how good they've been all year – is gifted an unlimited number of Christmases.
Papa's Candy-Making Day, the grandchildren agreed, is a tradition they plan to carry on when they're parents and professionals. And their own parents, they're getting older, too.
The grandkids, they don't think about that.
Their parents do, though.
"Grandma and Papa grew up in a totally different generation," said Rick Kohls, 50, husband of the dentist. "They pass that to us. I love that tradition. We're fortunate to have this."
On Papa's Candy-Making Day, Grandma – her favorites are the marshmallows with nuts – takes a supporting role.
"I just watch and eat," she said. "I do help here and there. But he's the chairman. He's been doing this a long time."
Local journalism is essential.
Give directly to The Spokesman-Review's Northwest Passages community forums series -- which helps to offset the costs of several reporter and editor positions at the newspaper -- by using the easy options below. Gifts processed in this system are not tax deductible, but are predominately used to help meet the local financial requirements needed to receive national matching-grant funds.
Subscribe now to get breaking news alerts in your email inbox
Get breaking news delivered to your inbox as it happens.
---