Sports
Cougars and Gophers finally going to play
Mon., Dec. 26, 2016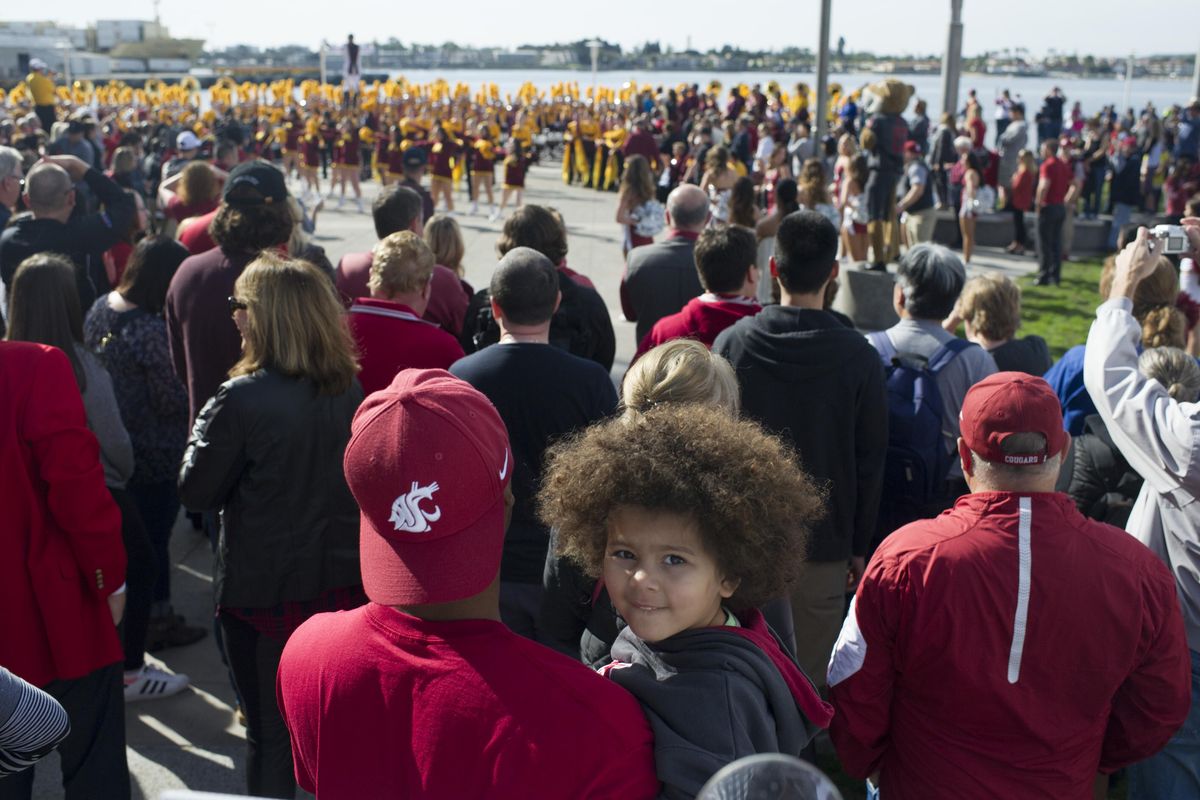 Chris Garofola, father of WSU safety Deion Singleton holds daughter Sophia, 4, as they watch the WSU Marching Band play during a Battle Of The Bands with the Minnesota Golden Gophers band before the 2016 Holiday Bowl on Monday, Dec. 26, 2016, at The Hilton Bayfront in San Diego, Calif. (Tyler Tjomsland / The Spokesman-Review)
SAN DIEGO, Calif. – There is a certain segment of football fans who claim to love the game, but only if there is a national championship at stake.
More bowl games has led to more teams, which has yielded grumbling from those offended by lesser teams getting to participate in the postseason. Alabama coach Nick Saban has decried the new playoff system, for which his team might as well be an honorary participant every season, as having diminished the value of other bowl games.
Washington State coach Mike Leach hates this line of thought, saying it must come from people who "don't like football" and questioning how any postseason game could possibly be less meaningful than one played in the regular season.
Still, anybody who was less than titillated at the Holiday Bowl pairing of WSU and Minnesota has been given ample extra reason to be interested in the game, what with the Golden Gophers' threatening to boycott.
For half of the three weeks of buildup to Tuesday's game, which kicks off at 4 p.m., there was uncertainty about what team the Cougars would play, and even some speculation that the game might not be played at all.
To Leach's credit, he was right to "ignore 100 percent of that" speculation, and is certainly only more secure in his opinion that "your best bet is to assume everybody is playing."
But for fans, particularly Minnesota fans, who had booked flights, hotels and had made their holiday plays, seeing both teams walking around San Diego this past week must have been a relief.
And for the players, hanging out on board a large naval vessel and visiting the San Diego Zoo (WSU) and SeaWorld (Minnesota) must have been fun. But the players are always reminded that these trips are for business first, foremost and last, and are doubtlessly ready to actually play the game.
So what should we expect?
Well, Minnesota did show up for the game, but the Golden Gophers are a depleted unit. The 10 suspensions ravaged the secondary, and chipped away at the depth elsewhere.
That's could mean a big day for Washington State quarterback Luke Falk, one of the nation's top passers. Four of the suspended players are members of Minnesota's secondary, including a pair of starters.
WSU's passing offense averages 370 yards a game, good for No. 2 nationally.
"We all know that quarterback accuracy is important," Minnesota coach Tracy Claeys said when asked about Falk. "He's extremely accurate and he makes good decisions."
The Golden Gophers have a popular leader at quarterback as well in Mitch Leidner, a senior who has been starting games for the Golden Gophers since he was a freshman. While Leidner is a dual-threat quarterback – he has 10 rushing touchdowns this season – sophomore Rodney Smith is the team's most dynamic offensive player.
Tuesday's game will be the final round for a dozen WSU seniors. That includes the enigmatic Gabe Marks, who so quotable that Spokane TV stations now often run highlight packages of just him after WSU's Monday press conferences.
It includes center Riley Sorenson, a three-year starter who, in the six months leading up to preseason camp, braved his senior year despite losing both parents and discovering he had cancer.
Almost all 12 seniors are key contributors, and many played crucial roles in building WSU into the program that has made three bowl games over the last four years. Only two other groups of seniors have done the same at WSU.
With a win on Tuesday, they can also be just the third senior class in WSU's history to graduate having won at least nine games in its final two seasons.
Local journalism is essential.
Give directly to The Spokesman-Review's Northwest Passages community forums series -- which helps to offset the costs of several reporter and editor positions at the newspaper -- by using the easy options below. Gifts processed in this system are not tax deductible, but are predominately used to help meet the local financial requirements needed to receive national matching-grant funds.
Subscribe to the sports newsletter
Get the day's top sports headlines and breaking news delivered to your inbox by subscribing here.
---