Blanchette: Uninspired bowl game puts topping on what may be Cougars' worst best season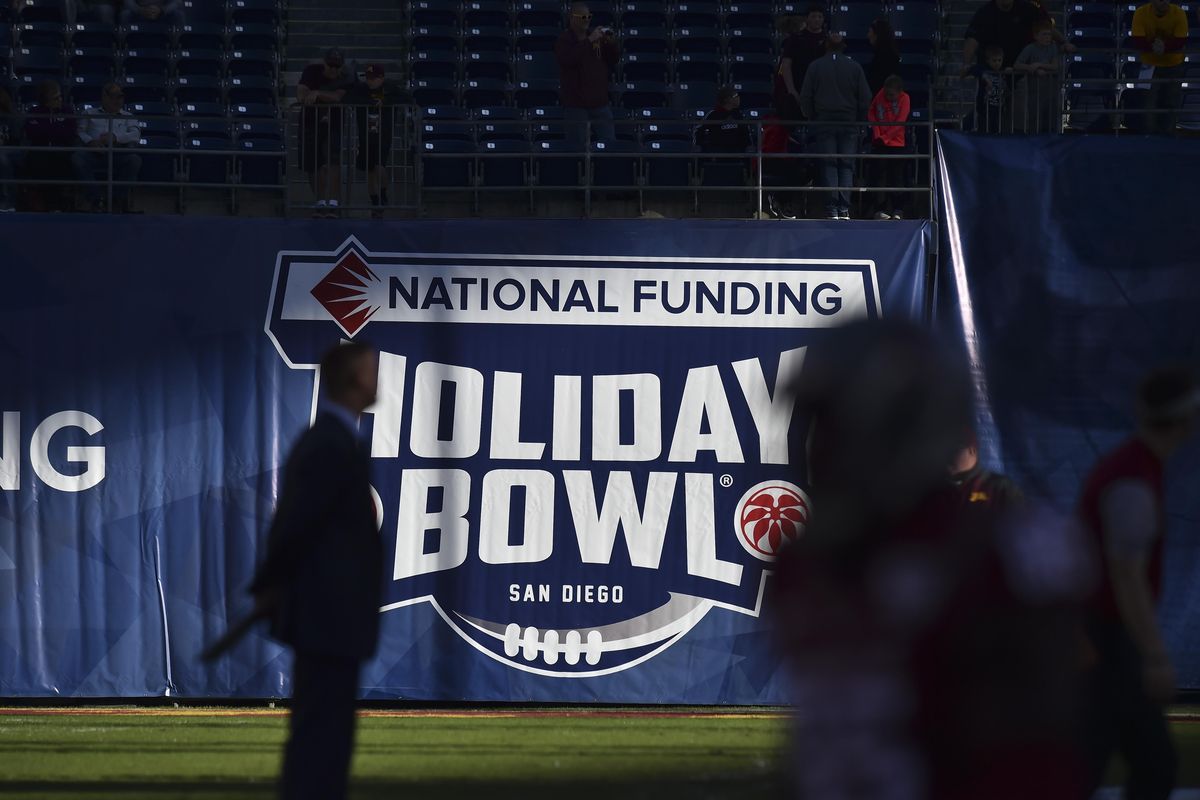 So what will be the first point of reference for Washington State's 2016 football season?
The eight-game winning streak in the middle? The belly-flop start and finish to the regular season?
The record-breakers and honor recipients – Luke Falk, Cody O'Connell, Gabe Marks?
The third bowl trip in four years?
Captain Jamal Morrow's uncanny coin-flip calls? Assistant coach Roy Manning's Twitter vids?
The police "targeting" tantrum? The Student Conduct Board evisceration? The Board of Regents ambush? The … well, you get the idea.
Or the big party at the end – Tuesday evening's appearance in the Faceless Corporation Holiday Bowl?
When football is not art it's just football, and that's enough as long as you're on the winning side. But the Cougars committed both bad art and losing football in a 17-12 bust against Minnesota in Qualcomm Stadium, and dragged it all out for an unconscionably long time as well.
And now it needs to be asked: Was this the worst great – oops, good – season in Wazzu history?
It has to be a contender, and nothing typified it quite so vividly as this pratfall as a 10-point favorite against a team that had suspended 10 players two weeks before kickoff – and then staged a two-day boycott of football activities before coming to its senses.
Speaking of boycotts, was that the Cougar offense sitting out the game in sympathy?
The Cougars came into this game with every advantage, with the possible exception of not taking their opponent as seriously as Minnesota took them. True confession: Wazzu had company in that notion. It was hard to believe as overwrought as the Gopher players were about their suspensions and as much of a hit their big moral stand took from the public that they'd have much of an investment in the proceedings in San Diego.
Instead, it was the Cougars who looked short on give-a-damn. However staunch coach Mike Leach was on the eve of the Holiday that all 41 bowl games are just about the most important thing to happen on the planet, this one couldn't have looked more meaningless.
Without film of the 1931 Rose Bowl for comparison, this may have been Wazzu's all-time bowl clunker.
And the business of Falk entering the NFL draft? Not if he can't keep this game video out of the hands of every general manager.
The Cougar quarterback missed high and wide, and higher and wider – and, often as damaging, didn't see open alternatives. Those alternatives rarely included Marks, who was dogged thoroughly by Minnesota's Jalen Myrick and managed just four inconsequential catches for 27 yards. The running backs were forgotten in the first half, forgettable when resurrected – especially as pass-catchers.
Three of the Gophers' suspended players were secondary starters. Had they been there, Wazzu might not have scored at all.
And the vaunted Cougars offensive line? The Gophers were getting push on Falk with three-man rushes, allowing them to drop eight men into coverage. At one point, junior tackle Cole Madison excoriated his mates on the sidelines – after which the Cougs went out and threw incomplete three times, under pressure.
The defense? It was mostly fine – Minnesota's go-ahead touchdown coming on a fluky tipped ball. But when they needed a stop after Falk threw a dreadful pick with three defenders around Robert Lewis – and knew the Gophers merely wanted to run the ball, and clock – the Cougars surrendered the deciding score in all of four plays.
Afterward, Leach bemoaned this lack of "killer instinct," though at that point it was more about just playing with desperation. From the Non-Explanation Explanation Dept., he also trotted out a couple of his greatest hits about his guys trying to "run the perfect play" and "trying to do too much."
But the truth is, this was a prototypical Leach season in every regard – and the kind the Cougars were told to prepare for when the hired him on five years ago after his Tilt-a-Whirl tenure at Texas Tech.
Is it better than what they'd endured before? Absolutely.
But his teams will always win a game or two they shouldn't – maybe only Stanford qualifies this year, but Wazzu winning eight straight is kind of in that same against-the-odds vein. They will lose games they shouldn't – to FCS opponents, no matter how good, two straight seasons now. They are likely to take a big beating from a big-time opponent. And they arrive underprepared seemingly when they have the most time to get it together – openers and bowl games.
As Leach saw it – because every game is there for the winning – his 8-5 team "got upset five times."
But, really, the Cougars – despite their mid-November pretensions – were 8-5 good.
And when they needed to be better, they simply weren't.
---