Sports
Minnesota outplays WSU, wins Holiday Bowl 17-12
Tue., Dec. 27, 2016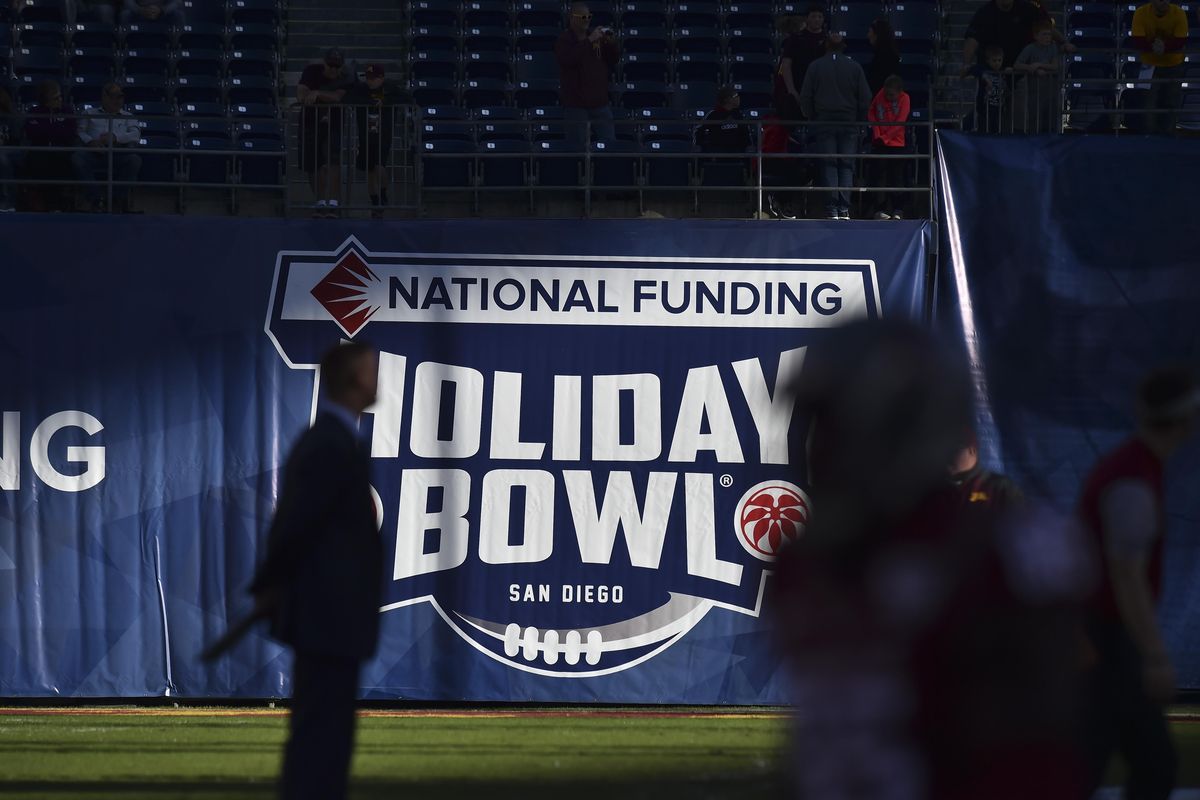 Washington State warms up before the 2016 National Funding Holiday Bowl on Tuesday, Dec. 27, 2016, at Qualcomm Stadium in San Diego, Calif. (Tyler Tjomsland / The Spokesman-Review)
SAN DIEGO – And to think Minnesota was the team that some folks worried would not show up for the Holiday Bowl.
The Washington State Cougars were present, but played like they were the ones boycotting, declining to muster even an anemic offense until the final, unimpactful seconds of their 17-12 loss in the Holiday Bowl.
"We sucked," said wide receiver Gabe Marks. "Our offense was horrible today. It was our fault."
WSU's offense played as poorly as it has since Luke Falk became the quarterback, an era ago, and when faced with the opportunity for redemption instead made a decisive mistake.
There were just more than three minutes left in Tuesday's Holiday Bowl matchup against Minnesota, and the Cougars faced fourth down on a drive in which they had to have a touchdown.
Falk scrambled around and let loose a throw across his body that was intercepted by Minnesota defensive back Adekunle Ayinde, who seemed to return the pass for a touchdown. Officials ruled that Ayinde stepped out of bounds, but that was little consolation for the WSU offense as it watched the Golden Gophers run off some clock and score a touchdown that proved decisive.
"I think we tried to adjust what our jobs are. I think we tried to make too much happen and when it didn't work out we got frantic," coach Mike Leach said. "I didn't think we were very mentally tough as far as allowing ourselves to get discouraged and we unraveled."
The deflating loss served as the fitting end to an 8-5 season in which the Cougars had one of the best two-month stretches of football in the school's history, but was ultimately unsatisfying.
The year began with a loss to Eastern Washington and ended with a three-game losing streak. In between, the Cougars won eight consecutive games including seven against Pac-12 opponents. Two games ago, the Cougars went into the Apple Cup with a Pac-12 Championship berth at stake.
Now the season ends with a loss against a team that just dismissed 10 players, causing their teammates to threaten not to show up at all. Before the game Leach said that players who skip bowl games are being selfish. If so, the Cougars must have been feeling particularly self-centered on Tuesday.
"The worst thing I saw we had a certain number of people pouting on the sideline," Leach said. "Something doesn't go our way and all of a sudden we pout in some fashion."
When two teams that were fundamentally incapable of finishing drives met in a plodding, unsatisfactory season finale, it took a so-rare-as-to-be-random play made by a defender to get an offense into an end zone.
WSU cornerback Marcellus Pippins deflected Minnesota quarterback Drew Leidner's third-down pass, making a play that would have almost certainly kept the Golden Gophers out of the end zone.
But running back Shannon Brooks ran under the play and snagged the ball during its descent, securing the game's first touchdown with 3:23 left in the third quarter.
WSU's offense, which ranked No. 15 nationally heading into Tuesday's game, still has not been held without a touchdown since 2012, Mike Leach's first season as head coach.
WSU entered the game averaging 40.3 points per game. They managed less than four yards per play against the Golden Gophers, and just 5.2 yards per passing attempt. WSU's passing offense appeared frantic at times during the game, and quarterback Luke Falk made a number of poor throws while also taking three sacks.
"Whenever the QB was going through his progressions he didn't see what he wanted," said Minnesota defensive back Damarius Travis. "He just threw hte ball over someone's head and he didn't have hte look that he wanted."
The Cougars managed 76 yards on their first drive of the game. It seemed then that the visitors from Pullman were going to set the tone and take a decisive upper hand, since the defense had forced a three-and-out to open the contest.
The Cougars appeared to score when James Williams sliced through Minnesota's defense for a touchdown from 11-yards out on fourth-and-one, but the Cougars were called for holding and neither team came particularly close to the end zone for the rest of the half.
The teams combined to average just 3.7 yards per play in the first half, and converted just 3-of-16 third-down attempts. WSU took a 10-6 lead heading into the locker room.
Minnesota's offense did not cross midfield on its first three drives, but began its fourth drive on WSU's 40-yard line thanks to inspired defensive play and a 25-yard punt from the Cougars.
Falk threw an eight-yard touchdown pass to Kyle Sweet with 19 seconds left in the game, but the Cougars could not convert the two-point attempt and the Golden Gophers recovered the ensuing onside kick.
Local journalism is essential.
Give directly to The Spokesman-Review's Northwest Passages community forums series -- which helps to offset the costs of several reporter and editor positions at the newspaper -- by using the easy options below. Gifts processed in this system are not tax deductible, but are predominately used to help meet the local financial requirements needed to receive national matching-grant funds.
Subscribe to the sports newsletter
Get the day's top sports headlines and breaking news delivered to your inbox by subscribing here.
---