News > Idaho
John Lee files another appeal with Idaho Supreme Court
Thu., Dec. 29, 2016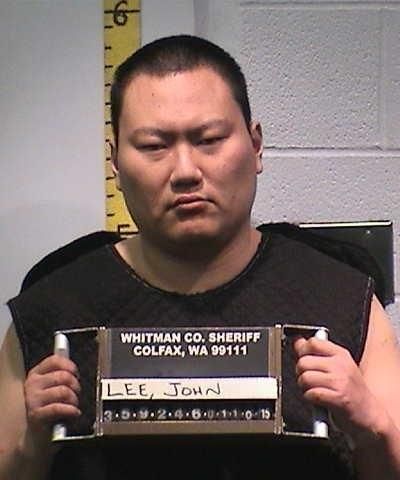 MOSCOW – Convicted triple murderer John Lee has filed a third appeal with the Idaho Supreme Court, despite previously giving up his right to appeal in a plea agreement he accepted in March.
The 31-year-old Moscow man filed the handwritten, six-page document this week in Latah County 2nd District Court. The appeal alleges that police and the Latah County prosecutor "purposefully sabotaged" his court case by continuing to withhold about $11,000 of his cash seized as evidence. Judge John R. Stegner denied a motion to release evidence earlier this month.
Lee entered Alford pleas in March to three counts of first-degree murder and one count of aggravated battery, stemming from the January 2015 shooting spree that left three people dead and injured a fourth. The victims were Lee's adoptive mother, Terri L. Grzebielski, 61; Lee's landlord, David M. Trail, 76; and Moscow Arby's manager Belinda G. Niebuhr, 47. Seattle resident Michael M. M. Chin, 40, was injured.
By entering Alford pleas, Lee did not admit guilt but acknowledged there was enough evidence to convict him. The pleas were part of a deal that spared Lee the death penalty. He was sentenced in May to life in prison without the possibility of parole and has served about 7 months of his sentence.
Lee gave up his right to appeal when he accepted the plea agreement, but he filed his first appeal with the Idaho Supreme Court in July. That appeal seeks to rescind the plea agreement, Stegner's objection to trying the case in mental health court and Lee's own waiver of a speedy trial.
Lee filed a second appeal in November, asking the Idaho Supreme Court to consider if the Latah County court imposed an excessive sentence and whether the court erred in denying Lee's motion for a sentence reduction.
Stegner denied Lee's request for a reduced sentence in October. The plea agreement does not allow for modifications to Lee's sentence.
The Idaho Supreme Court has not yet responded to Lee's two initial appeals.
Lee's latest appeal calls for a reconsideration of Stegner's order denying the release of evidence reportedly no longer relevant to the case.
According to that order, Stegner wrote that District Court "does not appear" to have jurisdiction in the matter of releasing evidence. Stegner also denied the motion because of Lee's pending July appeal.
"Until the defendant's appeal is resolved, any evidence collected in connection with this case must be preserved," Stegner wrote.
Lee argues in his appeal that his cash – about $11,000 to $12,000 that was in a backpack seized at the time of his arrest – has been "kept from" him despite having no alleged connection to his case.
"That money was not directly involved with my crime nor was it obtained illegally," Lee wrote.
Police and prosecutors had "more than enough time to figure this out," Lee wrote, adding that he could have used the money to hire private attorneys.
"They purposefully sabotaged my defense by keeping the money from me," Lee wrote.
The money was "legitimately earned," Lee argues.
"I just happened to have it on me at the time because I like using cash instead of debit," he wrote. "If it were involved in some illegal activity I would have been charged with a crime involving said money, which I haven't."
Lee is incarcerated at the Idaho Maximum Security Institution in Kuna.
Local journalism is essential.
Give directly to The Spokesman-Review's Northwest Passages community forums series -- which helps to offset the costs of several reporter and editor positions at the newspaper -- by using the easy options below. Gifts processed in this system are not tax deductible, but are predominately used to help meet the local financial requirements needed to receive national matching-grant funds.
Subscribe to the Coronavirus newsletter
Get the day's latest Coronavirus news delivered to your inbox by subscribing to our newsletter.
---