News > Spokane
VA doctor's death remains unsolved mystery
Sat., Dec. 31, 2016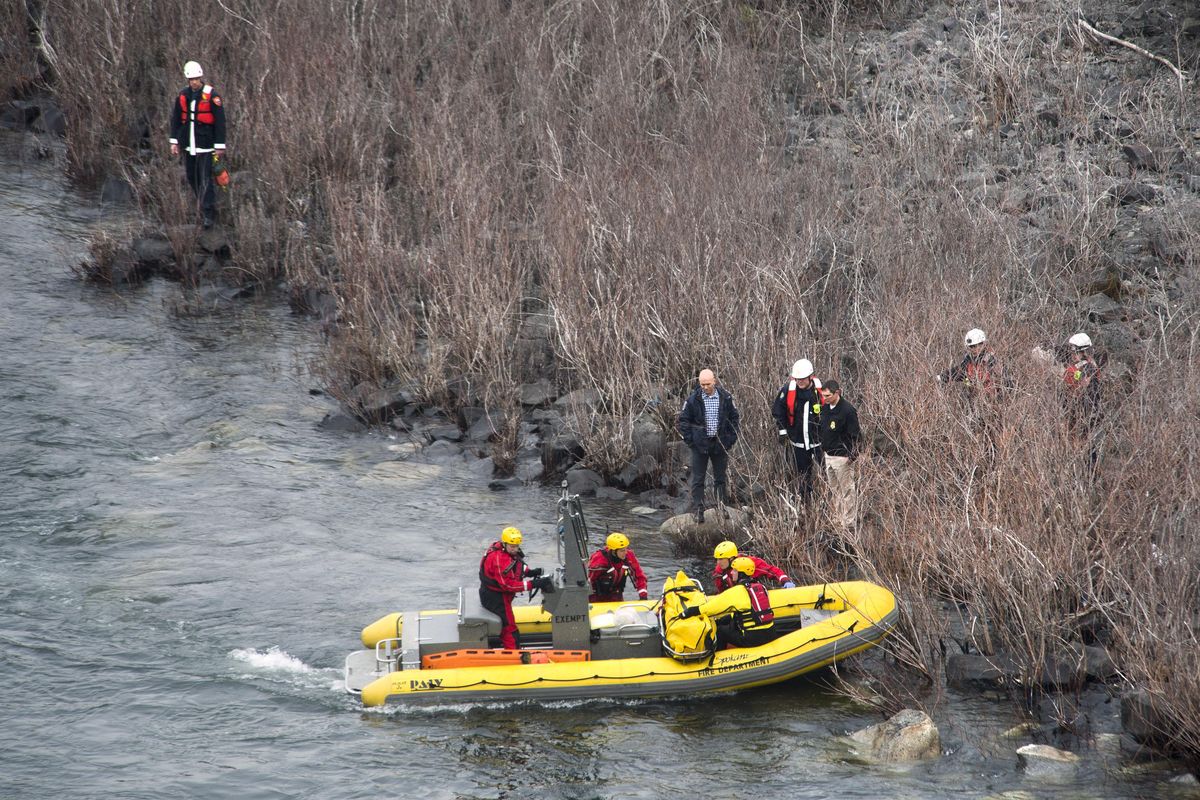 Spokane Fire Department Marine Rescue Unit recovered the body of Veterans Affairs surgeon John Marshall on Jan. 26, 2016, from the Spokane River. (Dan Pelle / The Spokesman-Review)
Nearly a year after Dr. John Marshall was found dead in the Spokane River, the investigation has been suspended with no conclusion.
Suzan Marshall believes her husband was murdered and the Spokane Police Department is covering it up. Police records tell a different story, depicting a couple with marital problems and a widow worried about money.
John Marshall, the chief surgeon at the Mann-Grandstaff Veterans Affairs Medical Center, was found in the Spokane River Jan. 26, a day after he left on a morning run and didn't show up for work.
According to the police case file, obtained by The Spokesman-Review through a records request, investigators followed up on numerous tips, leads and hypotheses but were unable to find compelling evidence to reach a conclusion about how he died. The medical examiner ruled Marshall's death an accidental drowning in February.
Detective Brian Cestnik wrote in his final report, "As of this time, I cannot say for certain what caused the death of John Marshall. I cannot eliminate accident or suicide as the cause of death. Though I have not found any evidence that anyone else was involved in the death of Marshall, I also cannot definitively eliminate the possibility that he was the victim of foul play."
On Dec. 13, the television show "Crime Watch Daily" featured Marshall's case, pointing to previously reported questions raised by Suzan Marshall and a private investigator she hired about the nature of Marshall's death.
Ted Pulver, the private investigator, said the findings of the police investigation "defy common sense." He added, "common sense dictates our findings are more in line with logic and deduction."
Pulver believes at least two people with military or police training grabbed Marshall, waterboarded him, killed him and staged his body on the banks of the river in the early morning of Jan. 26. Police crime scene photos show part of a garden hose and a rubber tire near Marshall's body, which Pulver said could have been used to waterboard Marshall.
The posture of Marshall's body, with his head thrown sharply backward, and blood coming from his mouth, also indicate to Pulver that somebody waterboarded Marshall. Pulver believes a disgruntled patient may have killed the VA surgeon.
Cestnik spoke to several of Marshall's former patients, who complained about his "poor bedside manner," but he didn't find anyone angry enough to want to hurt the doctor, the case file says.
Marshall was found floating face down in shallow water, with his iPod still in his shorts pocket and with the headphones still plugged in. After police completed their investigation, they gave the iPod to the private investigator. He, in turn, sent it to Josiah Roloff, president and investigator for Global CompuSearch. Roloff's examination determined the iPod was never submerged in water and still ran.
Police, however, wrote that the iPod was "completely frozen." The report does not mention water damage.
Pulver believes the detectives made a mistake and don't want to admit it.
Suzan Marshall believes the explanation is more sinister. She accuses the Spokane Police Department of controlling the Spokane County medical examiner's officer and suppressing contradictory findings.
"SPD and sheriff's office force-feed ME with unsubstantiated and even false info to the MEs to declare suspicious deaths as accident or suicide," Marshall wrote in an email recently. "The result is that law enforcement then closes the case. Both offices totally lie when challenged. And how many victim families before me can read an autopsy. None until now."
Marshall, a former military surgeon herself, said blows to her husband's chest detailed in the autopsy were consistent with a "takedown move" aimed at disabling an opponent. The autopsy report says the injuries could have been caused by a fall from height and/or hitting submerged rocks in the river.
Suzan Marshall maintains that the detectives botched the investigation, refusing to follow up on credible evidence and tips.
The case report details several meetings with Suzan Marshall where detectives listened and followed up on tips and hypotheses.
Marshall believed her husband had been murdered from the start. The night he went missing she asked investigators if they thought John "could be in someone's trunk."
Following the discovery of his body on Jan. 29 she wrote, "I believe SPD should be prepared to have a police presence at John's service," saying she was concerned about transients coming to the service. The Spokane police did not send uniformed officers to the service.
Then she asked detectives to close the case quickly.
"I can't file life insurance policies to pay off mortgages without cause of death," she wrote in an email sent Feb. 3, seven days after the body was found. "Can we say something like drowning by accident so I can get some money coming in?"
Suzan and John Marshall were experiencing financial and marital difficulties, according to police interviews with their financial planner and family therapist. The therapist, however, told police John Marshall didn't seem suicidal or depressed.
One of his co-workers told the detective Marshall was stressed because Child Protective Services had recently become involved with the family; the case file doesn't give details of that involvement. Former neighbors of the Marshalls told police there was often yelling and screaming coming from the house.
Suzan Marshall dismisses these claims. In an email response to questions from The Spokesman-Review, she wrote, "Marital problems? We were going by ourselves to Hawaii for our birthdays the following week??? Financial difficulties??? We owned three houses and a diversified portfolio??? No, CPS was never called on us??? Can I sue them (SPD) for falsifying the case file??? I'm stunned. That's what the military does, document lies. Sounds like SPD's attorneys padded the case."
Citing numerous theories and rumors about Marshall's death, Cestnik wrote in the report, "While people have many theories and guesses as to what happened, there are no witnesses or evidence to back any of them."
John Marshall served in the Marines for five years before becoming an Army surgeon, Suzan Marshall said. He served in the Army from 2004 to 2009. Marshall worked at the VA since 2010 and was named the acting chief of surgery roughly a year before his death.
Local journalism is essential.
Give directly to The Spokesman-Review's Northwest Passages community forums series -- which helps to offset the costs of several reporter and editor positions at the newspaper -- by using the easy options below. Gifts processed in this system are not tax deductible, but are predominately used to help meet the local financial requirements needed to receive national matching-grant funds.
Subscribe now to get breaking news alerts in your email inbox
Get breaking news delivered to your inbox as it happens.
---