News > Spokane
Then & Now: Spokane Gas and Fuel
Mon., Feb. 1, 2016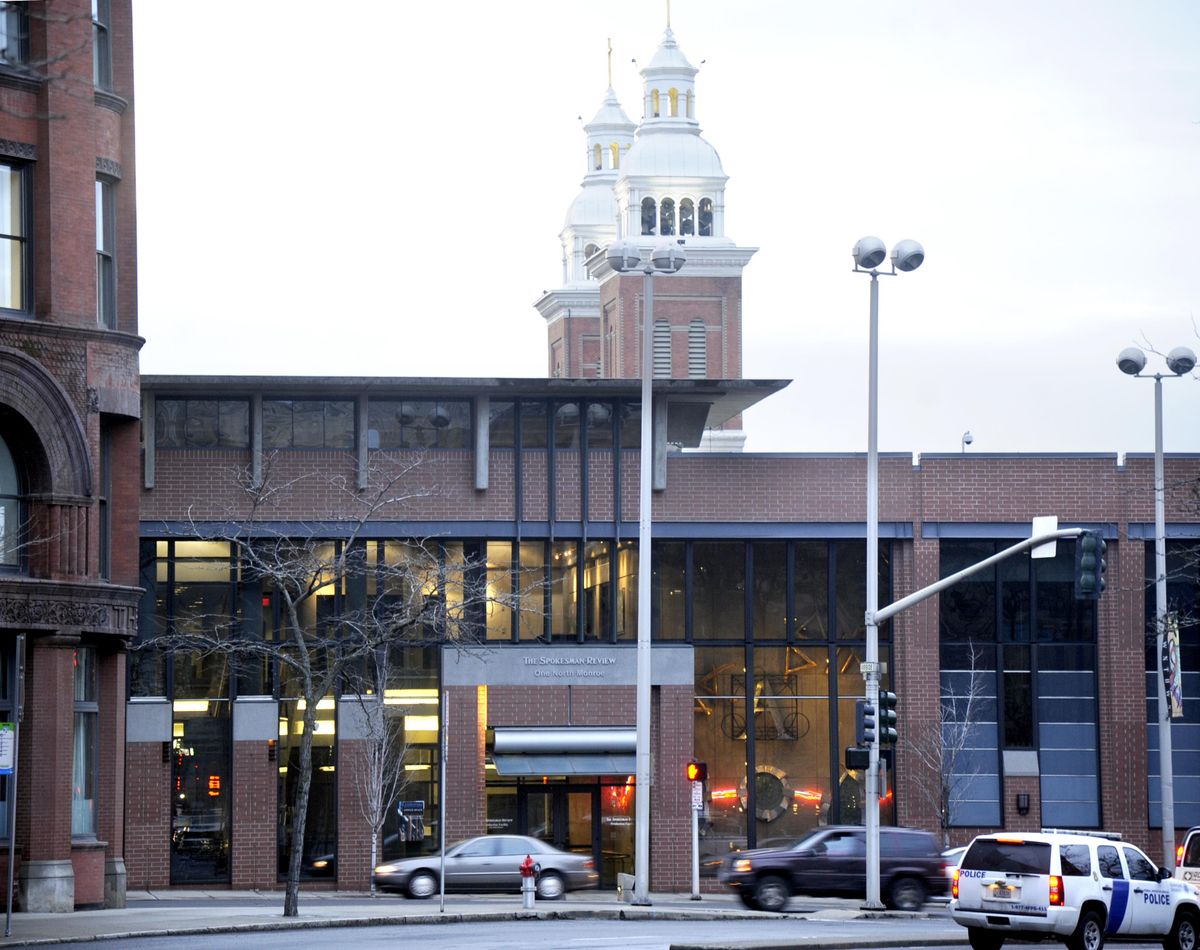 Present day: The Spokesman-Review production facility sits on the west side of Monroe Street south of Riverside Avenue. From 1902 to 1969, the block was dominated by the Touraine Hotel building, home to the offices of Spokane Gas and Fuel until the 1950s. The company that owns The Spokesman-Review bought the hotel in 1969 and the adjacent parcels, and built a printing plant there in 1980. The facility was rebuilt in 2003. (Jesse Tinsley / The Spokesman-Review)
Even before Washington Water Power was incorporated and hydroelectric power began to flow from generators on the Spokane River, Spokane Falls Gas Light Co. offered another energy option. In 1886, the company built a gas plant on Stevens Street, just south of Railroad Avenue, and began to produce fuel gas. The plant survived the 1889 fire.
Before natural gas came into use, gas was manufactured from coal, sometimes petroleum, using a variety of extraction methods. The most common process involved heating the coal in a sealed vessel, called a retort. During the processing, gas was drawn off and piped away to customers.
Since its invention in the 1700s, manufactured gas was commonly used in streetlights. But manufactured gas came into popular use in the early 20th century, and plants popped up in cities small and large. Seattle's decommissioned plant is now the centerpiece of Gasworks Park.
After World War I, coal became more expensive and petroleum was in demand for automobiles. Spokane's power company, Washington Water Power, promoted electricity with modern showrooms to demonstrate the latest electric appliances. The gas company, later called Spokane Gas and Fuel, was doing the same. The showroom at Monroe Street and Riverside Avenue featured the latest in gas ranges and home water heaters. A Spokane Gas ad in 1923 offered installation of a modern gas range with no money down and a 30-day guarantee.
But gas production left a tar-like byproduct and producers struggled to find a use for it. It was an early form of creosote, a wood preservative used on railroad ties and wooden piers. Because the substance had little commercial value, some small manufacturers would surreptitiously dump the tar, and the pollution still contaminates some old plant sites.
In the 1950s, the legacy gas companies were consolidating and realigning with takeovers and stock trades. They also were switching to natural gas, which arrived in pipelines from Texas and other oil fields. In the late 1950s, Washington Water Power, now Avista Utilities, acquired the local gas companies, consolidated equipment, and updated and extended pipelines for higher line pressure.
Architect and historian Robert Hyslop wrote that gas and electricity had competed since the 1880s, but now "Jonnie Gas Flame and Reddy Kilowatt became buddies."
– Jesse Tinsley
Local journalism is essential.
Give directly to The Spokesman-Review's Northwest Passages community forums series -- which helps to offset the costs of several reporter and editor positions at the newspaper -- by using the easy options below. Gifts processed in this system are not tax deductible, but are predominately used to help meet the local financial requirements needed to receive national matching-grant funds.
Subscribe now to get breaking news alerts in your email inbox
Get breaking news delivered to your inbox as it happens.
---