Sports > Gonzaga basketball
Gonzaga women: Lisa Fortier may tinker with lineup
Tue., Feb. 2, 2016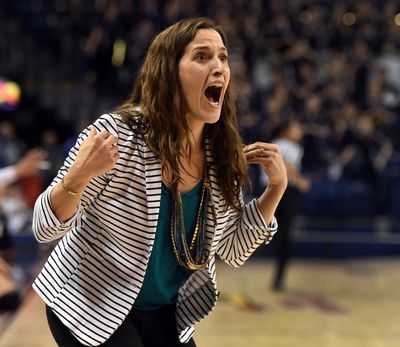 After watching her team lose five of its last six games, Gonzaga women's basketball coach Lisa Fortier says she's considering changing her starting lineup.
"We're open to whatever is going to be best for Thursday," Fortier said of the Bulldogs' upcoming game against Loyola Marymount at the McCarthey Center.
"I don't think anyone on the team would be surprised if there's going to be a change," Fortier said.
The Bulldogs are coming off a pair of West Coast Conference losses at Santa Clara and San Francisco – teams they beat last month in Spokane. In two games last week, the GU starters combined for ony 10 field goals and shot 21.7 percent from the field.
The season hit a low point on Saturday at USF, a team they clobbered 68-47 on New Year's Eve. Four weeks later, the Bulldogs were down by 12 after the first quarter and 20 at halftime and never made a run in the second half.
In the process, Fortier's team fell to 14-8 overall, 6-5 in the WCC and out of the running for any chance for an at-large bid to the NCAA tournament should they fail to win the conference tournament.
Along with that, a run of 11 straight WCC regular-season titles will surely end this year; with seven games left, the Bulldogs are in fifth place – three games behind co-leaders BYU and San Diego.
"I think everybody is a little bit disappointed with how the last few weeks have gone, but we're trying to stay on a positive path – there's a lot to be learned," Fortier said.
Along the way, Fortier says she's has learned a lot about her bench, especially freshmen Jill Barta, Laura Stockton and Zhane Templeton. They've provided energy, change of pace, and in the case of Barta, a scoring average of 11.8 points that leads the team.
But are they ready to start?
If they are, this would appear to be the time to tweak the lineup in hopes of improving before the postseason: Loyola Marymount, Pepperdine and Portland are a combined 3-29 in the WCC and occupy the bottom three spots in the standings.
At the same time, Fortier said, lineup changes aren't as simple as some fans believe. "It's a balancing act," Fortier said. "It's my job to figure out, are we better off doing it this way or something else?"
The Bulldog starting lineup – post Shelby Cheslek, forwards Kiara Kudron and Chelsea Waters, and guards Georgia Stirton and Emma Stach – hasn't changed since all-WCC guard Elle Tinkle was lost for the season with a knee injury suffered in late December.
Post Emma Wolfram also was lost for the season, costing the Bulldogs two of their best scoring threats from last year. Along with graduates Sunny Greinacher and Keani Albanez, they were the top four scorers in a memorable postseason run that carried GU to the Sweet 16 of the NCAA tournament.
But while acknowledging that the loss of Tinkle and Wolfram "has affected us," Fortier said the coaches and players must move on. At first, they appeared to do that, winning six straight after Tinkle's last appearance, at Dayton on Dec. 11.
In six games since, the Bulldogs have won just once. Solid defense and rebounding have carried them only so far, and even that failed them at Santa Clara as they were outrebounded by 39-27 and gave up 48-percent shooting from the field.
Other trouble spots: In conference play, GU is shooting just 32 percent from long range and 68 percent from the foul line.
Does that mean a change in the starting lineup?
Fans will find out Thursday night.
Eagles split, Hodgins repeats
After hitting a speed bump at Portland State last Thursday, Eastern Washington hit some turbulence in the air.
However, the Eagles may be better for it.
Previously unbeaten in the Big Sky Conference, the Eagles were stunned 81-79 by the last-place Vikings and trying to regroup for the next game, at Sacramento State.
"We were still a little gloomy the next morning," coach Wendy Schuller said. "The whole flight was so bumpy they couldn't serve us. When we got off the plane, we were refreshed and ready to go and all the bad feelings out of us."
They rebounded with a 100-83 win over the Hornets to stay in a first-place tie atop the Big Sky standings with Montana State. Along the way, senior guard Hayley Hodgins averaged 27 points while shooting 47 percent from the field to earn conference player of the week honors for the second straight week.
The big lesson from the Portland State loss, according to forward Ashli Payne: "Like coach says, we can't just walk into a gym and expect to win."
Cougars look to rebound
After dropping two games in the Bay Area last weekend, Washington State hopes to come back at home this week against the Oregon schools.
The Cougars (12-9 overall and 3-7 in the Pac-12) fell to ninth place going into Friday's home game against Oregon. Two days after dropping a three-point heartbreaker at 11th-place Cal on Friday, WSU was in contention at 15th-ranked Stanford.
But after leading by two at halftime and holding SU to one field goal in the opening quarter, WSU went cold from the field in the fourth quarter in a 69-52 loss.
"This is a game of runs and when runs come I need some people in that locker room to step up and say, 'Enough is enough,' and get the stop. We didn't do that," coach June Daugherty said.
Vandals riding momentum
Thanks to a record-tying long-range shooting day, Idaho is just a game out of first place in the Big Sky standings.
Taking what Portland State gave them, the Vandals hit 17 3-pointers in a 94-65 win at Portland State on Saturday.
"Portland State started playing in that zone and we got some really good looks," said coach Jon Newlee, who also saw his team rack up a season-high 32 assists. "We had seen that defense on film and thought we would be able to run a few things from favorable matchups."
Idaho is 7-2 in the conference, just behind Eastern Washington and Montana State.
Local journalism is essential.
Give directly to The Spokesman-Review's Northwest Passages community forums series -- which helps to offset the costs of several reporter and editor positions at the newspaper -- by using the easy options below. Gifts processed in this system are not tax deductible, but are predominately used to help meet the local financial requirements needed to receive national matching-grant funds.
Follow along with the Zags
Subscribe to our Gonzaga Basketball newsletter to stay up with the latest news.
---