Sports
North Central's Megan Dean making most of senior year
Wed., Feb. 3, 2016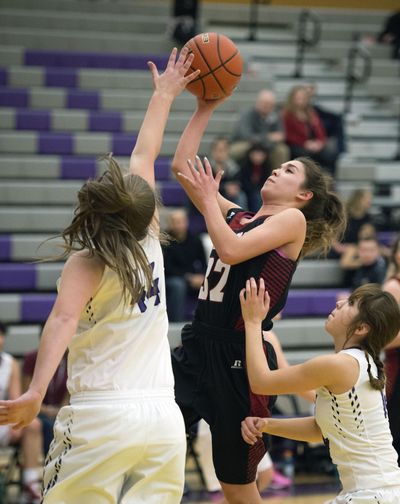 Megan Dean has many reasons why she's enjoying her final season playing basketball at North Central.
Her team already has more victories combined than the three previous years she started, seasons that ended with 2-19 records. The Indians are 8-9 in league and 8-11 overall.
Her former coach, Gabe Medrano, remembers Dean as early as the fifth grade coming to summer practices and camps to shoot around. He got to see at a young age the girl who would start for two seasons for him.
Jake Martyn took over last year and immediately knew he had something special.
Dean was the perfect cornerstone for Martyn's building project.
"She means everything to our team," Martyn said.
Statistics support Martyn's statement. The 5-foot-8 Dean, who Martyn calls a point forward, is averaging a team-leading 14.1 points, six rebounds, four steals and four assists.
She's a candidate for first team all-league.
"If you're just looking at a box score you don't see what she does for us," Martyn said. "She's not a true point guard but she does the majority of the ballhandling for us."
What Dean has fought against this year is doing too much.
"I don't think I need to do it all on my own," she said. "I've tried to build up the other girls."
"She's had to learn to let the younger girls come into their own," Martyn said. "At times she still tries to do everything. But she's trusting the younger girls more and we're seeing the results."
Martyn is especially pleased that NC has a solid opportunity to advance from the district tournament to the subregional against the Mid-Columbia Conference.
"The success has been cool for everybody but for Megan it's been even better," he said. "She's had a great attitude through some hard times. To see the look on her face after a win, you can tell she appreciates it."
Dean, an honors student who ranks sixth in her class, is a three-sport letterman who will leave NC with 12 letters in basketball, volleyball and track.
Martyn makes no bones about it – he thinks Dean is the best athlete in the league.
"Last year, (Gonzaga Prep's) Laura Stockton and Otiona Gildon were probably the only two athletes better than Megan," Martyn said. "There are better players but not better athletes."
Dean was determined to make this season special for the Indians.
She said it started last summer.
"We made a pact and got shirts that said 'Dedicated' on them," Dean said. "In the past it's been hard to get a lot of girls out for the summer. We had 20 to 30, freshmen through seniors, out and we built a trust and chemistry together that we weren't able to get earlier."
The Indians agreed to keep each other accountable.
From time to time, the Indians remind themselves of the work they've put in and that they deserve to have success.
"It's nice to win this year because I definitely know what it's like to be on the other side," Dean said. "One of (Martyn's) quotes after a couple of games is we need to practice every day just like we lost our last game. We know what that's been like the last three years."
Dean wants to play in college but not at the expense of academics. She's considering majoring in occupational therapy. She's applied to a few NCAA Division III schools and has been in contact with some coaches.
"I know it's kind of late (recruiting) but I have a feeling it's going to work out like it's supposed to," she said.
And if it doesn't work out, Dean can walk away knowing her last season was her best at NC.
"We're playing really well," Martyn said. "There are certain games where we've been in our own heads and haven't necessarily played well. We're still figuring out how good we can be."
Said Dean: "The success hasn't really surprised me because of the work we've put in and the level of character in the girls we have."
It starts with Dean.
Local journalism is essential.
Give directly to The Spokesman-Review's Northwest Passages community forums series -- which helps to offset the costs of several reporter and editor positions at the newspaper -- by using the easy options below. Gifts processed in this system are not tax deductible, but are predominately used to help meet the local financial requirements needed to receive national matching-grant funds.
Subscribe to the sports newsletter
Get the day's top sports headlines and breaking news delivered to your inbox by subscribing here.
---