Sports
Cougars drop eighth straight game in loss to Arizona
Wed., Feb. 3, 2016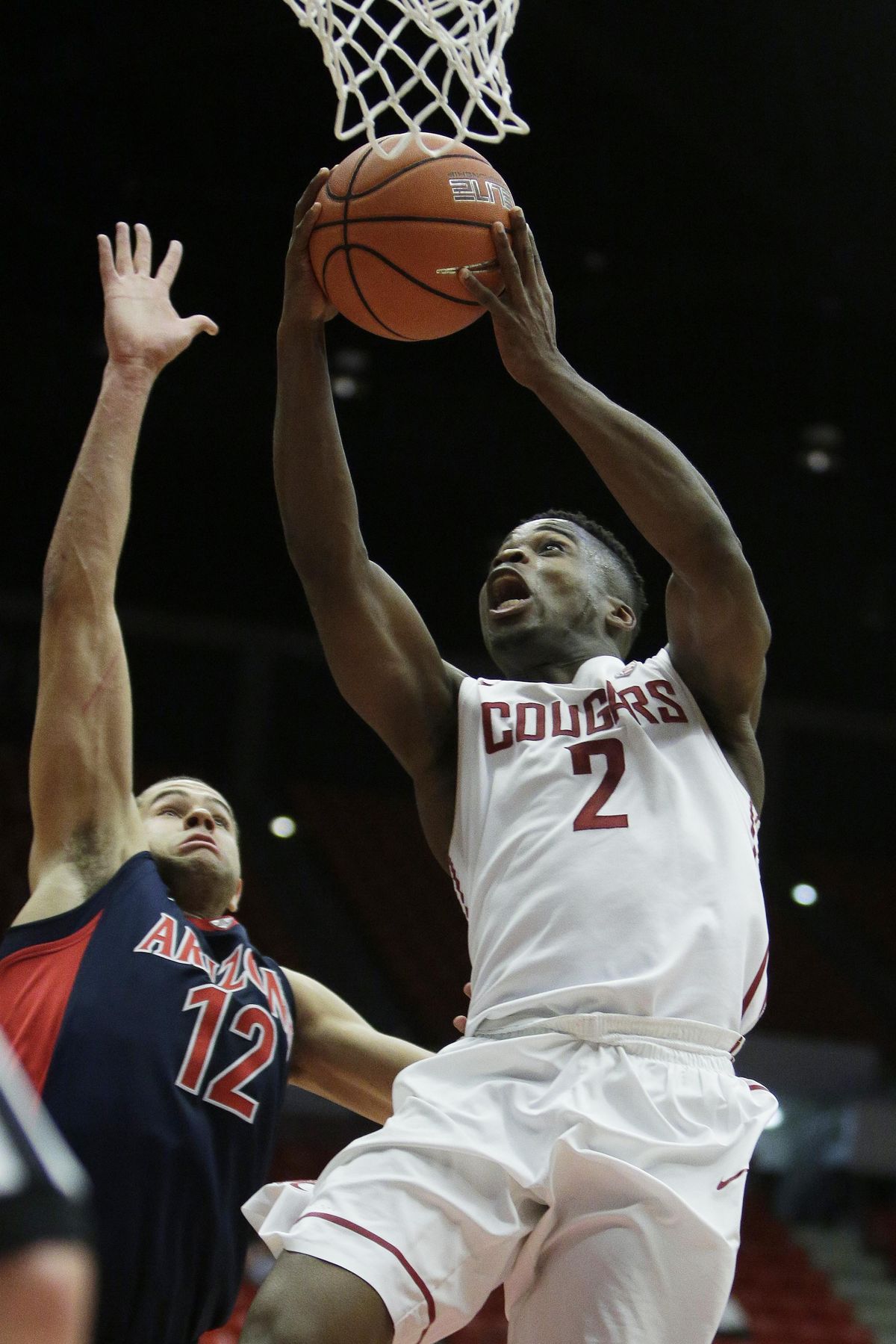 Washington State's Ike Iroegbu (2) shoots against Arizona's Ryan Anderson (12) during the second half of an NCAA college basketball game, Wednesday, Feb. 3, 2016, in Pullman. (Young Kwak / Associated Press)
PULLMAN – Ernie Kent sidled up to a group of reporters at the end of Tuesday's practice, long after the interview session had concluded, gestured to his player who were joking and laughing during a shooting drill and said "Now, does that look like a team on a seven-game losing streak?"
The team's buoyancy in practice carried over to inspired play on Wednesday against a team that punked the Cougars less than a month ago. But energy can only take a team so far, and No. 23 Arizona's size, speed and talent proved to be too much for the WSU, which lost 79-64.
WSU (9-13, 1-9 Pac-12) has now lost 10 consecutive games against UA (18-5, 5-5). In their first meeting this year, the Wildcats mauled the Cougars 90-66 in Tucson. But for a team that has now lost its last eight games, Wednesday's game was an important reminder that they can still compete against Pac-12 teams with better records, which is to say all of them.
And to be sure, these Wildcats have not shown the firepower they were thought to possess when they were ranked No. 7 in the AP poll just five weeks ago. UA played both games against WSU without talented freshman Allonzo Trier, and the Wildcats have played poorly away from home.
But no college basketball program has won more games over the last two seasons than UA, and no coach in the Pac-12 has recruited as effectively as Sean Miller.
The Cougars jumped out to a 17-9 lead, but there were signs of trouble. Leading scorers Ike Iroegbu and Josh Hawkinson scored 14 of those points, and production from those two players has never been the issue. Hawkinson has now reached double-digits in both points and rebounds 16 times this season, while Iroegbu has scored at least 20 points in three of the team's last four games.
Finding supplemental scorers has been a problem for the Cougars, and against UA two of the Cougs most likely had two of their worst shooting games. Charles Callison and Que Johnson each returned to the starting lineup for the first time since Jan. 21, and combined to make 5-of-25 shot attempts in 64 minutes.
"We think that guy should be there right now," Kent said. "There's certainly enough candidates there. And yet we started the game with an opportunity for a third scorer to have a lot of points out there on the floor. That's about confidence, being ready to play, being locked-in and all those things."
The Cougars are in somewhat of a bind, because Callison and Johnson have each shown the ability to get hot in the past and will only find their stroke if they keep shooting.
"If I'm just not having a good shooting game, I just try to stay positive because I know I can make the shot," Callison said.
But with UA's Ryan Anderson scoring a career-high 31 points on just 16 field goal attempts WSU was working with very little margin for error. He also grabbed 12 rebounds.
"Ryan Anderson was great," Miller said. "He was too much for Washington State. One of the best performances weve had in a long, long time."
Arizona made its comeback, and the teams played a competitive game for most of the half, but the Wildcats asserted themselves over the final five minutes, outscoring the Cougars 13-4.
The Wildcats led by as much as 19 points in the second half, but the Cougars displayed some of the mental toughness that Kent has been trying to coax out of them.
With 10:30 to play, Johnson hit a jump shot and Junior Longrus stole the ball from UA's Kaleb Tarczewski and on the ensuing break finished with an uncontested dunk that made it an eight-point game.
That stretch made for a competitive final quarter of the game, but the Wildcats defense, much maligned by Miller early in the year, kept the Cougars at bay.
"When we make a run, we can't just make a 10-2 run," Iroegbu said "We've just got to keep going forward and not settle for tough shots and stuff like that."
Local journalism is essential.
Give directly to The Spokesman-Review's Northwest Passages community forums series -- which helps to offset the costs of several reporter and editor positions at the newspaper -- by using the easy options below. Gifts processed in this system are not tax deductible, but are predominately used to help meet the local financial requirements needed to receive national matching-grant funds.
Subscribe to the sports newsletter
Get the day's top sports headlines and breaking news delivered to your inbox by subscribing here.
---