Sports
Gonzaga women ride new lineup to 83-68 win over Loyola Marymount
Thu., Feb. 4, 2016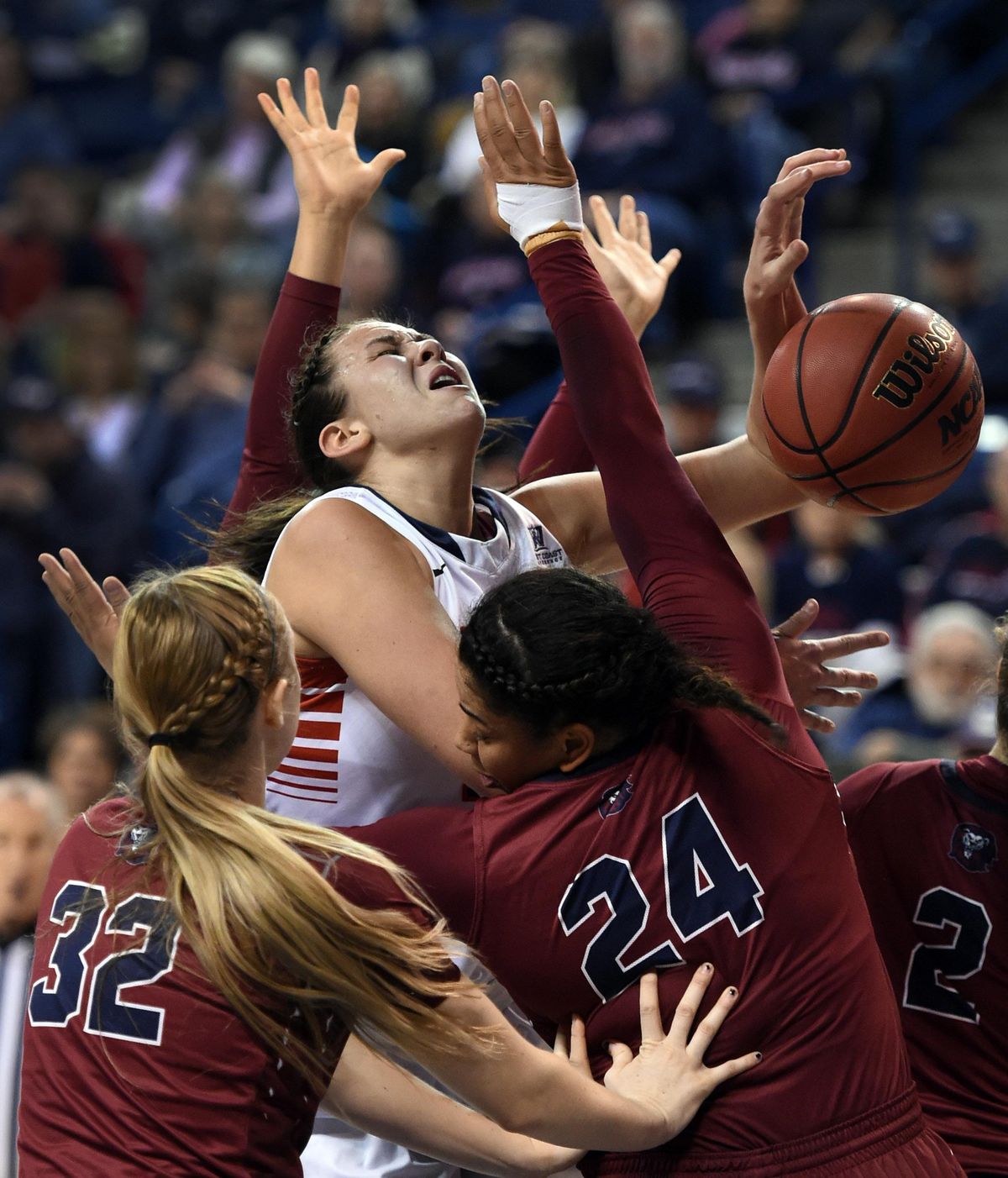 Gonzaga's Jill Barta is fouled by Loyola Marymount's Bree Alford (24) during second-half action on Thursday in Spokane. (Colin Mulvany / The Spokesman-Review)
Gratefully, the Gonzaga women were able to turn the page Thursday night.
The Bulldogs embraced a new month with a new starting lineup and some newfound offensive energy Thursday night in an 83-68 win over Loyola Marymount at the McCarthey Athletic Center.
"The coaches wanted something new, and we didn't know if it would help or hurt," senior Shaniqua Nilles said after and she and freshman Jill Barta emphatically answered that question: In their first starts of the season, the two forwards combined for 40 points and 19 rebounds to lift GU to a much-needed win.
It improved GU to 15-9 overall and 7-5 in the West Coast Conference. More importantly, with the WCC postseason tournament just three weeks away, the Bulldogs regained some momentum following a rough January that included five losses in six games along with season-ending injuries to Elle Tinkle and Emma Wolfram.
The seeds of change were sown last weekend, as starting forward Kiara Kudron suffered a wrist injury during a 71-52 loss at San Francisco. Kudron is expected back, perhaps as soon as next week, but someone had to step up in the meantime.
"Nobody's in the doghouse," said coach Lisa Fortier, who also moved forward Chelsea Waters to a reserve role. "We're just trying to get a fresh take on what we're doing – it just happened to coincide with Kiara's wrist injury, so I'm happy with our team's effort for 40 full minutes," Fortier said.
Effort and energy carried the Bulldogs through a tough first half, after which GU led 32-29 despite shooting just 9-for-33 from the field and 1-for-9 from beyond the arc.
Taking advantage of a smallish LMU lineup, the GU fought for rebounds. On two occasions, the Bulldogs missed four straight shots before snagging an offensive board. By game's end, GU had 22 offensive boards and outrebounded the Lions 48 to 31.
In turn, those rebounds led to fouls, which GU turned into 30 made free throws in 39 attempts, both season highs.
"That was part of the plan," Fortier said. "We knew we had a size advantage inside, so we really wanted to capitalize on that."
The Bulldogs found their stride in the third quarter, as Emma Stach hit a 3-point shot and Barta drained two more to give GU a 41-33 lead.
Moments later, Barta hit two of her 12 free throws, Zhane Templeton hit a three and Laura Stockton made a layin to give GU a 50-36 lead, its biggest of the game.
"We've had a couple of rough third quarters, and that's game-changing for us," Fortier said. "The third quarter has been our biggest emphasis."
But after LMU (7-16 overall, 3-9 WCC) hit a trio of 3-pointers late in the third, GU had to dig a little deeper with only a 54-46 lead going into the fourth quarter.
It didn't take long. Two minutes into the period, Nilles took a sweet pass from Stockton and drained a 3. Thirty seconds later, she did it again, putting GU up 64-48 with 7:16 left.
The lead was down to nine with 4:10 to play, but the Bulldogs made nine of their last 10 foul shots to restore a double-digit lead.
Barta finished with 25 points and 11 rebounds, both game-highs, while going 5-for-12 from the field and 12-for-14 from the foul line. Nilles had 15 points and eight rebounds.
Local journalism is essential.
Give directly to The Spokesman-Review's Northwest Passages community forums series -- which helps to offset the costs of several reporter and editor positions at the newspaper -- by using the easy options below. Gifts processed in this system are not tax deductible, but are predominately used to help meet the local financial requirements needed to receive national matching-grant funds.
Subscribe to the sports newsletter
Get the day's top sports headlines and breaking news delivered to your inbox by subscribing here.
---