News > Idaho
Idaho lawmakers told specialty license plate for Orofino "Maniacs" would be offensive
Thu., Feb. 4, 2016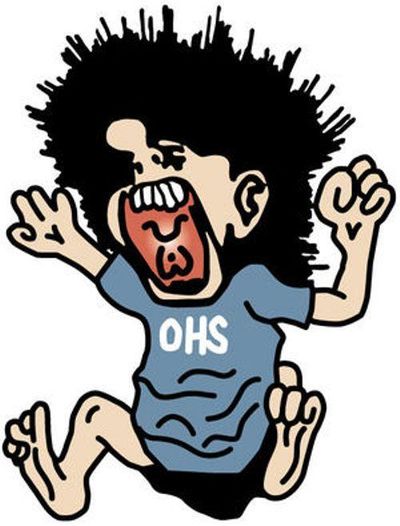 Orofino, Idaho's school mascot – the Maniacs – is offensive to people with mental illness, advocates told a legislative committee Thursday, and asked that the state not offer a new specialty license plate commemorating the figure.
Instead, Idaho's House Transportation Committee backed a compromise plan to drop the word "Maniacs," but offer the license plate with the school logo alone.
Orofino is the location of Idaho's state mental hospital, and Orofino High School has had Maniacs as its school mascot since the 1920s.
"I just think that's a reasonable compromise," said Rep. Linden Bateman, R-Idaho Falls.
Bateman noted, "We have all kinds of colorful names throughout the state of Idaho. You take the name the 'Idaho Vandals.' Do you realize the plunder and the violence perpetuated by the Vandals in northern Europe?"
The Maniacs logo – a man in a hospital gown jumping and screaming – "looks like someone cheering for the team," he said.
Jim Baugh, head of Disability Rights Idaho, said the logo looks like a hospital patient. He told lawmakers, however, that removing the word "Maniacs" would help.
Jill Woolsey, an Orofino city councilwoman and head of the Clearwater Community Foundation, said the specialty plate would raise badly needed money for Orofino schools. She said the Orofino Maniacs mascot is "everywhere within our city," from storefronts to decals and T-shirts. The bill is intended, she said, "to assist with funding in a school district in desperate need of funds."
Christine Pisani, executive director of the Idaho Council on Developmental Disabilities, said she wanted to "recognize the good people of Orofino on their intentions," but the council "opposes this legislation because of the stigmatizing effect the word 'maniac' has on people experiencing mental health issues. In Idaho, that is 54,000 adults and 18,000 children."
The divided committee voted to change the bill and send it on to be amended. A similar bill introduced last year didn't advance.
Local journalism is essential.
Give directly to The Spokesman-Review's Northwest Passages community forums series -- which helps to offset the costs of several reporter and editor positions at the newspaper -- by using the easy options below. Gifts processed in this system are not tax deductible, but are predominately used to help meet the local financial requirements needed to receive national matching-grant funds.
Subscribe to the Coronavirus newsletter
Get the day's latest Coronavirus news delivered to your inbox by subscribing to our newsletter.
---