News > Spokane
Spokane interim police Chief Dobrow announces retirement
Feb. 5, 2016 Updated Fri., Feb. 5, 2016 at 3:15 p.m.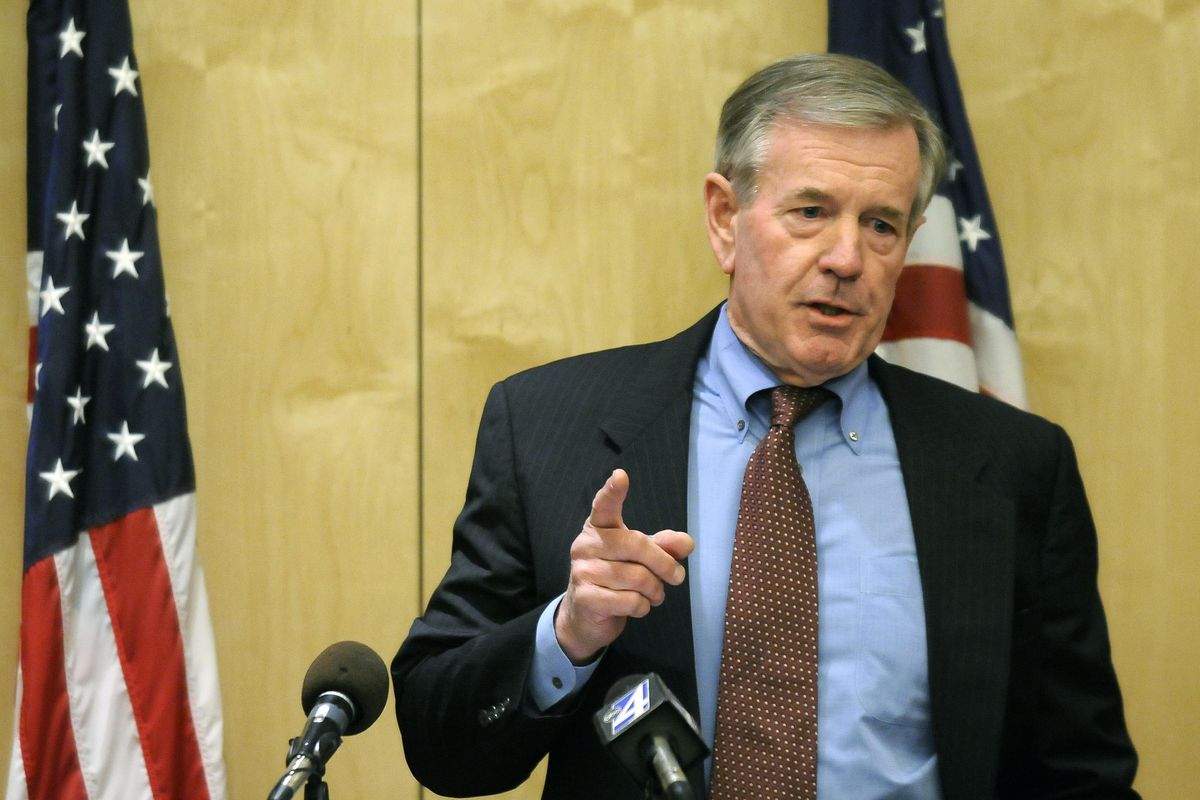 In this June 22, 2009 file photo, Jim McDevitt speaks at the United States Federal Courthouse in Spokane. Among his last acts as Spokane's interim Law Enforcement Director, McDevitt recommend elevating four officers to temporary positions he said were needed to "level out the work load." The changes were announced July 11, 2016. (Dan Pelle / The Spokesman-Review)
Interim Spokane police Chief Rick Dobrow will retire March 1 and be replaced by a high-profile attorney who has never been a police officer.
The surprise announcement was made at a news conference Friday afternoon.
Mayor David Condon said he is appointing former U.S. Attorney Jim McDevitt, 72, to lead the department.
Dobrow's departure creates more uncertainty in the leadership of the department, which will have been led by five people in five years once McDevitt takes control.
Dobrow, 55, who has more than two decades on the Spokane force, was named the interim chief after Chief Frank Straub was forced to resign in September. His tenure has been marred by the fallout from Straub's dismissal as well as the alleged rape of a police officer by a fellow officer and controversy surrounding the move of the department's downtown precinct.
At the news conference, Dobrow said those issues did not affect his decision to retire. He started discussing retirement options in August, before Condon asked him to serve as interim chief.
"I had made these plans long ago," he said.
Soon after accepting the interim position, Dobrow had said he was interested in the permanent job. He recently changed his mind after a committee formed by the mayor to aid in the search process for a new chief issued a recommendation that the new chief have a bachelor's degree.
"I'm technically not eligible to remain in this position, so I've chosen to go back to my original plans and retire," he said, calling the decision "bittersweet."
"I'm leaving an organization that I truly love, that I feel is full of tremendous possibilities," he said.
Dobrow will retire March 1.
McDevitt is not a commissioned law enforcement officer, but he has been involved in criminal justice reform efforts in Spokane. Since he's never been an officer, he will have the title "law enforcement director," Condon said.
McDevitt, who was traveling Friday, said he was honored to be chosen for the temporary job.
"It wasn't something that I planned on," he said.
In 2013, McDevitt served on the Spokane Regional Criminal Justice Commission, which made recommendations for improving the county's criminal justice system. More recently, he served on the Condon-appointed committee to advise on the police chief search process and job description. That's the group that made the recommendation about having a bachelor's degree.
As U.S. attorney, McDevitt made the decision to move forward with prosecuting former Spokane police Officer Karl Thompson in the Otto Zehm case.
It's not the first time McDevitt has worked with the mayor. He served on Condon's transition team to advise on public safety in 2011. He also donated $200 to Condon's campaign for mayor in 2011 and $125 to his re-election bid last year, public disclosure records show.
Condon said he expects McDevitt to lead the department for about four months. He said he chose a leader who is not a police officer so internal candidates could apply to become the permanent chief with a "clean slate," and so the new chief isn't coming in to replace someone who's already in the role.
It's a move that caught members of the department by surprise. Lt. Dave McCabe, president of the Spokane Police Lieutenants and Captains Association, said no one in the department was told about McDevitt being given the top job, though Dobrow's retirement was announced in a departmentwide email at 11 a.m. Friday.
"It came as a surprise," he said. "At the press conference we found out just like everyone else."
McCabe said he has many questions about how someone who is not a police officer will lead the department. Among those are whether McDevitt will have the final say in disciplinary decisions involving officers.
"This is the first time in my career we've had a civilian lead the department," McCabe said. "We're not exactly sure how things are going to work."
McCabe said he and other officers will do their best to move forward amid the changes.
"We recognize that it's a short-term assignment," he said. "We're taking it in stride and we'll continue doing the good work that we do and try to make the transition as seamless as possible."
In addition to his work as a corporate and international law attorney before becoming U.S. attorney, McDevitt retired from the Air National Guard as a brigadier general after 30 years. That followed five years in the U.S. Air Force. He was a weapons systems officer and navigator during his career.
One of the things he insists on from his staff is honesty, McDevitt said. "I have my own style," he said.
"I have a tremendous amount of respect for the police force," he said. "I'd like to basically help keep the ship stable and move it forward."
McDevitt said he has some ideas that may help form connections between the police force and the community. He acknowledged that ongoing turmoil makes this a difficult time to take over.
"I guess it just makes it a bigger challenge," he said. "We need to put a lot of stuff behind us. We need to stress a lot of the positive things that go on every day."
He took the job because he wants to help, McDevitt said.
"I love the community," he said. "I've devoted a lot of my time to public service and public safety."
City Council President Ben Stuckart said he was informed by Condon on Thursday about the change in leadership. Stuckart, who serves on the Spokane International Airport board, said he has a good working relationship with McDevitt, who has served as the airport's attorney.
Stuckart said he would have preferred Dobrow to stick around until the permanent selection is made.
"I hope this will allow for four months of stability while we look for a permanent chief," Stuckart said.
Dobrow said he's looking forward to spending time with his family and finishing personal projects he's neglected while working a demanding job for 34 years.
"I have been doing this job for a long time. I'm tired," he said Friday. "This job has a tendency to age us in dog years."
Local journalism is essential.
Give directly to The Spokesman-Review's Northwest Passages community forums series -- which helps to offset the costs of several reporter and editor positions at the newspaper -- by using the easy options below. Gifts processed in this system are not tax deductible, but are predominately used to help meet the local financial requirements needed to receive national matching-grant funds.
Subscribe now to get breaking news alerts in your email inbox
Get breaking news delivered to your inbox as it happens.
---