News > Spokane
Man seeking 'suicide by cop' found guilty of assault
Thu., Feb. 11, 2016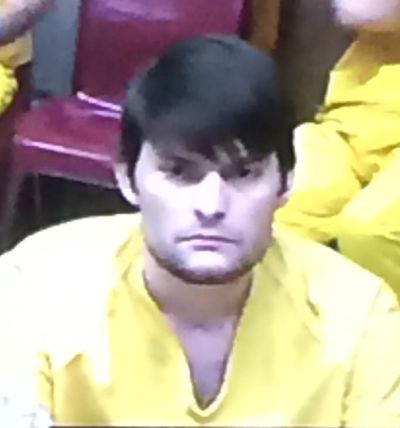 A suicidal veteran who fired 11 shots during an encounter with police last May was found guilty Thursday of assault.
Craig Burton testified during a January trial that he was trying to force police to shoot him as part of a "suicide by cop" plan and never intended to hurt officers when he fired shots into the air in the backyard of his north Spokane home.
The verdict drew tears from Burton's girlfriend and her mother, who called police to the home for help.
Burton testified he was going through a difficult period in his life leading up to the confrontation. He faced a divorce and child support payments he struggled to pay.
He had attempted suicide once by overdosing on prescription medication. His doctors then doubled his dose of Paxil, an antidepressant which can cause suicidal thoughts.
Judge Michael Price, who decided the case rather than a jury, said it appears Burton is recovering and agreed to release him from jail prior to sentencing. Burton is not allowed to drink alcohol or possess weapons. He has been jailed since his release from the hospital in May. His house has been foreclosed on, but his girlfriend said Burton could live with her.
Police reports and body camera video show a tense encounter where officers waited in an alley behind Burton's home in the dark as Burton yelled, "Do it!" repeatedly and fired his gun. The Spokane County Prosecutor's Office ruled last week police were justified in shooting Burton.
Officer Nicholas Spolski shot Burton in the abdomen once after Burton emerged from his yard into the alley and ignored multiple commands to drop the gun and put his hands up. At trial, Burton testified he had unloaded his gun before walking out into the alley and intended to provoke police into shooting him by ignoring commands to drop the gun.
Prosecutors charged Burton with three counts of first-degree assault. Price found Burton guilty of a lesser charge because first-degree assault requires intent to cause great bodily harm. Price cited Burton's account of events when announcing his verdict, saying it was "highly unlikely" that Burton, a trained marksman, would have fired 11 shots without hitting his intended target.
"This defendant simply did not attempt to harm anyone other than himself, which he accomplished when he was shot by law enforcement," Price said.
He will be sentenced March 4.
Local journalism is essential.
Give directly to The Spokesman-Review's Northwest Passages community forums series -- which helps to offset the costs of several reporter and editor positions at the newspaper -- by using the easy options below. Gifts processed in this system are not tax deductible, but are predominately used to help meet the local financial requirements needed to receive national matching-grant funds.
Subscribe to the Coronavirus newsletter
Get the day's latest Coronavirus news delivered to your inbox by subscribing to our newsletter.
---