News > Spokane
Gonzaga University will allow public to attend D'Souza talk
Fri., Feb. 12, 2016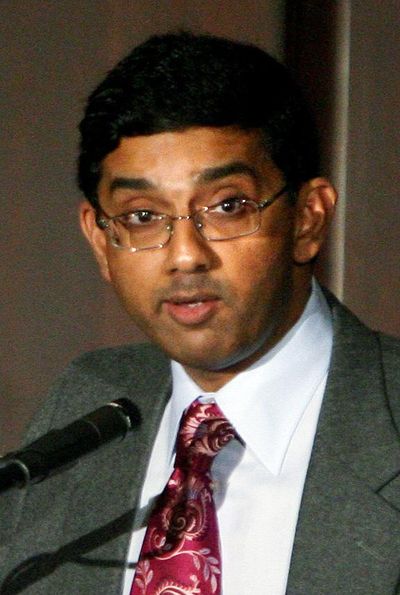 Gonzaga University has reversed course and will allow a talk by conservative author Dinesh D'Souza to be open to the public.
D'Souza was invited to speak by the Gonzaga University College Republicans in the Hemmingson Ballroom on the Gonzaga campus Feb. 24. But the club was told by the university earlier this month that the public could not attend the event. The political club filed a formal appeal and university president Thayne McCulloh released a statement Friday afternoon announcing his decision to open the event.
"A fundamental principle that sits at the heart of Gonzaga's educational mission is the commitment to freedom of expression," McCulloh said. "Gonzaga University welcomes Mr. D'Souza and the opportunity to listen to, and engage in dialogue regarding, his presentation."
D'Souza was a policy analyst for President Ronald Reagan and has written several bestselling books since, including "America: Imagine a World Without Her" and "Obama's America: Unmaking the American Dream." He also spent time in prison in 2014 for improperly donating money to a friend's Senate campaign.
D'Souza's critics accuse him of historical revisionism and of denying ongoing, systemic oppression of minorities.
Club president Clay Leland said he and some of his board members met with McCulloh Friday afternoon and worked out an agreement to open the event.
"We're very excited and very appreciative" Leland said.
His group believes freedom of expression is important and hopes that the talk helps raise awareness of the importance of elections and voting, he said.
The agreement between the club and the university states that questions for D'Souza will be written down on note cards before the Q&A session with the author. The club also agreed to have Chief Diversity Officer Dr. Raymond Reyes facilitate the event.
"Really all the things are just to make sure the event runs smoothly," said Leland.
Space is limited in the venue where D'Souza will be speaking and those attending will need to get free tickets in advance. Tickets will be available to students and faculty first and will then be available to the public. Ticket information will be released next week.
The requirements are in place to ensure that students are able to have a dialogue with D'Souza and the talk "doesn't become a real loud event where everyone is talking at once," said David Sonntag, associate vice president of marketing and communication.
The university's appeal process is in place for just this type of disagreement, Sonntag said.
"It provides an opportunity for students to talk to administrators and really figure things out," he said.
D'Souza charges a $10,000 speaking fee – $2,000 of which the club said came from the Gonzaga Student Body Association. The remaining $8,000 is a grant from the Young America's Foundation, a conservative youth organization.
Leland said he hopes D'Souza's talk will help students become more open-minded.
"It will be a very educational and thought-provoking event," he said.
D'Souza will be back in Spokane on April 30 to speak at the Spokane County Republican Party's annual Lincoln Day Dinner.
Local journalism is essential.
Give directly to The Spokesman-Review's Northwest Passages community forums series -- which helps to offset the costs of several reporter and editor positions at the newspaper -- by using the easy options below. Gifts processed in this system are not tax deductible, but are predominately used to help meet the local financial requirements needed to receive national matching-grant funds.
Subscribe to the Coronavirus newsletter
Get the day's latest Coronavirus news delivered to your inbox by subscribing to our newsletter.
---