Sports > Gonzaga basketball
Gonzaga's Przemek Karnowski keeping his options open
Tue., Feb. 16, 2016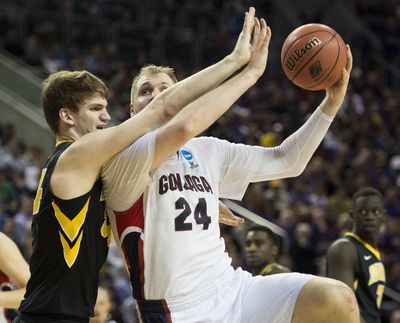 After experiencing the worst 3 1/2 weeks of his life, Przemek Karnowski went for additional tests on his ailing back Dec. 30. The next afternoon, he had season-ending surgery.
Karnowski believes he's on the road to recovery. He just doesn't know whether that road will lead back to Gonzaga or elsewhere next season.
The 7-foot-1 senior center has decided not to go through Senior Night festivities with Kyle Wiltjer, Eric McClellan and Kyle Dranginis, in large part because his parents won't be on hand for Saturday's regular-season home finale against Saint Mary's. Karnowski's parents visited over the holidays and his father, Bonifacy, was in town for about a month to help following his son's operation.
"I had a conversation with my coaches and with my parents and decided to keep all the options open," said Karnowski, who was sidelined by a bulging disc after just five games. "I know there's going to be a lot of speculation, but I decided not to walk out (Senior Night) because my parents are not here."
Karnowski's decision on his future address depends on his recovery. Doctors couldn't make any guarantees but told him he faced a 6-to-9 month recovery. He's on schedule and "everything is going like the doctors wanted."
"They said I'll probably be able to start jumping in June, maybe late June, but it's still three more months to see if everything goes well," he said. "It might be up to 7, 8, 9 months (from surgery date) before I start playing full speed.
"I'm hoping for that."
The lengthy timeline complicates his decision. Under the best-case scenario, he wouldn't be able to work out for NBA clubs or pro teams overseas until late summer at the earliest. College practices typically begin in early October.
"I'll probably decide during the summer," he said. "If the jumping goes well, the running goes well, if I don't feel pain anymore, I'm hoping to re-evaluate all of this then and go from there."
Gonzaga is "one of the top options for sure," said Karnowski, who is eligible for a medical redshirt. "I know I have all the resources here starting with the doctors, the rehab, being with the team, good nutrition, strength and conditioning."
Dealing with severe back pain was a whole new ballgame for Karnowski, whose worst injury previously had been a sprained ankle. He injured his back taking a hard fall in practice Dec. 1, one day before the Washington State game.
"Just walking, standing up was really hard and really painful, and I was still in classes," Karnowski said. "I just never had a situation in my life where I was sweating just from pain. The most frustrating part was not knowing what was going on."
The answer came quickly Dec. 30th that he needed surgery. Karnowski is grateful for the support he had at the time, including assistant coach Tommy Lloyd, who delayed his departure for Santa Clara by a day, trainer Jen Nyland and assistant strength and conditioning coach Travis Knight.
"They were with me and we were discussing the options and seeing what was best for me," said Karnowski, who is on course to graduate in May.
Karnowski still felt pain after the surgery but it wasn't the deep back pain he'd been experiencing. He used a walker for 4-5 days before his rehab continued at St. Luke's. He said restrictions these days are "less and less."
Karnowski weighed 295 pounds at the outset of the season. Following his surgery, he weighed 238. He's gained back 25-30 pounds.
He's made steady progress in the last six weeks. He still wears a brace and he's not allowed to bend or twist. When the Zags huddle at center court following pregame introductions, Karnowski stands a few feet away to avoid an accidental run-in with a teammate.
Karnowski tries to remain low-key at practice, offering an occasional tip if he sees the need. He's planning on traveling to Las Vegas for the WCC tournament. His main goal is following the rehabilitation process to give him the best chance at a complete recovery.
Karnowski has been overwhelmed by the support he received from teammates, coaches, classmates and the community. His phone was flooded with texts and voice mails. The athletic department received numerous get-well cards daily from across the country. His Polish national team coach made a special visit.
"It was a really tough situation for me," he said, "but having that support from all of the fans and people I know was really cool."
Local journalism is essential.
Give directly to The Spokesman-Review's Northwest Passages community forums series -- which helps to offset the costs of several reporter and editor positions at the newspaper -- by using the easy options below. Gifts processed in this system are not tax deductible, but are predominately used to help meet the local financial requirements needed to receive national matching-grant funds.
Follow along with the Zags
Subscribe to our Gonzaga Basketball newsletter to stay up with the latest news.
---