News > Spokane
Cheney woman joins ranks of 'supercentenarians' on Thursday
Wed., Feb. 17, 2016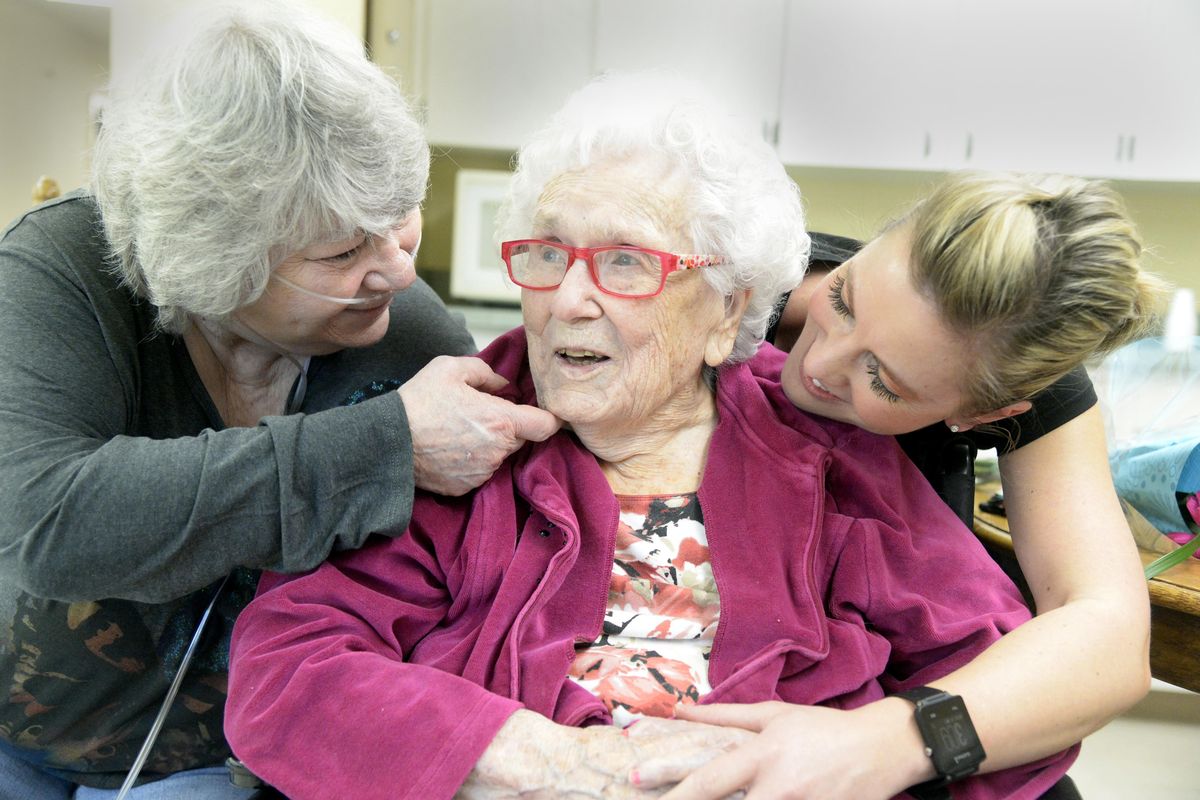 Flossie Dickey, who turns 110 today, is visited by her granddaughter, Jerry Carver, left, and great-granddaughter Sarah Williamson at Cheney Care Center on Monday. (Jesse Tinsley / The Spokesman-Review)
Flossie Dickey turns 110 years old Thursday, joining the ranks of the "supercentenarians."
"I've forgotten half of it," she quipped this week about her long life.
A resident of the Cheney Care Center since 2011, Dickey is the oldest resident in Spokane County, according to Kris Bahr, the facility's activity director.
She's not the oldest person in Washington, however. Molly Schmidt, of Ritzville, turned 110 in July.
"She's a smart aleck," Bahr said of Dickey. "She has a great sense of humor. She loves to talk to the college volunteers and play a game of then and now, comparing her life at their age to what their lives are like now."
Dickey delivered her typical humor when asked what her favorite activity is at the center.
"Sleep," she said, without hesitating.
Although Dickey's hearing isn't so good, she playfully exchanged memories Monday with granddaughter Jerri Carver, 67, and great-granddaughter Sarah Williamson, 37, who visit her frequently. Dickey's eyes twinkled from behind pink-framed glasses.
Born Feb. 18, 1906, in Yoncalla, Oregon, Dickey traveled by train with her parents and sister when she was 3 or 4 to settle on acreage in Thama, Idaho, along the Pend Oreille River between Priest River and Sandpoint. She spent her childhood years working on her family's farm.
"I've been around," she said. "I remember picking huckleberries, and I'd be out there all alone. I used to go into the woods and cut trees. We needed the wood."
Dickey also has vivid memories of the family encountering Native Americans near their home. Her sister Mildred would hide, but she boldly went into teepees where tribe members shared their bead work and how foods were cooked and dried, she said.
"The Indians made us moccasins," Dickey said. "They were very friendly. We'd always fix them breakfast when they came."
Sometimes outlaws would stop by as well. "If they liked you, you were all right," Dickey said.
By age 15, she met and married her husband, Roy Dickey, in Spokane. They later settled in Lapwai, Idaho, and were married until his death in 1971. On the couple's ranch of about 100 acres, she worked hard. Her husband had a hip injury he never fully recovered from, Carver said.
Most difficult were the Depression years raising their three children – Rita, Arthur and Clyde.
"It was tough," Dickey said. "They had to go without a lot of things they needed."
She kept a huge garden. "We had lots of corn, beans and potatoes. We had a big cellar. It stayed all winter. When we had elk meat, we ate as much as we could. We just killed what we needed."
Carver said the Dickeys had only cold running water, and her grandmother cooked on a wood stove. "They raised pigs, chickens, cows, rabbits. Their treat on Saturdays was listening to the 'Grand Ole Opry' on the radio."
The Dickeys moved to Lewiston Orchards during the 1960s. She continued living there after Roy's death but eventually sold the property and spent a few years in Arizona with family. After moving back to this region, Dickey lived more than 20 years in the Airway Heights area with her daughter, Rita.
Her family said Dickey continued cooking until age 104 or 105. She worked crossword puzzles every day. She moved into Cheney Care Center in 2011 for rehabilitation after breaking a hip, but ended up staying after Rita died from cancer. Her two sons are still alive, Arthur in Arizona and Clyde in Newman Lake.
"She's a champ at Scrabble, Wheel of Fortune, crossword puzzles," said Bonnie Carver, wife of Dickey's grandson Terry and Williamson's mother. "She quilted and crocheted, did it all into her 90s, until her vision started going."
Today, Dickey's two favorite treats are pie and the occasional shot of whiskey – straight. Family members will throw her a birthday celebration Thursday at the center with multiple generations by her side.
She has 12 grandchildren, 20 great-grandchildren, and 15 great-great grandchildren. Many come to visit, including Aiden, 12, and Liam, 8, who stopped by with family Monday. Williamson's 17-year-old son Caleb also walks to the center weekdays from nearby Cheney High School to visit Dickey with his mom.
Visitors often asked Dickey her advice on how to live so long. "I don't know; I just do it," she said. Other times, she's teased that it's a secret.
"She'll say, 'I've kept it this long, I'm not going to tell,' " Williamson said. "I call her sassy pants and spunky monkey. I love to joke with her. She's loving, caring, and her grandchildren can do no wrong."
On Friday, Dickey is scheduled to visit Fairchild Air Force Base, where she'll tour an aircraft, meet base leaders and be recognized as an honorary airman. Dickey has said in the past that she always wanted to join the military but never had the opportunity.
She's tough enough, according to Jerri Carver, who said her granny has strength, humor and softness.
"She's a survivor," Carver said. "She's my rock. She was always a soft place to fall."
Local journalism is essential.
Give directly to The Spokesman-Review's Northwest Passages community forums series -- which helps to offset the costs of several reporter and editor positions at the newspaper -- by using the easy options below. Gifts processed in this system are not tax deductible, but are predominately used to help meet the local financial requirements needed to receive national matching-grant funds.
Subscribe now to get breaking news alerts in your email inbox
Get breaking news delivered to your inbox as it happens.
---