News > Voices
Modern Quilt Guild melds traditional, contemporary design
Wed., Feb. 17, 2016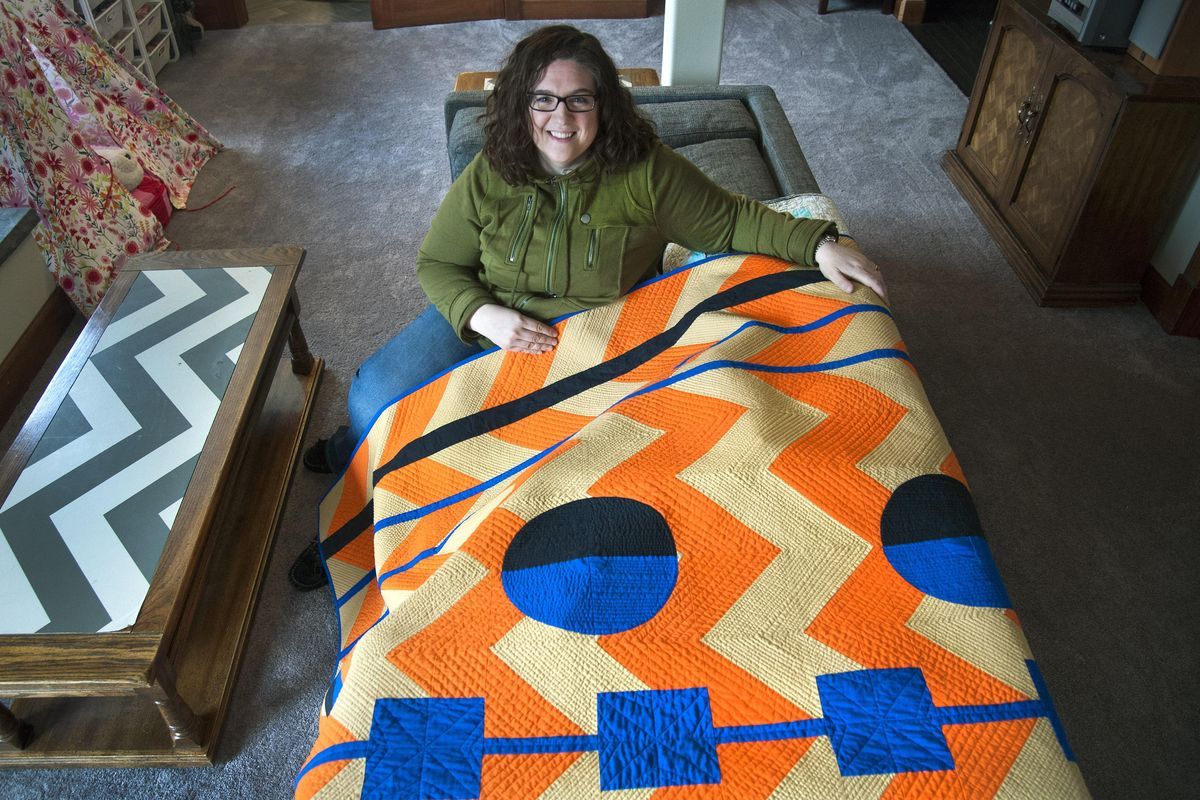 Heather Black is a quilter and two of her quilts have been chosen for display at QuiltCon. This is a recently finished quilt. (Dan Pelle / The Spokesman-Review)
When people think of quilts, they likely imagine a classic quilt like grandma used to make … conjuring up visions of women gathered in circles, quilting by hand, using traditional print fabrics in classic colors.
Not exactly the same image was elicited by women who gathered on a recent rainy Saturday afternoon in a room at the Spice & Vine Mercantile on East Sprague Avenue.
In the midst of tables covered with small piles of soft fabric pieces of every color and shape, several sewing machines and tools of the quilting trade, 15 or so women were busy making quilts – modern ones.
Modern being the key word, the women are members of the Inland Northwest Modern Quilt Guild, a local chapter of the national Modern Quilt Guild, which organized here a little over two months ago.
The Spokane chapter of the Modern Quilt guild boasts 45 members – a shout out to the need for such an organized group said Haven Szambelan, chapter president. "It happened so fast, and we add new members every time we meet," Szambelan said. The group's first official meeting was the first week in January.
Szambelan said modern quilting combines traditional quilting with modern design, often using bold colors, asymmetry and more negative space than in traditional quilting.
Modern guilds tend to appreciate graphics, larger quilt blocks and modern fabrics, as well as using quite a few solid colors, she added.
Heather Black, a single mother of a toddler, was among the group of women Saturday.
Black, who has been quilting for about five years, had two of her quilts accepted into QuiltCon West 2016, a juried show in Pasadena, sponsored by the national Modern Quilt Guild.
Black, together with her mother and daughter, will travel to Pasadena next week to attend the conference, which features hundreds of modern quilts as well as guest speakers and workshops.
Black said she was thrilled when she received the news.
"What … wait, I think I just got a quilt in Quiltcon," Black wrote on her blog Quiltachusetts.com in mid-December. "Those were the first words out of my mouth when I received one of two acceptance letters from the MQG in my inbox today," she wrote.
While growing up, Black said she remembers having a well-loved patchwork blanket that may have contributed to her love of quilting, but she has never had any quilting lessons – aside from Internet videos and tutorials. "I did have general sewing classes in my junior high school home economics class," she said.
She started her first quilt in July 2011 and finished it that November. It was the first and last quilt that she hand quilted. Now she quilts on her home sewing machine at her basement studio in the Five Mile area of Spokane.
After dabbling in painting, she said quilting came along at a time when she was starved for something more creative, and "it's not as messy as painting."
Black said she and others like her are involved in modern quilting because of the artistic free rein they have in designing, choosing modern fabric, and sewing their quilts … as opposed to sticking to traditional patterns and vintage fabrics.
She is a quilter as well as a quilt designer.
Her inspiration comes from shapes, colors, graphic design, patterns and other artistic muses.
"I usually design my own quilts on graph paper or I use Photoshop," she said. After she works out the specs of the design she sews separate fabric pieces together and then does the quilting on her home sewing machine.
"It's different from traditional quilting. The aesthetic is different. Traditional quilting is not good or bad, it's just different. It's an individual expression of creativity," she said.
Stefanie Gruenig, who owns Charming Lulu Sewing Boutique in Spokane Valley, and is vice president of the new guild, said members are excited that Black's quilts were accepted into the Pasadena quilt show.
"Heather is one of the rock stars of the guild," Gruenig said.
Gruenig said many women at Saturday's sewing day were there to sew quilts for charity; others were there to work on their own projects, socialize and get or give pointers on the art of quilting.
"Socializing is a big component of this," she said. "We're coming together and sharing the love of fabric. Everybody here has been very generous with their time and fabric, and their knowledge."
Several quilters were sewing quilts to give to a neonatal intensive-care unit nursery.
Jessica Diettrich, a quilter from Cheney, was sewing binding on a quilt to be donated to Quilts of Valor, a national organization that benefits veterans.
"To me a quilt says I am wrapping you in my love. My best friend who lives 200 miles away was diagnosed with brain cancer," Diettrich said. "The first thing I thought was I have to make her a quilt. I can't be there … but I have to feel I can wrap her in love when I'm not there."
Because the guild is so new, Gruenig said the group just started to organize around a Facebook page and have scheduled monthly sew days as well as business meetings.
Aside from donating quilts to charity, Gruenig said many quilters give quilts away to loved ones. "People can't afford what they would have to pay for the materials and workmanship that goes into these quilts," she said. "And there's an emotional attachment to them after sewing them."
Local journalism is essential.
Give directly to The Spokesman-Review's Northwest Passages community forums series -- which helps to offset the costs of several reporter and editor positions at the newspaper -- by using the easy options below. Gifts processed in this system are not tax deductible, but are predominately used to help meet the local financial requirements needed to receive national matching-grant funds.
Subscribe now to get breaking news alerts in your email inbox
Get breaking news delivered to your inbox as it happens.
---